Click to larger image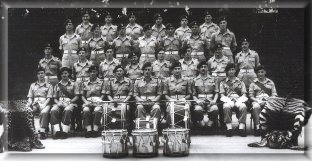 The First RM Band 3 Commando Brigade
Kowloon, Hong Kong 1950
Prior to departure for U.K.
Rich,
This is the 1st Cdo band that was formed, it may be of interest to the page and the names will follow but I'm not sure how to reduce the picture so please bear with me.
[Editor: All taken care of ]
Back Row Left to Right. C.J. "Ginger Yates - R.G. "Nobby" Slater - Peter Wicks - R "Taff" Jones - Harry Weedon - George Rumming.
Second Back. Dan O'Connell - ? - Bugler RM - Bugler Ken Smith Bugler RM - Bob Ploughman - Ken McIntosh.
Third Down. T.C. "Joe" Rees - ? - F.T. Fowler - B.J. "Dickie" Dawes - Henry Yates - Len Ingram - ? Cox - Bill Cox.
Front Row L to R. Maurice Pearce - Dixie Dean - Lt: White B/M - RM Col: - RM Brig: - Brig: Maj: - RSM - J.J. "Pincher" Martin - Peter Medcalf.
Members of the original band that left Burford but NOT in picture. Joe Dixon B/M, Bert Medcalf B/Sgt, M.J. Wernham, H.G. Jones, John Prosser, F. "Claude" Clutterbuck, and Ben Bolt.
One of the band - Nobby Slater - who joined just before me, was after this draft, sent to HMS Terror and I relieved him there, then he followed me to Ganges then to HMS Drake in Plymouth, then the Home Fleet. So you see in those days we use to chase each other exciting eh! No worries tho,,, anyhow some people may will show an interest.
Also Gary Brownrigg is still to be noted he is at garrybrg@ihug.co.nz
Thanks by the way for your email we are sure looking forward to you coming to the South Pacific. I'm saving already. Tata mate.