Who could forget the 11th of November? That was the day in history that the Armistice was signed back in 1918, and of course that date lead me to many visits to the Royal Albert Hall in London to celebrate the event with the Royal Marines Band, Portsmouth. A few years on, regarding this important anniversary date, another momentous event took place in the Beare household in Yiewsley, Middlesex, where Bernard Stanley "Max" Beare was born. The son of a Salvation Army bandsman who just happened to be a very good cornet player as well.
Educated in Yiewsley, at Evelyns Secondary Modern School, although not excelling in academic studies I did excel in sports. Later I went on to represent the Royal Navy whilst serving in HMS Ganges at Shotley, near Ipswich. Soon after my fourteenth birthday I enlisted to join the Royal School of Music in Scarborough, Yorkshire. Completing my initial training, I was then transported to the Isle of Man to complete the musical side of my training. It was here where my life took one of those unforgettable turns as I had joined as Flute and Piano but later transferred to Solo Cornet!!
Bernard (Maxie) Beare aged 15 - RNSM - Isle of Man - 1945
The School moved from the IOM to Burford near Oxford and not long after that I was drafted to my first ship, the aircraft carrier HMS Triumph. Once again, sports dominated my time on Triumph and I was to play more soccer than Trumpet. Serving to the end of that commission, we were then drafted back to Burford only to find another move in the offing. At this time the RNSM was to take up residence in Deal, Kent. I was very shortly on the move myself to Suffolk and HMS Ganges. I just couldn't keep away from football and went on to bigger and better things. I was being "looked at" by Ipswich and Fulham thro' a coach by the name of Alf Ramsey...later to coach the very successful England side.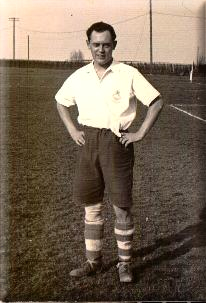 However, all good things come to an end, and soon I was off again this time to the Far East and HMS Terror in
Singapore
. It was whilst I was there, that, in a round about way, I met my wife Katherine. It was in the Chinese Daily newspaper that I saw a photo of a WRAF Bass Drummer. Having got the article translated I sent the paper to Uxbridge knowing that it was where the band was stationed. My home town, Yiewsley is only a few miles from there.
At HMS Ganges/1950 - Ipswich Wednesday League
I returned to England later that year and was fronted by Kathy who followed up my letter to her. Well......as it turns out, a couple of years later we married whilst I was serving at HMS Drake, Plymouth. That was in 1955, and since then we produced two daughters, Julie and Beverly - Anne. 1956, and I was again drafted, this time to the Home Fleet and had a year or so of traveling to countries which otherwise I would never have visited.
It was on HMS Tyne, a Submarine depot ship, that I was privileged to meet a National Service clarinet player, Colin Bryant, who really showed me the way in regard to "busking" and getting stuck-in to "trad" Jazz. He's still playing as far as I know somewhere in Bournemouth. Incidentally, he played a "simple system" clarinet would you believe!
Myself center with Colin on left
In 1957 I was selected to join the Portsmouth Band which included my attachment to the Royal Yacht Britannia. Many marvelous trips were had on board, not least of all, the trip "down under" for the Capt Cook Bicentenary in 1970. During my time on the yacht, and of course with Pompey band, I served under a number of different Directors of Music. To name one or two, Capt K.A. McLean, Capt Paul Neville, and Capt Tom Lambert.
I also managed to form my own group, the "
Bernie Stratton Four
". Paul Moody - Tenor, me on Trumpet, Wally Hibbit - Piano and Ken Schooley - Drums. Yes! we did a lot of work, even in our own time. The holiday camps on
Hayling Island
were also a good form of income apart from the huge salary that one had with the RMB.
I'm the one with fewer medals!
Billy Smarts Circus was also an experience I would not have missed. I also remember one Sunday morning playing a trumpet solo in the Portsmouth Cathedral for a televised service. Many theatres in and around the south coast have been a major part of my musical background and I recall a particular theatre in Plymouth where I once played a fanfare for a Shakespeare play with Sir Donald Woolfit.