Dear Mr Valentine (Richard),

You sir, have a lot to answer for and in my next few lines I shall try to put that strong statement into perspective.

On the 11th of November or just prior to that date, a notice was posted on the Notice Board to the effect that one B.S Maxie Beare was to have a 70th birthday and to all intents and purposes that was it! Ha! Haaaa! Life is not that simple. Come the morning of the 11th my son-in-law Blake, himself a Captain in the RNZ Territorial forces, invited me to attend a Remembrance service at a local R.S.A (returned service association), this I was happy to do having been an expert in such matters during my time in the Portsmouth Band, memories of Albert Hall and the Cenotaph. However that exercise completed we returned home, and me with thoughts of a quiet time with my family on the occasion of the published birthday. Didn't quite work out like that let me explain.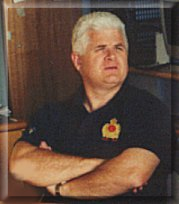 Blake

I entered my driveway somewhat bemused at cars being parked on my top paddock and the gate open, a real "no no" in the country. However a few more steps to the front door, and I naturally walked in, and what was presented to me all but gave me the proverbial heart attack. Over 50 friends, relations etc: were all assembled in my lounge waiting to give me the biggest and loudest rendition of "Happy Birthday" that had been heard in Spur Rd, and the quiet and tranquility of the area was shattered. A loud noise, then deathly hush as a tall figure suitably disguised in a Jeremy Beadle out fit, slowly and methodically moved toward me, arms out stretched laughing crying at the same time, my dear Brother had arrived from England that very day.
It really is not possible to describe the feelings, the emotions, of that minute, the embrace took all of five minutes and when the tears had finally cleared it was time to recognise everyone else that was present, no mean task I can tell you.


Peter Beare
The next few hours were taken up chatting and renewing old acquaintances. It was lovely to see my friends from a local Rest Home, and more so one of the residents who made the effort to come to see me, Harriet Manson was 100 years old in September, and quick to remind people she was now 100 plus two months. The afternoon ended all too quickly, but during that time I was asked to take brother Peter to see a friends new house, I was later to realise that it was a bluff to get me out of the house, so now its your turn to take a breather while I get ready to take you all on the next phase of the birthday party.
It was on my return to home that I said to Peter, "Right mate, now for that quiet dinner with the family". More Ha! Haaaaaaa!
The farm gates are now in my sights once more, and again I see more cars, but silly me thought they were left overs from the afternoon session. Three of my grandchildren were there to meet me, and sing in dubious harmony Happy B etc: The same trek to the house, and the same entrance, but what awaited me was more than can ever be described in letter form. Over 70 friends, relations and ex Royal Marines Bandsmen had assembled in my lounge to give me the best kept secret in NZ on that day, a surprise party.
SURPRISE? Well, if seeing standing above all others, and waving the American Flag, grinning like a Cheshire cat, was, you guessed it, (Dickie Valentine) to his left was from Plymouth, England, Roy "Nobby" Slater, in front of him also from England was Rod Preston. Now, with Joe Simms, Charlie Lashmar, Alf Smith, Dave Pierson, Dave Ibbotson, Norm Feast, Peter Jackson, John Reeseg Garry Brownrigg, Henry Garrat, Chippy Carpenter, Ken Collis & Lou Miller, all present and correct sir! More Ha! Haaaa! It can now be told, that so much was planned for the evening but just didn't happen, a gig band was arranged, was present but were having such a good time, didn't rig up! What's the penalty for that? Better see Ken (Drummer) Collis.
So Mr Valentine, with over 100 cards now to respond to plus untold e-mails, and some telephoning, its clear that I shall not be in a position to write a full report on the event, I therefore challenge you to add your BIT to help the ole fella out! I now leave with the final accolade, which must go to my dear Wife Katherine for her organising skills, who with my two daughters Julie and Beverly Anne kept this whole thing a complete secret. This was a tremendous effort and a strain on them all. How they managed to live with me over the past three months I shall never know. Thank you so much for everything girls, I'm now told an RMB New Zealand re-union is being arranged for March 24. 2001.