Here's a funny story if I may.......Being a "fixer" on the south coast, I was asked to fix a Timpanist for a Symphony Concert. Well I failed, but I came to the rescue and did it myself. Borrowing the Timpani from the band room, I set up in the Guildhall, Portsmouth and played the rehearsal beautifully. I'll never forget the opening work......Dvorák as I recall. The second movement really got everyone's attention by the reactions from some of the audience. The point of the story is, that when the conductor arrived on the podium at the beginning of the concert, he pointed to me to start the proceedings with a timpani roll for the National Anthem. Talk about "figgy figgy duff", since that day I have the utmost respect for the percussion section. It was on the 1970 tour that my life changed direction and I was to start making plans to emigrate to New Zealand.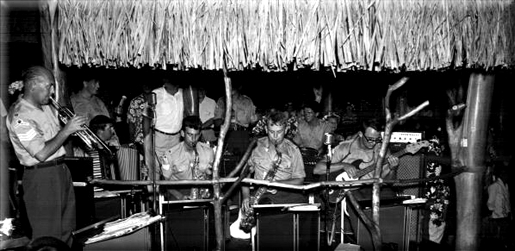 The big day came in 1972, and on the 3rd of April (Easter Monday) we flew from London via Hong Kong where we had a couple of days sightseeing.
Bora Bora/1970
The family really enjoyed that but of course, it was "old hat" for myself, the world traveler who had visited before whilst serving the last commission on HMS Centaur. Incidentally, the band on Centaur was recognised in its day, as one of the best bands that had ever been put together for a "ships band". We had two from Plymouth Group, two from the Yacht, one from the Staff Band and two youngsters who were later to make their mark in the band service........John Ware and Rodney Preston.
Arriving in Auckland on the 6th of April, 1972, we were met at the International Airport by Alf Smith, trombonist in the RNZN band. We were housed in an hotel in Devonport for a couple of weeks before "diving in", boots an' all to purchase our own place in Birkenhead.
Myself and Kathy
During our time in that area I was fortunate enough to be given the opportunity to start work at the No. 1 theatre in Auckland for a Musical 'Charlie Girl' starring Dame Anna Neagle, Derek Nimmo and Johnny Farnham, a London born Australian pop star. That put me in good stead to meet all the right sort of people who move in and around the music world. Following that, a "Rock Opera" titled 'Man of Sorrows' was penciled in for me. I was invited to join the TV session band, cutting a few discs and recording for TV was a big thrill. My best was yet to come. Tours with Glen Campbell, Harry Secombe, Vera Lynn and Cilla Black put me "right up there". However, it wasn't to last. Tours being very expensive to run left me looking for a "real job". I applied for, and was accepted into the Public Service at the department of Social Welfare where I made a really big hit.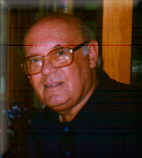 After 20 years, I ended up as the Senior Divisional Officer Maintenance Collector, appearing in the courts as a prosecutor. Back tracking to my looking for a "real job", I also had the good fortune to obtain the position of lead trumpet in the Arthur Skelton Band. The foremost Ballroom Band in the land, playing at the foremost Ballroom, The "Mandalay". That was a temporary job which lasted for 17 years. When that finished I took up free-lance gigging and that has only recently dried up. I was thankful for that......by now I'm nearly 112 and I had HAD ENOUGH!
That break gave me the time I needed as we had (in 1976) purchased the house where we presently reside on ten acres of land. We keep 6 cows, 15 sheep with lambs, an aviary with some 15 birds and 6 "shade houses" with over one thousand Orchids. I'm also the secretary to the Hibiscus Coast Orchid Society and am presently studying piano.
Me wearing a "corps tie"!!!
Editorial: It really is a "corps tie".
In 1994 I decided that I should return to my childhood ways and return to lessons. My Kathy keeps me honest and makes me practice at least two hours a day. Last November I completed my grades and this year will attempt the Performers Diploma. From Colour TV, Water Beds, Spa Pools, Fax machines to Video, we have now reached the Computer age and that brings us to where we are at present. Having met through "Cyber-space" and E-mail, I say to all our new found Cyber friends that it's..
"good to know that you are there!" Maxie (RMBX 2234)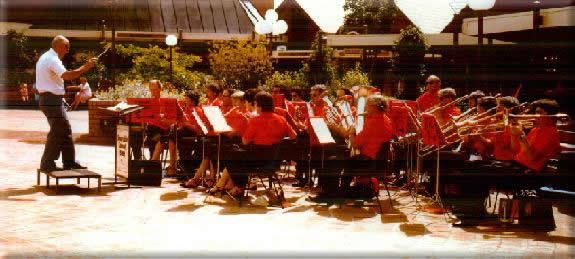 Myself conducting the "Shoreside Concert Band"