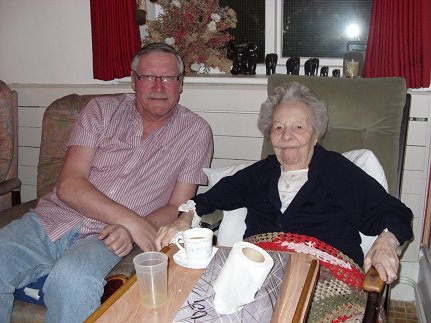 During my early 2012 vacation visiting the Midlands, North Wales, Northern England, London and Deal I was enthused to be invited by my host in Deal, one inimitable Tony Oliver to join him on his routine visit with Mrs Dorothy (Dotty) Dacombe. Tony continues his devotion on a weekly basis and as and when he has to be away from Deal, he always lets Dotty know ahead of time and makes every effort to see her upon his return.

Now resident in the nursing care facility 'The Knoll Nursing Home' since 2008 we found Dotty to be enjoying her morning cup of tea with Rich Tea biscuits. As mentioned below in an earlier account, she is as ever sharp witted and recollected the previous occasion that I met her in 2001, politely indicating that I had put much weight on since then (alas). The dear lady, Tony and I exchanged many accounts of times past, people, professors alike and Dotty made us all laugh with her own commentary and recollections of so many decades past.
As you can see in the current photograph, this soon to be 97 year old is making the most of her long life now under constant care not too far from our ancestral home only a mile or so away. One can only wonder what she would think if she saw East Barracks as it is now, compared to the day when her beloved husband Jack Dacombe strode from building to building in his day. Many of us can surely capture in ones minds eye, the tall figure who went from Musician to Drum Major and then later on became Trombone professor at the School of Music.

I'm grateful for Tony's friendship, one of my very best mates who I admire in so many ways. One of his best attributes is that of caring for family and friends. Tony's devotion to Dotty is heart-warming and an exemplary attribute.
I'm sure there are many out there who knew Jack Dacombe and perhaps at some time met Dotty. The nursing care facility is easy to find and I'm sure that a polite enquiry with the staff before a visit would be a great idea and minute or two with Dotty would make her day.
Thank you Tony for this great privilege and a great visit with a dear lady.

The Knoll Nursing Home
196 Dover Road,
Walmer,
Deal,
Kent, CT14 7NB
T: 01304 374679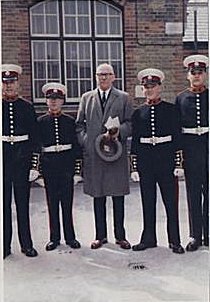 Passing Out ~ 1965
Stu' Elms, 'Ginge' Davis (deceased) Professor Jack Dacombe (deceased)
Jackie Semple & Mick Bartholomew
Photo submitted by Jackie Semple