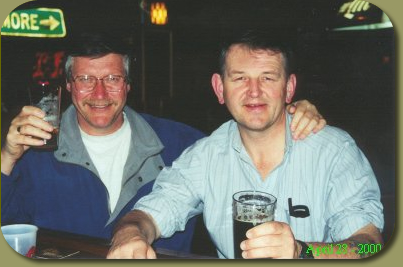 A few of our brethren will recall that last year in June 1999 I visited the United Kingdom. Besides my short visit, it was to include Portsmouth, Deal and London for my ultimate quest of attending an AGM for a musically affiliated association that I am deeply involved in.

During my time in Deal, I had the good fortune of being offered the hospitality of Tony Oliver and his extended family. I grasped that with great fortitude and I can say that without question, he and the family looked after me without denying me anything and put everything and anything at my disposal. The friendship that was conveyed to me was priceless then as it is just as priceless now, in my memory.
For Tony to tell me some months ago about a proposed visit to the USA predominantly to visit family on Ali's side, he strongly suggested that he should see me during the visit and of course I made my hospitality available to him should he eventually find himself in my neck o' the woods. It was a welcome message I took when an E-mail indicating that he would be traveling north to be with me for two or three days.
Our plans were set when "T" was to get a train ride courtesy of Amtrak from Virginia to NY City and then I proposed that I should pick him up at Penn Station and then we would drive north for the final 200 miles. Sounds simple in writing this but let me tell you that it was quite the contrary in its execution. I left my home base in good time thinking that I would have time to park the car and meet Tony but I found myself missing Penn Station by the overwhelming hustle and bustle of the big city and my inability to get used to the streets and avenues and boulevards. I'm just a country boy at heart.
I eventually found Penn Station and actually parked just across the street about 4 levels down in a parking lot. I walked over to the station and found myself quite overwhelmed with the size and crowded station. I went to Customer Service and had an announcement made pertaining to my presence and that I was there to pick Mr Oliver up. Minutes later Tony appeared out of the crowd and after a very warm greeting, we proceeded out with the attitude of getting the heck out of the city before the rush hour interferes with the likelihood we ever got that extra drink in on our arrival up north.
Let's cut a great long three day story short and let you know that we had just a perfect time and that it would be difficult to compare such a visit with anything that I have experienced for many a good long year. Tony and Dickie had great fun and feel sure that the hospitality quality that was experienced in Deal in 1999 was reflected in the north of New York State in 2000.
Thanks for visiting me Tony, it was just superb!