Hello everyone,
A friend of mine who happens to be a fellow United Airlines colleague in New York asked me some months ago if I would consider accompanying him on a trip to Hong Kong. Those of you who know me know that I would find that too easy an answer so we arranged for dates that would work for us both and took the chance of employee (staff) stand-by flights for the many hours that it would take to get to that jewel in South East Asia.
We arrived on the edge of a typhoon, such was the intensity of the rain on landing but smooth a landing it was I am happy to report having spent almost 12 hours on a Boeing 747-400. We found the transition from leaving the aircraft to the next mode of transportation to our hotel in Kowloon to be very easy. The new airport is barely 4 years old, the train from the airport to Kowloon is very modern, efficient, clean and impressive. On arrival at Kowloon there is a bus shuttle to take you to your hotel f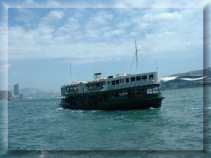 We were in Hong Kong basically to relax, eat, drink, be merry and enjoy the jacuzzi and pool on the roof top for a few days. However, we did do MUCH more than that. It was very nostalgic to take the Star Ferry across the way to Hong Kong island which countless thousands of us (ex RMB's) have done over decades past. I have to say that so much had changed in my 30 years absence. There was little for me to recall from my youthful and semi-inebriated previous visit apart from the memorable tram ride up the Victoria Peak. The view from there has to be one of the most dramatic and beautiful sites in the world. The immense cluster of sky-scrapers continues to be enhanced by new ones and during our stay we could see the newest addition which make it the highest building of all on completion. Sadly and in spite of my expensive digital camera, I didn't capture the beauty of a night view from either my hotel or Victoria Peak but I did record some special memories worthy of sharing with those of you who are interested.
I mentioned a previous visit. On that occasion I was serving on HMS Eagle and our arrival into Hong Kong over thirty years ago was not the traditional one. Indeed, also at that time we were dealing with intense tropical weather. I do believe that we were on the periphery of a typhoon and the 50,000 ton Eagle had waves breaking over the flight deck such were sea conditions. The band were required on Hong Kong for a massed-bands rehearsal for some kind of Governor's celebration or perhaps the handing over to another official. I recall Army bands and Gurkhas that were included in the massed ranks. The band were transferred by Sea-King helicopters to the airport and then we were transported to the China Fleet Club which overlooked the harbour. I can report that one of the most satisfying instances in my military musical career was to stand in my bathrobe on the veranda of my hotel room, watching our floating home enter harbour in full ceremonials (minus band) and I had spent the previous evening "on the town" after rehearsals.
For many months I have been in regular contact with Trevor Ball who lives and works in the family business. Trevor married a Chinese girl and they have recently added to make a family of their own, a boy! I should explain that Trevor lost his brother to the terrorist bomb in Deal and our initial communication which was spurred by my tributes on the web site have continued on until our subsequent meeting in Hong Kong. Trevor drove Phil and I up the hill to Victorial Peak where we took some photo's and had dinner at the restaurant most of you would recollect from decades past. We sat outside in the comfortable night air and enjoyed several hours of pleasant conversation and excellent food and drink. Thank you Trevor! The drive back was much less stressful as the business traffic had thus dissipated by that time. Phil and I then retired once again to the roof top Jacuzzi. It's a tough life! On my recent visit we took the ferry many times to the island and we took public transport to Stanley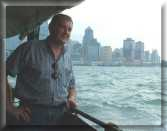 Market to hunt and haggle for souvenirs and bargain clothing, hats and very interesting silk ties. During that visit we had lunch in a small but very nice restaurant "The Wok" (unusual name!) and we both had "Nasi Goreng" which I had enjoyed so much and so many times on previous visits to Singapore and Hong Kong many decades previously. Nasi Goreng on this occasion was itemized as "Fried rice, fried egg, 2 chicken wings and 2 chicken satays". We washed it all down with nicely chilled Victoria Bitter. Total bill was around $25.00 US which is incredibly inexpensive. That was NOT each........but the total.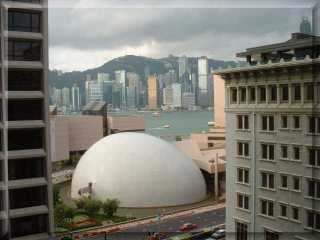 Philip and I also met up with an old school friend of his whom he hadn't seen for over 30 years. John is a lawyer working and resident in Hong Kong. We all met up at a very busy Chinese eatery where we chatted and enjoyed many varieties of Chinese cullinary delights. I am proud to report that my handling of Chop-Sticks was deft if not adequate so's not to be an embarrassment. It's very acceptable to use ones fingers too or you might find yourself there all day and there is much more to do with ones time. After our farewells we continued on to do some shopping on recommendation of Phil's friend where he suggested that in spite of the shopping being in top quality buildings, you could still haggle but be assured that the product is everything that it should be with all guarantees. After several hours we meandered back with our arms full of DVD players, cameras and other paraphenalia to the ferry and then fell into our hotel room exhausted.
For those who still retain an interest in Hong Kong, and have not been back for a stretch like myself, it's worth the trip. The public transportation is excellent. The food is just as plentiful and good. Of course the HK dollar to the US is nice too.