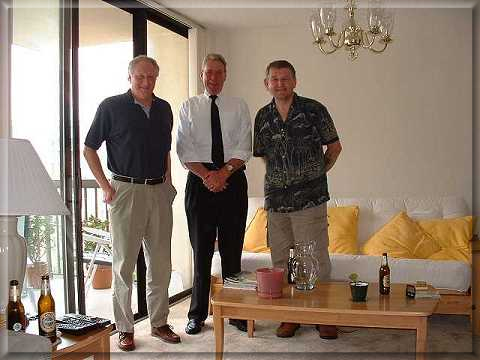 Alan Forshaw, Ray Edwards & Dickie Valentine
Some 10 years have passed since I arrived here in the United States and I can not forgive myself for waiting until only recently to meet up with Ray (Lofty) Edwards who for many years longer than my tenure, has been living in the Washington DC area. Granted that it was for many years that I didn't know him to be "states side" but even so, after acquiring a computer and getting online over here he buzzed me (or was it vice versa) and we were in touch.

Of course myself and Bill Hughes (Ontario-Canada) got together for the first time in 1996 at Bill's home and thence the seeds of the web pages you are now reading were sown. We have discovered other ex patriots in the USA and Canada and very recently a new arrival to our shores of one Alan Forshaw. Alan was already on our pages but a simple transfer from the UK to the USA links enhances our small group by just the one more.
Alan Forshaw is on a one year contract over here and although he has been and continues to be very busy in his line of work, he has been in communication with me regularly and we have been trying to set up a meeting and at the same time, try to include Ray Edwards. I am pleased to say that this became a reality last week. My original intention of a flight to England to attend Jay O'Neil's wedding to Vicky ............."CONGRATULATIONS JAY AND VICKY" was canceled because the flights are so fully booked again that it was highly unlikely I would make it but I thought it still a good idea to use the day to travel to Washington to meet Alan for a "beer and a burger".
So it was that I boarded the flight from Albany (my work base in up-state New York) at about 11am and was in Washington waiting to be met at around 1230pm. The cell phone became very handy as Alan and I were in the vast Washington-Dulles VA airport but not where we both expected to be until a phone call or two brought us together in the baggage claim.
You know how it is.............thinking and wondering how someone you have not served with for over 25 years is going to appear to you. Remember after the dreadful Deal bombing at the reunion............standing and meeting someone you knew and served with for many years but you couldn't recognise him or remember his name............. but I am happy to report in this case that Mr Forshaw was easy to remember and recognise and like myself, with a good smattering of grey hair is enjoying good health.
Up until this point I had not heard from "Lofty" and his name came up in initial conversation by reason that Alan had been trying also to call him but there was some miscommunication along the way. On deciding that we had precious little time to do any sight seeing we decided to go back to Alan's apartment in MacLean. VA for a "beer and a burger" and just as we had gotten on the highway my cell phone rang. It was Ray Edwards who was waiting at the airport. We gave him directions to Alan's "grot" and sure enough, on our arrival there was Ray who had gotten there before us as we had taken a detour along the way.
After our welcoming handshakes and the usual friendly mocking of ones current appearance we followed Alan to his apartment. Yes...........many documents were re-visited and some or your ears might have been burning and the stories were recalled old and new. It turns out also that Alan's boss knows Ray's boss and I also am intrigued that we all three find ourselves relatively close to each other in such a vast nation. I noted during our precious little time together that Alan had a very large collection of Opera and I so happened to have a spare CD with me of some music that I have discovered recently quite by chance and told Alan that if he valued still my musical appreciation and knowledge, he would surely love the music of Russell Watson - "The Voice". I do not keep up with any or much news from the UK but I hear that this young man has some controversy surrounding him for whatever reason but for me, his musicality and the incredible voice he has are good enough for me and I have been deeply touched by his music. I have purchased many copies and made gifts of them to very special people in my life.
No...........I'm not being paid to spread the Watson word in the USA. He does a good enough job of it himself
Ray had to make a move and it became time for myself to get ready for my return flight back to Albany. Alan also had to pack for his trip to Boston the next day. We took one or two photographs as you have seen and after a warm farewell, promising to try and do another meeting sooner than later, we parted company. Alan and I made the drive to the airport in ample time and he dropped me off at the main entrance to the ticketing lobby.
It was great fun, very worthy in spite of such little time and immensely gratifying to see old pals together again.