Hello Rich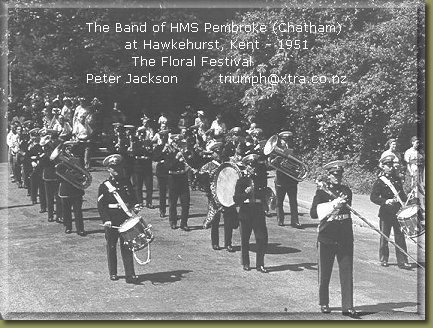 ,
I have dug up a few photo's of bands way back which I thought might be interesting. The first one is the HMS Pembroke band performing at Hawkehurst in Kent in 1951. The occasion was The Annual Floral Festival. I am in the band and I am pretty sure it was from Chatham but we may have gone from Deal. If anyone knows any of the good citizens of Hawkehurst I have lovely photo taken at the same time of The Floral Queen and her attendants seated on a float and would be happy to send them a copy. I wonder if any of the band are still around.
Another couple of photo's which might interest some ex-members of the band of HMS Triumph. It was taken at Kure in Japan on the Anzac day parade hence the Australian General. At that time the Australians were the occupying force in the area. Cocoa was worth its weight in gold and I used to smuggle tins of it concealed within my bassoon case which was the old design - square in shape with the lid on the end. Anyone remember? Others used to borrow it for the same purpose.
Hi again Rich
,
I hope the pictures are the sort of thing the readers like to see and that I am not hogging too much space. I have done them together because I have allocated myself a day on the computer. Out here in New Zealand we are enjoying a wonderful summer so a lot of my time is spent out in the boat fishing. We have come to the end of the huge Americas Cup and Louis Vuitton yacht races which have been going since last October (we won of course!!!.) The whole country was wrapped up in it - it was so exciting. Lets hope UK will take part in 3 years time. The picture is of the whole band and detachment of HMS Triumph in the Far East around the early '50's. Does anyone recognise someone? I am on the top shelf on the extreme left.

Regards,
Peter Jackson RMBX 2172 (90 squad) (age 70 now).


P.S. Is it ok to send more pictures - some of Howstrake Camp in the Isle of Man and maybe one or two at Burford.