| | |
| --- | --- |
| | |
| | |
The airstrip and perimeter at Brize Norton proved to be a wonderful place to ride our bikes and a great training ground. Everyone knows of course that the airfield was later developed into a huge base for the Strategic Air Command. The entrance to our camp was where "colours" took place and I remember a new Adjutant going berserk one day because the trombones slides were not going in and out together. It was also where the F.O.G.D. (field officer general duties) had his office with a "runner" standing outside no matter how cold it was. It was my turn for the runners job one day after a snowstorm and I was ordered to instruct the Fatigues Sergeant to get a team of men and a truck. They were to go to the back of the camp where the snow was clean, load it on the truck and spread it over the slushy stuff at the front entrance because we had important visitors coming. We had plenty of fun at Burford and I could relate many memories of the place. I hope others will contribute their stories because the world has become a much more complicated place since those days. Sadly a lot of guys of my age are no longer with us and a lot of them died very young for all sorts of reasons.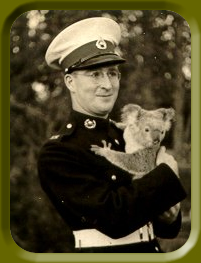 Roll over and click image
P.S. Someone e-mailed me and asked what I looked like so to oblige I am including a photo. The ladies will probably say Ahhhh! isn't he cuddly.
Keep up the good work Dickie,
Regards Peter Jackson RMBX2172
Very many thanks Peter for a superb account of days in Burford. If only we could attract more stories from our colleagues from another era prior to Deal days.
Richard Valentine. [editor]