The RM Band Service Reunion
Portsmouth


by Richard Valentine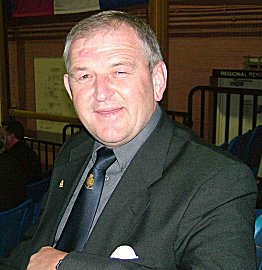 Each year there is always something that happens to surprise and entertain. In this case, we were all privileged to be in the company of one of the most senior generation who is also computer literate and in communication with his contemporaries around the globe. The gentleman in this case is Mr. Sam Dyer. You can access him from the Buddy List. He would love to hear from you.
Of course I have jumped ahead of myself in this report of yet another successful reunion held at HMS Nelson and once again my own personal thanks on behalf of everyone in attendance to WOII "Tommy" Lawton and his team for his unstinting commitment to ensuring a function as important as this to bear the fruit it truly deserves.
I will return to the delightful subject of Sam Dyer (born in Belfast and raised in Glasgow) a little later in my account of the weekend, but a round of applause to Dave and Joan Seed for befriending Sam. They discovered him to be living fairly close by in Southport, not far from Preston. [Ed: My own home town too.]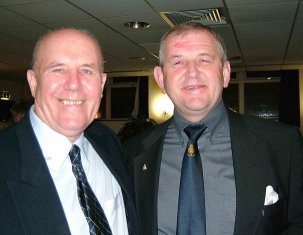 The usual ritual for me and many regulars meant we gathered across the road from the barracks (HMS Nelson) at The Three Crowns and as ever it was interesting who would next walk through the door. I must say, that it was a disappointment to know that because of ill health, our dear friend "Gunner" Hargreaves did not show in spite of Barry Radford's tireless efforts. I'm sure that he will get first hand reports from Barry as to the success and with many well wishers sending their messages of good will. At this time also I would like to point out the obvious absence of Stuart McLeod who surely would have been in attendance if it were not for a serious illness which at this time of writing is the cause of his hospitalization. See the Sick Bay for updates and anyone who can visit him I'm sure would be appreciated.
Indeed when Dave and Joan arrived with Sam it became clear that we were in the midst of a little more history than expected. A great memory and a subtle humor with many anecdotes to recollect. We are informed that it is Sam's wish to send his own account of this special weekend (his first ever) and I'm sure that it will be a most worthy read. With his left arm in a sling, it's a sad fact to note that Sam has a serious health condition and his philosophical manner suggested to me that it's never too late to meet up with old pals as we don't know when we will be knocking on that great band room door in the sky.
The rest is much the norm for these special weekends. We all went over to the CPO's mess and were greeted with our "tot" and then all the fun began in earnest. The time came for the junior band display and unquestionably the standard was as ever very high.

The many photographs (six albums in all) accompanying this report will testify just how great a success it was in spite of lower numbers than last year.
Sunday morning
On Sunday morning we were all blessed with what was perfect weather. Brilliant sunshine was the order of the day and after a coffee in the shop across the way from the Cathedral, we strolled over to congregate with our colleagues and friends.
Readers may be interested to recall that several reunions ago I commented upon my love of the choir and that I would normally have been attending my own church service lest I were not in Portsmouth for the 102nd anniversary reunion of the Royal Marines Band Service. Non the less I was given ample opportunity to clear out the wind pipes when hymnal opportunities arose.
The opening music programme was a variety of somber music appropriate for such an occasion spurring deep thought, reflection and respect for those who gave their lives in conflict and war. My favourite is the Walton (Touch her soft lips and part) from Henry V. The Watson (Elegy for Strings) was typically Delian in all its form. I was particularly impressed with the brass and winds and felt that the strings were a little beleaguered by the acoustic by contrast. I'm advised that rehearsal for this was scant so please let me say how overall impressed I was with the orchestra. The treat for me was to hear some adept Bassoon playing and my old instrument (Clarinet) closing the scene at the scaffold in the Berlioz finale.
The hymns were typical but so lovely and traditional and I'm sure that my friend Huw Morris and I were in our element during the robust and assertive "Guide me O thou great Redeemer" by non other than William Williams. A Welsh name if ever there was one. The choir were/are exemplary. The fanfare was sounded with impeccable technical and musical style and surely all our heckles were tweaked at the sound of this special tribute in musical form.
After an exultant and prolonged applause for the orchestra we all dismissed and made our way outside to begin our farewells to those who were leaving to travel or to decide the rest of our day for those who were staying through until Monday morning. The weather was as ever kind and we had some photographic opportunities as recorded with this account of a truly special memorial weekend.
In closing I will refer back to Sam Dyer who was more than happy to join many of us to the RMA in Southsea courtesy of his hosts Dave and Joan Seed. I do know that many of us made him welcome and judging by the many photos he had many delightful stories to share with many. I am grateful that the PDM was interested to meet him as can be seen by the lovely photo in this year's collection. Just stop and think what the service was like the day Sam joined the service at Deal. King George had that day passed on and Edward was taking the throne. This was just one of many significant truisms he uttered and I would like to thank him for taking the opportunity to re-discover his past. It was our privilege.
Yours aye!