Dennis Charles Hartley
It is with great sadness that I inform you of the peaceful passing of my father Dennis Charles Hartley, Ex Royal Marine Bandmaster, RMB X 717 on Tuesday 30th November 2004 at the age of 85 years.
Dad joined the Royal Naval School of Music in October 1934 as a band boy, his 15th birthday being September 29th 1934.
His service record shows he joined H.M.S. Dorsetshire in August 1937 as a band boy leaving June 1941 as a Musician. Dad was stationed at H.M.S. Cabot in Bristol from August 1941 until April 1942 in which time he met my mother who was serving as a WREN Steward. Dad also served on various ships including the Sirius May 1942 - July 1944, when he married my mother at West Cliff On Sea, also on H.M.S. Mauritius and H.M.S. Liverpool.
He left the Royal Marines in August 1959, when he moved with my mother and their seven children to a village named Chilcompton in between Bath and Wells in the then County of Somerset, to a position at Downside Public School in near by Stratton on the Fosse teaching music and musical instruments where he worked until his retirement in 1982.
During his time in the village he set up the local Ladies Choir and ran this for 18 years as well as part time teaching at local comprehensive schools where he ran school bands and taught wind instruments to many children.
He will be sadly missed by all his family and friends.
Please let me know if you would like anymore information on his life,
Kind regards,
Alan Hartley (number 6 of 7).
Paul Moody
Rich,
If anyone out there is not yet aware, Dave Stockham rang tonight to inform me that Paul Moody (ex Yacht Band to name but one) passed away very suddenly earlier this week. This naturally for anyone that knew Paul has come as a tragic shock with the awful irony that Paul himself had been particularly concerned about his brother Gary who has been very ill recently. So much so, it is unlikely that he will be able to make Paul's funeral on Tues next 16th Nov. For any of you that can make it, I'm sure that his family would very much appreciate your presence in joining them at Portchester Crematorium 3pm. I'm quite sure that one or two of his old Oppo's will have some very good memories of Paul that they may want to share. RIP "Moods" old mate.

Derek Usher

To everyone who knew my Dad Paul Moody, I would like to thank you all for your very kind words. Dad was always talking to me about his life in the 'Band' and I have lots and lots of memories of his 'band life'. I am and was so proud of him being a member of what I call the best military band in the world. Though my dad has passed, his enjoyment of big band music and the band will not, because it will live on in me and my family, and I shall pass it onto his much loved granddaughter Charlotte, who he loved so, so much.
When he was unable to play his sax/clarinet anymore he kept them so that his Charlotte (should she want to) could take them up and hopefully his musical talent will live on in her.
Thank you all so much.
Love Kelly
Jim Fallace - 29 Dec 1903 - 07 Oct 2004
Yesterday I attended the funeral in Deal of Jim Fallace, a very remarkable fellow. Son of a serving Marine he was born in the barracks at Deal on 29th December 1903. He died 7th October 2004 at the age of very nearly 101.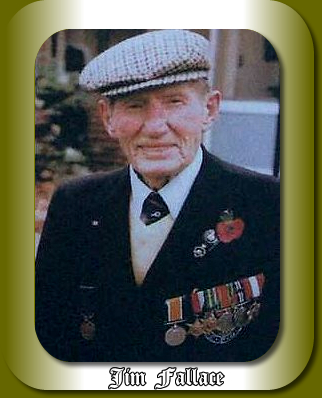 He got into the Corps himself as a boy by joining the Royal Marine Light Infantry as a Bugler/Drummer. After 'transferring to the ranks' his war service was spectacular and included being taken prisoner by the Japanese and being torpedoed by a US ship when being transported as a prisoner. He saved himself by swimming three miles to the Chinese shoreline from where he trekked 1400 miles to a border where he was able to cross and return to the fray. As well as serving in the Corps, and becoming a Royal Naval boxing champion, he became a colonial policeman and rose to the rank of Chief Inspector and he also served at one stage as a Lieutenant in the Indian Navy.
In order to remain close to the Corps he eventually became a much respected Steward and MOA at the Officers Mess at Deal from where he eventually retired. These are just a few facts that I gleaned from the words spoken at his funeral and get nowhere near telling the full story of this remarkable man. Suffice it to say that his coffin was carried by eight stalwart former Royal Marines SNCO's and Regimental Sergeants' Major and the congregation at St. Saviours Church included Lieutenant General Sir Martin Garrod KCB, CMG, OBE, DL, a former Commandant General of the Royal Marines.
The coffin left for Deal cemetery to the sound of the Leon Young's Band Service Fanfare, 'To Comrades Sleeping'. This had been a memorable occasion for our Corps family.
Yours ever,
I would like to report that Doug Saunders, a former RM Bandsman/Bugler, has passed away. He was aged 79, and his funeral takes place at the Vale Crematorium, Stopley, Luton, on Wednesday 13th October 2004, at 14.30 hrs/ 2.30 pm.

Doug was an active member of the HMS Gambia Association, and he was such a nice man who will be sadly missed by all those who knew him. The HMS Gambia Standard will be paraded at the funeral. Doug was of the Olde Schoole, who failing to get himself called up by the Navy or Air Force, he upped his age by two years, and enlisted in the Royal Marines! Following initial training he was drafted to HMS Gambia where he soon found himself in the British Pacific Fleet, under the Royal New Zealand Naval White Ensign, where he served up to an including representing the Royal Marines and New Zealand Navy at the Surrender of Japanese Forces in 1946.

We will remember him.

Yours aye.

Billhartland@btinternet.com

Les Griffin - August 2004
In my capacity as a Police Officer in Exmouth I have a lot of unpleasant duties to perform. It came as a great shock to me when I was tasked recently to find the family of a male found to be deceased at his home in Plymouth.
The reason I was so shocked was that until I started speaking to the people at the address I was given, I was not aware that the deceased person was an Ex Bugler Les Griffin.
He passed away sometime at the end of August
THE FUNERAL OF LES GRIFFIN WILL BE AT WETON MILL CREMATORIUM, PLYMOUTH AT 1500HRS ON FRIDAY THE 1ST OF OCTOBER 2004. HOPE THAT ANYONE WHO KNEW "GRIFF" WILL SPARE THE TIME TO ATTEND AS HE HAD SPARSE FAMILY WHO HE HAD LOST TOUCH WITH FOR MANY YEARS IT WILL BE A SHORT
SERVICE AND HIS ASHES WILL BE GOING TO HIS SISTER SANDY WHO WILL BE ATTENDING THE FUNERAL
HOPE WE CAN GIVE HIM A DECENT SEND OFF
Gary Powell

David "Hooky" Walker - 18 August 2004
I am sorry to have to inform you of the passing of David "Hooky" Walker (Solo Cornet) aged 56 on 18 August 2004. I first met up with him when we both served in the C in C Western Fleet Band under the direction of the late Captain Peter Sumner. He was a most excellent player both in military band and orchestra but his greatest forte was in the dance band. He had the ability to get, with ease, notes higher on the trumpet than could be produced on the clarinet, he also was able to dash out an arrangement on the back of an envelope if required.

On leaving the service he played in several bands and theatres, including the Syd Lawrence Orchestra. I met up with him when we were both teaching in Stamford, he being full time at the boys school and me part time at the girls school. Later on when the schools amalgamated he held the post at both schools. He came up to Grantham on occasions to assist my colleagues and me with various concerts.

He leaves behind his wife Janet and two sons Christopher 25, and Richard 21. A memorial service is to be held for him at the Stamford school on 26 September.
Yours Sincerely,
Peter Clark
Geoff Gooderham - 10 Sep 2004
Ken Schooley rang me today to say that Geoff Gooderham had died, he had been in hospital with lung cancer.
The funeral arrangements are: Monday 20th September 1230 at Wincanton Crematorium. This will be followed by a memorial service in Wincanton Church at 1400.

A very sad day once again.

Regards to you all,

Mike Jones
Eric "Crash" Peters
Ex RM Bandmaster Eric "Crash" Peters RMBX 1130

I am sorry to report that my Dad, Ex RM Bandmaster Eric "Crash" Peters RMBX 1130 sadly passed away on December 26th 2003 aged 80 Years, after a short (but spirited) fight with cancer. He was a very proud man and none more so than of his 16 years service with the Royal Marines Band - which he joined as a boy of 14 in 1937. Dad served on a number of ships and these are listed on his Certificate of Service as; Impregnable, Indomitable, Duke, Bermuda, Swiftsure, Pembroke, Ganges, Vengeance, Glasgow, Phoenicia and of course School of Music between all of these. I just about remember living in Malta with the family when Dad was posted there in 1952. He never spoke much about any of his wartime experiences, but I do know he lost RM Band colleagues in action on the "Indom" and he always remembered them with sadness.
After leaving the service he was involved with the Territorial Army Band, The March Railway Silver Prize Band and The Skymasters (Tenor Sax and Clarinet) before being the inspiration behind the re-formation of The Ely City Military Band in 1962. Music was never far from his thoughts and his gentle influence means that music remains an important part of our extended family.
Dad had many photos and I just picked out a few. I know he had a really good time on the Glasgow and in the picture (marked - small band combination, Glasgow, Trieste, June '52), Dad is far left playing Tenor Sax. There is also a picture of him in his full "regalia", being introduced to The Princess Margaret (in his Territorial Army days) and one taken on his (last) 80th Birthday - note the badge on his Blazer!
25 Bandsmen from Ely City Military Band played at his funeral service and he was taken out of the church to the stirring strains of "A life on the Ocean Wave". A RM Bugler played the Last Post at his graveside - a fitting tribute to a fine man and father whom we miss very much.
We have already had emails from ex colleagues following the obituary in "Blue Band" and the family would like to thank everyone for your kind words and thoughtful support. I will be replying to all of you personally. Sadly, Mum also passed away just 5 weeks after Dad - we think she couldn't go on without him.
Brian Peters
brian@bpeters.co.uk
Click to see an enhanced view

Terry (Shady) Lane
From: Roger Waterfield
I would like to inform all readers of the death of ex Bd/Sgt Terry (Shady) Lane RMB 3823 1961-1987 Tenor Sax/Vln. Terry died after a short illness on June 29th.
Wilfred James Meelings Reynolds
4th November 1927 - 12 June 2004
Just home from the funeral of Wilf Reynolds. This picture (smiling for the camera only) of ex R M B 's are Dave Ibbotson Trom Max, Vince Harris Bassoon, Joe Simms Alto in front of Alf Smith Trom and Dave Pierson Cornet and Fiddle
K (Beare)
Staff Bandmaster Les Jordan RMB X1331
It is with much regret that I have to inform you of the passing of Les Jordan on the 1st June 2004 after a prolonged illness, which he suffered stoically. I knew him for many years both as a personal friend and also as a band service colleague, having served as his Band Sgt. aboard the Newcastle. I can assure you that a more genial and likeable person would be hard to find. Professional in every respect. His passing is a great loss to everyone who came in contact with him.
Ron Hempsall
Fred Matthias 1933 - 2004 by Alan Whalley
MUSICAL legend Fred Matthias has died, aged 74, after a brave and prolonged battle with increasingly painful and debilitating illness. But the spirit of the former Royal Marines bandsman will live on among several generations of local musicians who came under his expert tuition.
As recently as last year, Fred still had four local school bands under his baton - representing the latest in a succession of youngsters who first learned how to purse lips on mouthpieces of brass and silver instruments as Fred lent an educated ear and dispensed advice in his quiet, measured way.
Fred was brought up in the Daubhill district of Bolton but always regarded St Helens, where he had lived for decades, as his real home. And St Helens, especially within its social and musical circles, was a grateful beneficiary.
Keen
Always keen to unearth, nurture and promote the musically gifted, bachelor Fred selflessly volunteered his services with judging panels at countless talent shows, including Theatre Royal events and the St Helens Star's own youth competitions, culminating in on-stage appearances at the St Helens Town Show.
Fred, from Stainton Close, Moss Bank, was also well known for his weekly Band Call column which appeared in the St Helens Star for a number of years
Many will recall seeing Fred - of the clipped military moustache and shock of swept-back hair - immaculately attired and with baton skilfully whisking the air as his St Helens Concert Band performed at various local functions. These included legendary charity garden parties staged by the late Lady Mavis Pilkington, and various fetes, parades and concerts held in and around St Helens.
Chairman of St Helens Concert Band, John Henderson said: "This is most certainly the end of an era now that Fred has gone. He was a real character, who had a hand in everything."
Talent
Recognition of his musical talent led to a Europe-wide network of friends whom he used to regularly visit up to recent times. But St Helens was his real oyster and Fred was especially proud to be closely associated with the Citadel arts centre and with local ex-Servicemen's groups who benefited from his enthusiasm and organisational skills.
Fred Matthias' tune may have ended...but the melody still lingers on.
David Dollery - May 20th, 2004
Dave passed away on 20th May at Ballina, Northern NSW having lived there for approx. 25 years. He played clarinet with the Ballina Shire Band until 6 months before his death, and was a dedicated volunteer to all the district school bands, repairing the kids' instruments for over 20 years.

I was at a concert around 10 years ago when a little girl from the Primary School Band came up to him crying. Someone had sat on her clarinet and it snapped in two. He just said "Leave it with me little darling and I will have it fixed for you in no time". David was always seen riding his bicycle with trailer from school to school picking up instruments for repair, and a feature was done on him in the local newspaper a few years ago.

He worked for Boosey & Hawkes in Sydney when he arrived in Australia (year not known, but obviously post WW2) when they were in George Street upstairs not far from the Town Hall. He came in contact with many service personnel from bands and was the chief instrument repairer for B&H Australia. He retired to Ballina around 1979 when he would have been 60. His wife died a few years ago, but I'm not sure of his personal family details.

A grand daughter played in the Ballina Band with Dave until she was married. Her name was Kim.

A great bloke who was real good mates with the late Frank 'Lobby' Lunn. I think they both joined in 1936.

Courtesy of Jim Hawkins (Australia)
Roger Whitehouse - April 29th, 2004
Dear Richard,
The attached photo was sent to me by Joe Simms who recently heard of Roger's passing. The picture was taken on their wedding day, and is sent to you with condolences from the old RM Band in, HMNZS Philomel 1957/60. Glenda was a RNZN Wren, and should she get hold of this message I will be happy to pass on, and reply to Joe and all Roger's friends here in NZ.

Meantime if this could be published it will be much appreciated.

Take care

All the best

Bern
Roger Whitehouse - April 29th, 2004
I am sad to report the death of Roger Whitehouse yesterday 29th April. He would have been 66 years old.
Roger remained musically active playing clarinet, bass clarinet and keyboards in the Broadstairs and St. Peters Concert Band, the Marlowe Concert Band, Railway Swing Band, Beverley Big Band and of course, the All Stars Band.
Roger was not able to play in this year's concert but attended so that he could say goodbye to his friends as he knew he only had two months of his life left.
The widely respected wind instrument teacher and writer Peter Wastall has died of leukaemia aged 71. For more than 25 years Peter was an advisor to the music publishing company Boosey & Hawkes. More than half a million young people have learnt to play their instruments using Peter Wastall's books.
Peter is known worldwide for his integrated series of woodwind and brass teaching publications including Session Time, Practice Sessions and the Old Macdonald Recorder Method. However, he is best remembered for the award-winning Learn As You Play series which remains one of the most widely used beginner tutors, and has been translated into French, German, Spanish and Dutch. He was a member of the Editorial Board for the recently published Boosey & Hawkes Wind Method.
For many years Peter was a member of the Society for Research in Psychology of Music and Music Education, with whom he was actively involved in research over the processes of learning to play and the development of style and technique for woodwind instrumentalists. He received an MA in the Psychology of Music for his work on improvisation techniques and he channelled all this background and experience into his teaching books. He travelled widely giving seminars for music teachers, the central focus of which was to encourage the exchange of ideas and techniques in instrumental teaching, and he explored contexts encouraging instrumental teachers to integrate their teaching into the school classroom music curriculum.
Peter Wastall entered the Royal Marines School of Music as a flautist aged 14 and served in the Royal Marines Band as player and tutor until the age of 30. In civilian life he taught at St Lawrence College, Ramsgate, Dover College and at Kings School Canterbury. Having moved into teacher training at Nonington College, Dover, Peter later returned to instrumental teaching for the Northamptonshire Music Service.
He and his wife June retired to a beautiful house with large garden near Exeter where Peter devoted his time to his twin interests - music and gardening. These he did with enthusiasm, expertise and passion, traits which underpinned all he did.
[end / SR / 211103]