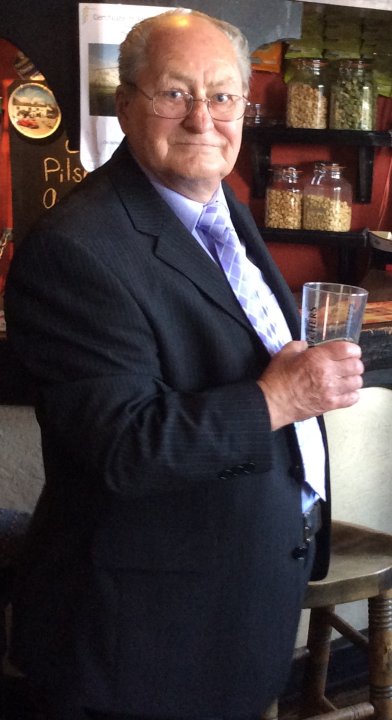 HAPPY 90th BIRTHDAY TO RMBx 2113 ROBERT "SANDY" SANDERS, BORN 30th JUNE 1929.
Sandy was our drummer and oldest "sea dog" of the RM Band formed up in Deal in January 1963 initially for HMS Blake, but then, when she was suddenly mothballed, HMS Centaur. We were found a berth for 6 months at CTCRM, Lympstone and finally joined Centaur in Pompey in November 1963. (For an account of our first year please find "THE FIGHTING C" near the top right-hand side of NOTICE BOARD).
1929, the year of Sandy's birth, was the year of the Wall Street Crash and heralded the first transmission of John Logie Baird's experimental 30 line TV system by the BBC. ... and people such as Roger Bannister, Graham Hill and Ronnie Barker joined him in making their impact on the world. Sandy was 14 when he joined B Company, the Junior Wing of the RNSM, at Howstrake Camp, Isle of Man in early January 1944 and he recollected forming up for a route march outside the Company's ablution block when the Camp Commandant suddenly appeared to tell them that British and American forces had landed in France ... that day was, of course the 6th June 1944.
The 4th and final commission of HMS Centaur proved to be an excitingly active one, especially the year and a day spent East of Suez ... December 21st 1963 to 22nd December 1964 ... involving us in the tragic "Lakonia" disaster, the "Dar Incident" in Tanganyika, the Radfan, Borneo and the "Indonesian Confrontation". Sandy was our kindly, good humoured and immensely competent percussionist in an exceptionally talented band of youthful and experienced musicians led by Bandmaster David Wells, who passed away in September 2018.
The known surviving members of that band who attend our annual HMS CENTAUR & FRIENDS GET-TOGETHER at The Plough Inn, Ripple each 22nd September were delighted when Sandy attended in 2016, smartly dapper and in beamingly good form. Sadly his health prevents him from travelling far from his Gillingham home nowadays, but it is a delight to chat to him on the telephone as he is sharp of wit, has excellent recollection and retains the sense of humour which always made him a most likeable companion.
This birthday is a special one for Sandy and all who know him. I wish him the happiest of days on Sunday together with my love and respect
Willi Watson, on behalf of the HMS Centaur Band 1963 - 65.