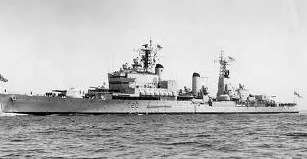 In January 1963 in Deal, a RM Band was formed to serve on the RN's most modern fast-gun cruiser, HMS Blake. State of the art and pride of the fleet she was to wave the flag and show that GB's post-war Navy was still a force to be reckoned with. The Band was chosen to match these high ambitions by being made up of ex-Royal Yacht, Plymouth Group and Staff Bandsmen, with the remainder a mixture of steady, reliable musicians and exciting young talent, and was 20 strong, two more than the usual ship's band by the luxurious addition of two french hornists. The Bandmaster was David "Ginger" Wells, (son of the East Barracks "snob" who did so much to ensure that our "Pusser's 'Onks" had the studs capable of a good 25ft slide in the New Block corridors!) known to be a "steady-Eddy" leader, certainly not a fire-cracker like the Band Sergeant, the talented and much-loved Dave Elliott, universally admired for his musical gifts and personal charm.

The three Band Corporals were all cornet/trumpet players; Maxie Beare, the "Gigmaster Supreme", Bert Nicholls and Willy Shears (and yes....he DID cut everyone's hair....and half the ship's company's as well!). Ken Richards completed the high brass section. Ex-Yachtie Willi Watson and George Siviter were the horns, Richard "Bagsy" Baker euphonium, Big Gerry Miles and youngster Tom "Paddy" Mailey the trombones, with Guz gigster Dave "Hippo" Simmonds the rock-solid bass of the band.

The winds were led by Roger Smith with fellow clarinetists Dave Elliott, "Ginger" Feather, Tony Platts and Rodney Preston, with Rodney's fellow band sprog John Ware on flute and piano. Peter Ward and John "Slim" Taylor were alto- and tenor-sax respectively and the band's old salt Bob "Sandy" Sanders was the hugely experienced drummer. Two buglers, Bug/Cpl Hillier and Bug. Wilkins completed the set to make 22 bodies on the march.

A LOAD OF OLD MOTHBALLS!!

Cold, snowy weather marked those early months of 1963 but there was a warm glow within the Blake band as rehearsals exposed the talent amongst it's musicians and a satisfying, corporate sound emerged from band, orchestra and dance band. There then came a shock that was to alter the lives of the band-members in a hugely significant way; the government decided the whole exercise was too expensive.....and in March, put Blake into mothballs! As a home was desperately sought for the band, there was another "shock" to disrupt what had become a tight-knit unit......Dave Elliott was selected for the next Bandmaster's course and his outstanding talents were lost forever. Luckily, a like-for-like replacement was found in the person of B/Sgt Fred Woods, an amiable and good-humoured man who soon "slotted in" without fuss. But......where to next?

GO WEST YOUNG MAN!

The answer to this conundrum was......ITCRM LYMPSTONE! Being responsible for the second major stage in a Royal Marine's training and for producing regular, fresh boxes of young officers, they had been pleading for a band for years and were now to get one for 6 months before the musicians originally intended for the Blake embarked on a two year commission as the Band of HMS CENTAUR. So, after a period of time when they had no idea of what the future held, our heroes now knew their fate and had half a year to settle in one place with a proper sense of purpose.

Lympstone loved their band, but no one loved them more than the RSM! They became his children and could do no wrong in his eyes and this made training the camp to the standard expected by a RMB (time off, no shouting, keeping the noise down in the afternoons etc, etc) a very easy task. 1963 was a beautiful summer which necessitated constant after- lunch trips to Exmouth's beaches. If in the vicinity the RSM would order the raising of the barrier himself, waving goodbye as he smiled fondly at "My Band", and seeming not to notice when Roger Smith's car had up to 9 occupants, Willi Watson recumbent in the boot.

It was a happy and rather magical time, with evenings spent in the "Puffing Billy" pub in Exton drinking scrumpy-tops and playing increasingly erratic games of darts, before ambling through the lanes back to camp whilst eating the landlady's beef and raw-onion butties. Outside gigs were not over-plentiful but always interesting, such as the beach festival at Woolacombe Bay when, after an air-sea rescue demonstration by a Royal Navy helicopter, it decided to land next to the band seated in programme formation, sand-blasting instruments and uniform brassware and scattering sheet music over half of North Devon.

POMPEY...and CENTAUR, 2nd OCTOBER 1963.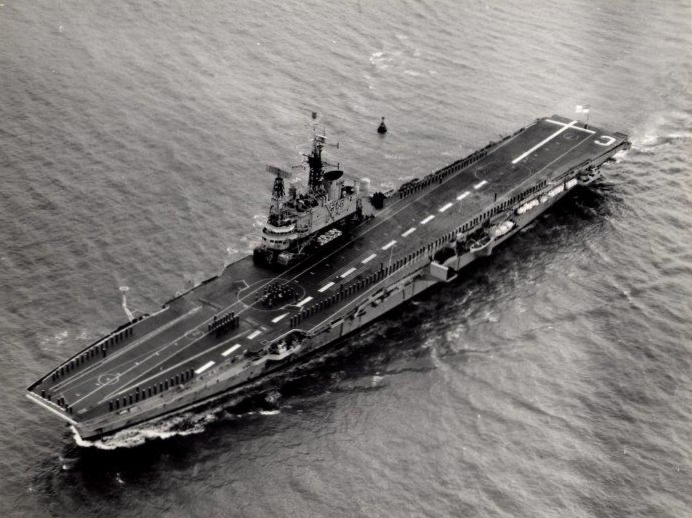 All good things must come to an end (as some deranged person once said!) and in October it was fond farewell to the beautiful South Devonshire countryside and onward to Pompey Dockyard and the mighty Centaur. The West-Country element of the band had had six months of being near home; now it was their turn to do some long-distance travelling to see loved ones at the weekend. HMS CENTAUR was commissioned on Friday, 15th November 1963 and commenced two weeks Sea Trials the next day. On 22nd November whilst somewhere in the North Sea the bo'suns whistle sounded over the ship's tannoy and the officer of the watch announced that the Captain would make a special broadcast at a certain time. Rumour flew round every mess deck, the favourite being that the USSR and the West had declared war on each other, not such a great flight of fantasy in those days. When the Skipper finally announced details of President John F. Kennedy's assassination earlier that day there was, ironically, almost a collective sigh of relief from the listening ship's company.

"... AND THEY SAILED FOR A YEAR AND A DAY..." SATURDAY 21stDECEMBER 1963.
(What a way to spend Christmas!).

There was a sombre mood amongst all on board Centaur as she left her berth at 1100 hours with decks lined and band playing. Passing close to the traditional vantage points near the High Street and cathedral afforded the crew a final glimpse of loved-ones waving farewell, a poignant moment especially for those with young children. There was no time to be lost, however, as the deadline for the convoy through the Suez Canal had to be met and an important rendezvous to be made in the Bitter Lakes with the returning Ark Royal who Centaur was replacing "East of Suez". So it was through the Bay of Biscay and head for the Straits of Gibralter. In the hour spanning midnight 22nd/23rd December Centaur's radio came alive with distress calls from a cruise liner on fire some 180 miles North of Madeira and she was dispatched to take charge of rescue operations.

THE LAKONIA DISASTER.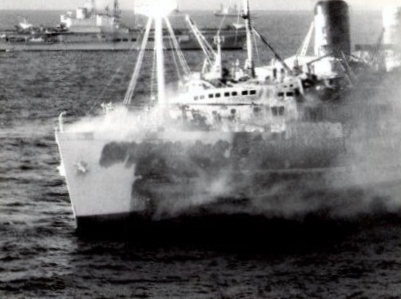 TSMS Lakonia was a Greek cruise ship 609 feet in length and 20,300 tons. She had sailed from Southampton on the 19th December bound for Madeira, the first stop in a cruise round the Canary Islands carrying 1022 on board, 646 passengers, all but 21 British, and 376 mainly Greek and German crew members. Smoke was first seen coming from the hairdressing salon and fire spread with ever increasing speed although passengers were unaware that the quietly-ringing bells heard for just a short time were trying to warn of the horrors to come.

It was still dark as Centaur arrived at the scene at "dead slow", making just enough headway to keep her bow into the stream. As the sky began to lighten on that Christmas Eve, evidence of the shambolic evacuation of a ship in trouble was spotted in the heavy swell as the first body was seen in it's brightly-coloured lifejacket. It was decided to launch the first of Centaur's cutters to search for survivors crewed by a junior officer as skipper, a stoker/engineer, a coxswain and two medics.......i.e. Royal Marine Bandsmen! These were Musn Richard "Bagsy" Baker, euphonium and cello and BR "Willi" Watson, horn player, Neptune House pals as boys with Baker the elder by just a few months. They were "2nd Watch" that day and, grabbing their "medical" kit, they embarked on the pitching cutter and set out into the heavy Atlantic swell.

The medical training received by Centaur's band at Lympstone had been sporadic and sketchy and geared towards humping stretchers around rather than any fancy life saving skills. If it was bleeding...stick a bandage on it and run to someone who really knew what to do...was the gist of the instruction given! In each bag of medical kit was a tube of morphine, which seemed to be the "default" treatment for all ailments bar a nosebleed administered by medics in war films like "Platoon" and "Band of Brothers". In appearance rather like a tube of toothpaste,you found a soft bit...stuck it in...and squeezed. Simples!! Sadly, the most sophisticated first-aid equipment in the world would have been to no avail on that day.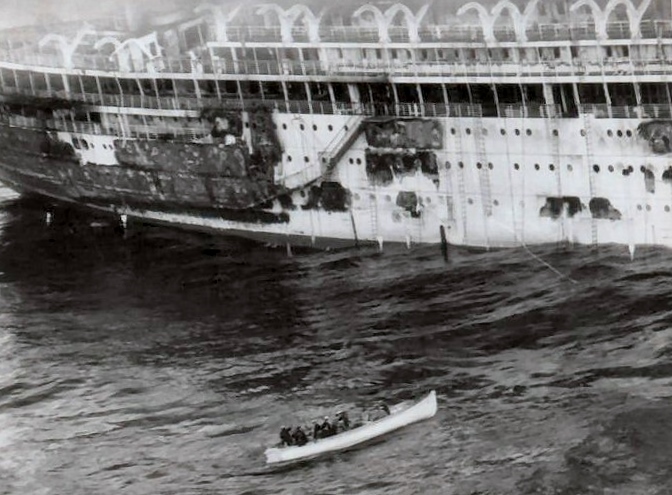 The first body found and pulled aboard the cutter surprised the two bandies by how heavy it was. Full of sea-water it took a great deal of strength to haul it over the gunwale and as they succeeded they heard a loud groan coming from the victim, raising their hopes that there could be life there. It soon became apparent that movement and weight exerted pressure that forced air past the dead person's vocal chords... and they were to hear this dismal sound many times during the day. There was no time to discuss physiology, however, as more bodies were spotted and the hauling-aboard process had to be repeated time after time. Death had been indiscriminate to the Lakonia passengers and had taken it's toll on all age groups. The hardest thing for Baker, Watson and the cutter's tiny crew was having to deal with women and, worse still, children. The young skipper of their boat was in touch by radio with Centaur and he was told that other merchant ships in the area had picked up bodies which now needed to be transferred to the carrier, so he headed for the nearest ship, a tanker.

Eventually they were alongside what appeared to be a huge wall of rust " pitching up and down like a chest of drawers", as Willi said later (the words "a chest of...." may be misreported!). Three or four bodies had to be lowered on ropes down this "cliff" with the constant danger that the cutter could be smashed against the hull of the tanker and the crew had to use all their skill to prevent this. This ship had British officers and an Asian crew. One of the officers shouted down that the final victim was "not very nice" and they had done their best by wrapping it in a tarpaulin. Two sailors, each on a rope, started the lowering process until there seemed to be a problem which neccessitated lots of shouting from all three parties. Suddenly one end of the tarpaulin roll tipped violently by 90 degrees depositing a mixture of sea-water, blood and (what Bagsy Baker described as) "bits" onto the upturned faces of the two bandsmen below. Not for the first time...or last...that day, Bagsy and Willi looked at each other...and shrugged! There was still work to be done.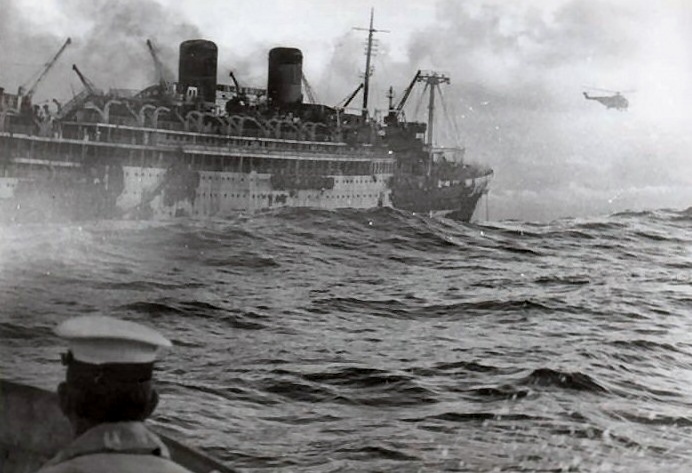 More bodies from ships and the sea filled the cutter so that it became increasingly difficult to move around and the sheer weight of it's contents was making the boat low enough in the sea to start shipping water. More than five hours had elapsed before they arrived back to the port side of Centaur and to the task of offloading their grim cargo. The sea had, if anything, become more lively and the cutter rose and fell by ten or more feet and there was a distinct danger of smashing into the side of the carrier. A heavy steel basket was lowered by the port-side crane, but it's size and weight made manoeuvring it into a position where the two musicians could place the first body, heavy with sea-water and stiff in death, inside the framework. The vertical movement was also making it a dangerous exercise with the basket threatening to brain or seriously injure someone in the cutter. The first victim was hauled aboard... but this had taken the best part of 30 minutes to achieve and it was becoming obvious that the cutter's crew, already cold and tired from their efforts, would be exhausted before all the dead could be offloaded.

Bagsy and Willi doggedly manoeuvred another body into position with it's head on the gunwhale, that of an elderly man dressed in a long, black overcoat. With the coxswain fighting to keep the boat from colliding with Centaur's flanks, down came the steel basket again, but this time too fast. The cutter shot upwards with the swell...the basket kept going...and the two met precisely on the head of the newly-positioned body. It's head "changed shape" as Watson said later...and the gunwhale splintered and split with the force of the impact. The two bandsmen looked at each other...and shrugged! The struggle resumed but not for long as it was decided to take the boat to the starboard side of Centaur and raise it and it's contents clear of the sea on davits. A call from above suggested lightening the cutter's load and a skinny rope ladder was lowered down the carrier's side. Watson was nearest and grabbed at the ladder, swiftly pulling himself up and clear of the rearing boat below. As he climbed above the noise of the cutter's engine and the sound of the sea against Centaur's flanks, there was an eerie hush. He had been vaguely aware that hundreds of the ship's company had been staring down from the carrier's waist and flight-deck at the struggle below and, looking downwards himself, he could see what they saw...a boat strewn and stacked with dead, women and children amongst them. These sailors, many married, some with children, had just said goodbye to their loved-ones...just days before Christmas...and were looking down helplessly on a depressing scene of horror. It was in absolute silence that Willi finally hauled himself onto Centaur's deck and few met his eyes as he looked at the gathered matelots. He was unaware of who greeted and spoke to him, but registered that his tot had been saved and awaited him in his mess and that a meal was still available in the dining galley. Finding that there were TWO tots available was cheering news and those, and a large meal, helped him sleep dreamlessly for the next five hours.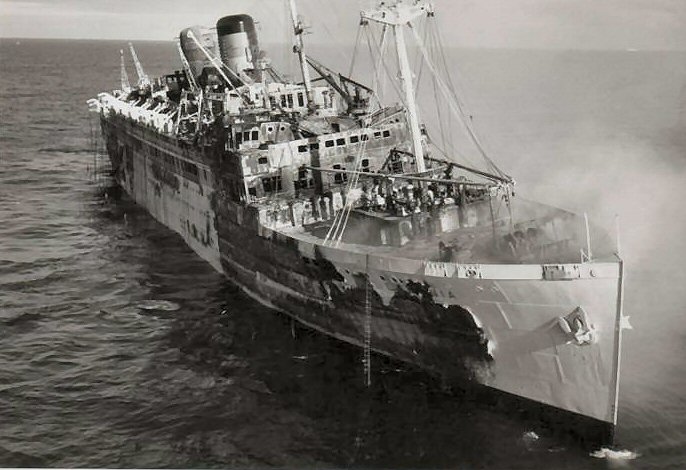 Things were not, however, quite over for Bagsy Baker. Willi had hardly disappeared from view when the cutter was on it's way to the starboard side of the ship where, not without difficulty, it was attached to davits and hauled clear of the sea. Waiting were the members of the band not involved in the sea searches and they handled the bodies on stretchers to the quarterdeck for the identification process. Dropped into the ocean again, Bagsy and crew were asked to pick up another body... and it was then that the cutter's engine decided to pack up. As the young skipper transmitted this information back to Centaur... the radio went dead! Bagsy was not amused when the engineer/stoker confessed that he knew nothing about this type of engine and it was sheer luck when, after pitching about helplessly in the heavy swell for some time, the engine roared into life and they were able to get back to the mother ship.

With Baker and Watson in the first search boat, a second boat was sent out with Band Corporal Willie Shears and solo clarinetist Roger Smith as medics. Quite a lot of merchant ships had responded to Lakonia's distress signals and several ships had spotted and taken on board the bodies of victims which now had to be collected and taken to Centaur. The second cutter went about this task, also finding two more victims in the sea. Roger wrote these words recently: "People just can't imagine just how harrowing an experience that was. I remember us picking up an old gentleman. We had just got him inboard when his foot fell off. Something had been eating him. A young girl still in her nightie ... and so it went on."

Willie and Roger finally arrived back at Centaur with " ... a large pile of bodies stacked in the centre of the boat ..." as Roger remembered. Learning from the efforts of the first cutter, they were hauled out by davits so that the waiting band members could carry the bodies to join the others. Centaur was close to the severely damaged and still smoking Lakonia and, once it was deemed safe enough, had landed men from choppers to assess the state of play. They found no one alive so, once the cutters were free, they were used for boarding parties to collect the dead from the liner, these having died in the fire and suffered horrible injuries. Once back on Centaur these 22 victims were laid out with the 55 brought in by the two cutters. A final distressing task now had to be carried out. Volunteers from senior ratings had been gathered, together with a copious supply of rum and, under the guidance of the SMO and the dental officer (Surg. Lt/Commander Ray Radford who had been at the same school and Boy Scout group as Willi Watson!) dental records were taken, the bodies were cleaned up and sewn into sheets. Bandmaster Ginger Wells and Sergeant Fred Woods were obviously involved in this sad and terrible job as medics and when it was over they returned to their messdeck, both of them pale and obviously traumatised by the experience and remaining very subdued for several days.

CHRISTMAS DAY. " ... here we go a-wassailing ...!"

It was a very subdued ship's company as Centaur reached Gibralter on Christmas morning where she had been ordered to offload the Lakonia victims. Word had got around that the final body count from the disaster was quite a lot higher than the 78 unfortunates accounted for by Centaur, but the final total of 128 was not to be known for a while yet, and nor was the level of International furore the incident aroused apparent at this time. There was the meeting with Ark Royal and the Suez Canal to think of and the ship ploughed Eastwards through the Mediterranian Sea. Tot time came and in the band mess SOMEONE said something like: "This ship is in a state of misery and shock, understandably ... we've GOT to do something about it. What we need is CHRISTMAS CAROLS!" Unbelievably, it was discovered that there was no suitable sheet music in the band library, so it was time to go busking. When led by such a great extemporiser as "Uncle" Maxie Beare and encouraged by a tot of rum and several cans of beer (illicit hoarding had occurred, blowing wide open the 2 cans a day rule!), the lack of dots was soon overcome and recognisably familiar tunes flowed down the ships gangways. The band went on the move, growing in confidence as players found the correct voicings and harmonies that gave authenticity to each carol. Invitations from one messdeck after another were proffered and it was soon clear that all the matelots had stockpiled booze. The band battled bravely on! The spell had been broken. A mixture of singing comforting old tunes, alcohol and sheer good humour and bonhommie brought the ship alive again and the band's lead in this, coupled with their very hands-on part in the Lakonia sea-search and the aftermath, had made a strong impression on the ship's company that would be further reinforced the following month. But for now, it was time for food! Playing suitable music, the band led the way in a conga to the dining-galley, picking up more and more matelots as they proceeded. Then it was more carols between mouthfuls of a lovingly-prepared Christmas Dinner, more beer and messdeck visits ... and the day eventually drew to an end, closing the first chapter of an eventful year in Centaur's history. No one could have foretold that in just a few weeks Centaur would be involved in yet another International incident with it's Royal Marine Band playing an important role ... and covering itself in glory again!
Click above images for full view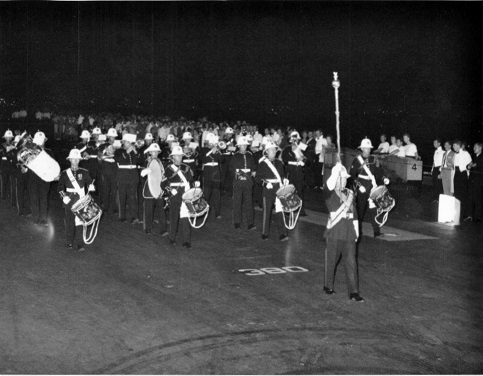 Beating Retreat on deck of HMS Centaur

CODA.

Thank you Roger, Bagsy and Maxie for your help in writing this account and I apologise to you and to Dickie for it's late appearance. It should have been finished by 25th December but it was harder to write than I bargained for, arousing strong emotions that took me by surprise, Anyway ... I didn't want to ruin ANOTHER Christmas for us all!

I dedicate this account to my comrades of the Band of HMS Centaur 1963/64 with my love, admiration and fondest memories.

Willi Watson ex RMB 3599. Dersingham, Norfolk.

http://www.andalucia.com/forums/viewtopic.php?f=21&t=18319
http://en.wikipedia.org/wiki/TSMS_Lakonia