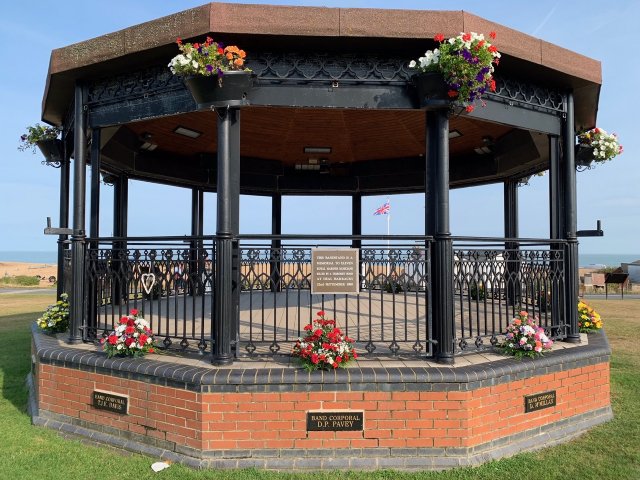 Photo of the Memorial Bandstand only days prior to the 32nd anniversary date when a
Service of Remembrance was conducted at the Memorial Garden on Canada Road 22/9/2021
Courtesy of Graham Hoskins
September 22nd is a date indelibly inscribed into the memory of all who served in the RMBS. Remembering that tragic and horrific event when we lost many young men is painful for so many. However life goes on and it has to continue in an optimistic and positive way. Our annual meeting on September 22nd at "The Plough" in Ripple, was formerly organised by Willi Watson as a means to socialise with his former messmates from HMS CENTAUR. It has grown over a few years to include many, such as myself, who served in the Staff Band under S/BM Jock Brown (90) and toured the USA in 1965. Sadly Willi was unable to attend this year due to declining health and we all wish him well in his continuing battle. His presence was felt by all and we are grateful for his generosity in paying for the most excellent buffet lunch enjoyed by all.

Graham Hoskins had invited the incumbent PDM, Jason Burcham, who attended together with the Corps Bandmaster and Corps Bugle Major. I had agreed with Graham to be MC of the day and I formally welcomed Jason to our meeting. What an honest and revealing speech he gave us!! Full of facts, critique (!!) and humour. There are currently 341 serving members and 5 bands of 54 plus Director of Music. The situation regarding the demise of Kneller Hall was addressed. The Army musical training will take place in Pompey but quite separate from RMBS…and it must not have escaped the observation of others, who like me were greatly amused by the back-handed compliment for the whole unit to be named "The Alford Schools of Military Music"…….
The former role of the RMBS in providing bands for HM ships has long disappeared and with it the need for musicians to be 'double-handed'. Consequently we were told that the categories we have known for so long: Clt/Vln, Euph/Cello etc are to be scrapped and in the future all entries will concentrate on just one instrument. With many joining at a standard above Grade 8 this will be reflected in an even higher standard of musician and allow for training to be reduced from 3 years to 2 years and hopefully attract some high quality string players.
The question of why there is not a RM band on the new carriers and the explanation that there was not room caused some mirth from the assembled company, who in the past had survived very cramped conditions on very small ships!! I raised the point that there are only a few currently serving in RMBS who have served aboard a ship and probably even fewer high ranking Royal Naval officers who have served aboard a ship with a band. We older folk know the effect a small band performing a BTR on a strip of concrete in some far-flung part of the world had on fostering goodwill with the local community and creating sound trading opportunities. The lack of imagination from the top in not continuing this role for the sake of 25 bed spaces seems foolish in the extreme.
All who were present at 'The Plough' were grateful to Jason for his informative address to us, packed with so much information and it is very clear that in his capable hands the future of the RMBS is assured.
Adrian Brett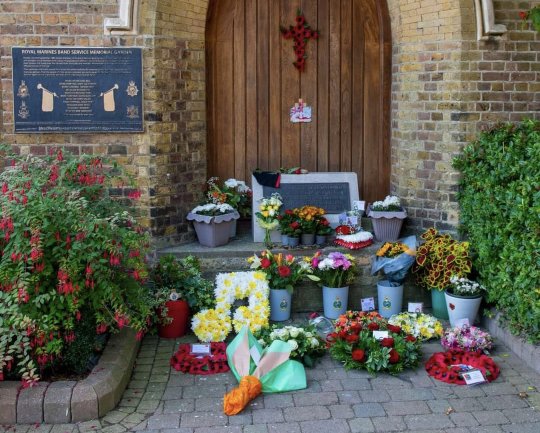 Photo taken the morning of 22/9/2021 by Graham Hoskins. Col Hoskins and his wife
Margaret help and devote their time to care and upkeep the Memorial Garden for which
the families of the fallen and the community are grateful.