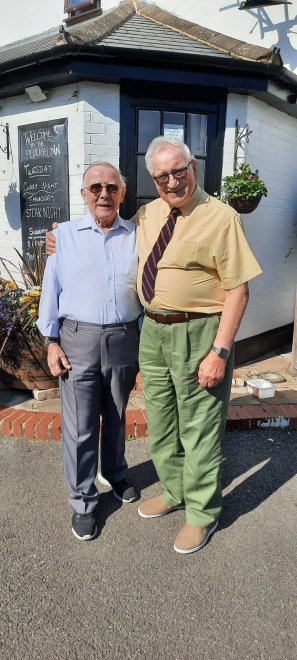 Noel Crook with Graham Hoskins.
I have to say that I had a lovely telephone conversation with
Graham only a day or so after this auspicious meeting that took
place a few hours after the memorial service at Canada Road.
Interspersed with the personal recollections by Graham was included
an anecdote regarding someone who was in attendance whom he had
not met since days as 'bandboys' circa 1951/2.
I quote a line or two from an e-mail I received from Noel within the time-line
of this event:
"Dear Richard, Still moving onwards in life and well. I went down to Deal on Wednesday to meet up with OLD friends as in the photo I'm sure you will recognise him, Lt Col Graham Hoskings, the last time I met him was 1951-2 in Deal so a fantastic meeting and his wife a really lovely Lady. Also meeting Jock Brown 1953 in Phoenicia and My Bandmaster at RNEC Manadon Plymouth, met him at for the first time in Malta 53. What a great wonderful day! Wishing you well and the best of health, keep the web site going. Yes I do browse thro now and again. Dec 27th is the next mile stone my 87.
My Very best wishes to you and all past and present Comrades."
Noel