Hello again Richard
Thank you for your help in getting me onto the buddy list. There are quite a few names on the list that come to light with me, so can I contact them collectively or do I have to e mail them separately, also I have some photo's that I would like to put onto the site, can you help me with this. Sorry to ask so much of you Richard but this is all new to me. Once again thank you for all your help. I would like to wish you a happy new year and hope to meet you one day.
All the best Richard and keep up the excellent work
C
lick on image to enlarge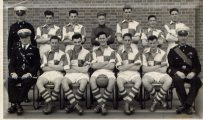 Hello again Richard
Thank you for the info and input you sent me, it has been very helpful. I am enclosing a couple of photos, from many years ago, and I would like to know if anyone can help me with some of the names in the football team. It was taken 1955-56 and is of the boys wing 1st XI. I am in the back row on the right behind QMS Jennings. Rip Kirby is in the front row second from the right of QMS Jennings. The other photograph is of yours truly (Sid Sheard) at the ocean fishing pond Singapore. If there are any guys out there who were in the HQ 3rd commando brigade band 1965-67 I would certainly like to hear from you.
C
lick on image to enlarge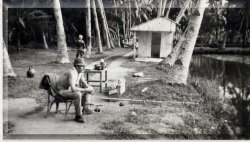 I would like to take this opportunity to wish you all the best for 2004 and hope to meet many old friends sometime in the future.
Once again Richard thank you for all your help and keep up the good work.
I see the photo from Sid Sheard, and the only one who I believe I recognise other than Staff Bandmaster Kipper Jennings, is Dave Stubbs, front row, second from left, third from left including the Officer.
Hope this may help.
Yours aye.
Bill Hartland.
Excellent website!