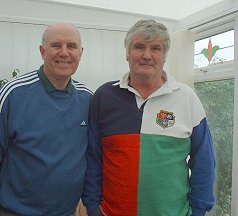 Hi Dick,
I thought that perhaps you would like to put this small article and pictures on the site relating to a visit to my home to see Jill my wife and myself of two great friends from the past.
Firstly we had Ken and Judy who now live in France and were over here visiting family and friends. Ken (Myatt) later changed his name to Hayward, was in J/Wing 55-58 and was in Barham House. Ken's instrument was French Horn and was in the class above me the time I was on Horn.
From that time we became great friends, we both loved our sport, Ken was a great Cross Country Runner and myself a Sprinter plus we loved all other sports, Ken, later, near the end of his training decided to change over to General Duties. After J/Wing I went to HMS Vincent Band then onto HMS Tiger 61-63, after leaving the Tiger I went into the Staff Band and Ken then returned from serving in Singapore where he landed in the flat above me at the top of Drum Hill in Deal where Jill my wife and his wife Judy became close and firm friends, in that we are God-Parents to their oldest son as they are to our youngest daughter.
We always talk a lot about old times and Ken wondered if anybody remembers him from J-Wing and as I said before he was in Barham House, if anybody has any old house photo's from 55-58 he would love to see them.
What a wonderful weekend we had altogether, we have been friends now for about 47 years and we have had wonderful visits together especially when we visited them in their home in France, Great Wine! I am sending you a photo taken of us together in my home.