In my retirement I have no restrictions that dictate whether or not I can travel, so it didn't take me many minutes to decide that I would pay my respects in person and contribute to the cause, that of the many thousands of pounds that go to chosen charities including those that assist directly our own RMB colleagues and in particular the families left behind after the events almost 25 years ago.
The many contributors and casual visitors to these pages will forgive my personal review of the whole weekend that encapsulated the actual date of the concert. There was significantly more involved in my several days visiting the United Kingdom than just the visit to the Winter Gardens Margate.
How many of us use the UJC (Union Jack Club) these days? I can state unequivocally that it is far removed from the pre 1976 days when for those of us who used it in decades prior, the facilities although affordable, were spartan in comparison. My en-suite room is comfortable and immaculate everytime I visit. You can visit at http://www.ujclub.co.uk

[Hover your mouse over the program and click for a moving tribute]
Having travelled to the UK on a regular basis since making the USA my home way back in 1992, in recent years and visits I was offered the opportunity to visit the Lion King (Lyceum Theatre) and sit-in with Adrian Brett (flutes of all kinds) who has been resident for that show for too many years that he cares to recall.

I planned to arrive in London a day earlier than the date for the All Stars concert in Margate so that on that evening I could experience the long anticipated privilege of actually being in the orchestra pit for the world famous show. Adrian and I had arranged for myself to walk across the Thames via Waterloo Bridge and meet up at the Wellington pub right next door to the theatre. My walk across the river was a treat in itself with to one side Westminster Bridge and St Pauls all lit up and to the other, the 'Eye' and Big Ben similarly illuminated.

Having met as arranged, we made our way to the stage door and duly got myself signed in as a visitor for the duration of the show behind the scenes. Here follows a small selection of photos whereupon I will make further comment. All images were captured with a Samsung Galaxy Ace 2 cell phone.
Click on images for full view
After the show we had to 'wet our whistle' (Among the vast assortment of African flutes, the Penny Whistle was included in the score) and we took a leisurely stroll across the Thames to a famous watering hole right near Waterloo station (and my hotel) where Adrian could get the train back to his south London home.
Thank you Adrian. Thank you for the privilege and the lifetime experience. I'm proud to know that we are both part of our unique 'band of brothers' and that you are only one of many who took their experience of the RM Band Service to higher ground. Congratulations on your achievements.
And now to Margate:

Although I had made prior arrangements for accommodation in the Margate area for the Sunday 23rd event, I was invited to travel to Deal whereupon arrival I would be met by my dear old Pompey Band buddy Tony Oliver. He and I would then travel by car to Margate and at the time it was understood that Tony would have to return later and directly after the concert due to prior committments. So it was that the convenience of staying at the UJC meant that I could take the train to Deal (originates from Charing Cross remember?) from Waterloo East which is so close to the UJC I could almost literally throw a rock at it.
A lovely quiet and temperate morning, I had chosen an early train so that upon arrival we could enjoy a 'cuppa' at Tony's house and say hello to his partner Alison. Without a hitch, the train left in timely fashion and I watched a great movie 'Nebraska' on my tablet for the duration. As the train sauntered into Deal the end credits were playing on my device and I can highly recommend the movie for those who have any interest. A great way to ignore two hours of rail travel and like a good book, be completely engrossed in a compelling subject.
Several weeks prior to the anticipated concert I had been in regular contact with another dear friend and colleague from Whale Island days, the inimitable Derek Usher. He intimated that he didn't want to have to travel back to Portsmouth after the gig (Derek played in the band) so I suggested as to where I was successful in acquiring somewhere to overnight so he tried the same place and 'voila!' He secured a room for the night. Tony and I made our way over to Margate and arrived at was at that time my stable for the night, however it was disclosed to me earlier that Tony was due to become a Grandfather (again) as his daughter was many days overdue therefore anything that popped up on his mobile phone was attended to with more urgency than otherwise. When we arrived at the pub, we announced ourself to the very welcoming owner and he told us that Mr Usher had already arrived and just as he said that, there was Derek just as if the genie had just rubbed his lamp.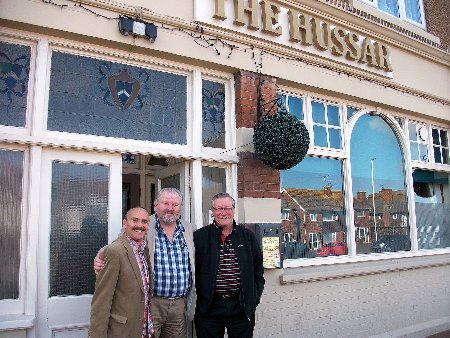 During our excited chat about the day and all that was before us Tony got 'the call' and the wonderful news was proclaimed that his daughter Suzanne had given birth to William at a strapping 9lb's plus. Of course this meant that there should be some celebration so to cut a long story short, he asked the landlord if there was another room available and we all hung up the car keys and found our trio to be in residence for the night.
Of course Derek was playing later and needed to be at the 2pm rehearsal so we summoned a taxi and made our way first to the Britannia (watering hole just down the road from the Winter Gardens) and after that we took a walk up the hill to the venue and upon arrival found the 130 musicians staging up in readiness for rehearsal.
Tony and I met old friends which included Sid Rose, and in due course Paul Neville came in and sat with Sid for a time before he was introduced to the band, the majority of whom must have been on stage (included myself at the time) 24 years ago. It was also a pleasant surprise to see Barry and Heather Radford at the venue. No mean feat for a man who has had his physical challenges in recent years but it just goes to show the sheer grit and determination of them both to overcome adversity and grasp life for all its gifts and in particular our cameraderie. I continue to be compelled to mention that Barry has in the past been a fastidious advocate for our annual reunions and I mention yet again how grateful we all are for that.
| | | | |
| --- | --- | --- | --- |
| | | | |
| | | | |
A FEW PHOTO'S COURTESY OF DEREK USHER
I think it appropriate to include a recent guestbook entry by Graham Hoskins who in a few paragraphs described the concert thus:
"Having contacted Mike Scurfield to thank him for again arranging for the All Stars band to perform so ably at the Winter Gardens in Margate again this year I am conscious that no salutation has appeared on this web page since the concert. Allow me, please, to pen these few words in tribute.

The event was another memorable one in a glittering lexicon. It is wonderful to see the more mature players still doing their utmost to rise to the standard required with most of them managing to do so superbly. It is important that they should know that their considerable input to the evening has again been greatly appreciated by the capacity audience. Many of the 130 or so players in the band had travelled huge distances at their own expense to be there. Memorably Professor Frank Lloyd came from his university at Essen in Germany to rise from his position in the horn section to perform a solo item that fully demonstrated his expertise as a world class musician. Colonel Paul Neville, founder conductor of the band, was brought to Margate to appear as guest conductor for the closing item in the first half of the concert following which he was driven back to his home in the Midlands. Helped onto the stage he was given the welcome he deserved. A WW1 item arranged by Ray Woodfield was well received and added hugely to the ambiance of the evening. I have to say that when Mike Scurfield, a professional actor these days, appeared from the dressing room dressed in army uniform of the period to lead the community singing he looked a bit like FVDs first appearance at Deal when lovat uniforms were first introduced! Great fun.

David Cole's immaculate musicianship showed throughout the evening as he raised the bar to new levels. His ability to marry humour with pathos and to ensure that everyone enjoyed being on stage with him was most noticeable and his inclusion of local soprano Margaret Threadgold was inspired. The whole evening was a remarkable 25th anniversary tribute to those whose lives were cut short by the bombing of the School of Music in 1989. It had been suggested that this year's concert may be the last after twenty five years but to the credit of those who have returned to play year on year, 97% have said that they want to keep coming back and next year's concert date is already booked! What a team, what a demonstration of personal commitment. Gentlemen, those who merely look on proudly salute you all as a significant 'Band of Brothers'."

Graham Hoskins
In closing, I can say that it was a truly memorable evening and for the audience to be encouraged to sing along with Mike Scurfield during the 1st World War Medley, it gave me an inner feeling of great pride and one of nostalgia when we all sang "Rule Britannia" choruses along with Margaret Threadgold during the finale. Thank you to everyone who make this truly remarkable event happen every year.
Dickie Valentine.