Michael Reed born in 1933 at Mary Abbots Hospital Workhouse in Kensington London.

Mother Jean Lillian Reed father unknown! Taken into care by the London County Council as my mother was unable to support me, passed from foster home to foster home until at the age of 12. I was taken in by the family George & Lily Hutton with their daughter Eileen who were happy to have me as one of their own. I even used their name so became Michael Hutton. For the next two or three years I was happy at the Huttons but at some stage I had suggested that I would like to join the Navy! I'm not quite sure how it came about but as my schooling was not that good it was thought that as I was still being paid for by the LCC perhaps a boarding school situation would be better for me so I was considered for a place at the London Nautical School formally known as Training Ship Exmouth.

January 1947 I was sent to the county hall London for interview to join the London Nautical School. This was for a two year period which would then see if I was suitable to join the real Navy. I was accepted on the 16 April and joined the LNTS which at that time was based in Bray Court near Maidenhead. Bray Court was a large Victorian mansion which had been taken over by the LCC after the war to house and train the boys that had formally been on TS Exmouth. There were about 250 boys there and the new ones like me with about 20 others had to sleep in dormitories that were in another building called Chauntry House which was in the village of Bray down by the river Thames. It was a very tough time those first few months and all us new guys were given the run around by the older boys, but we survived and my first home visit was two days at the end of June.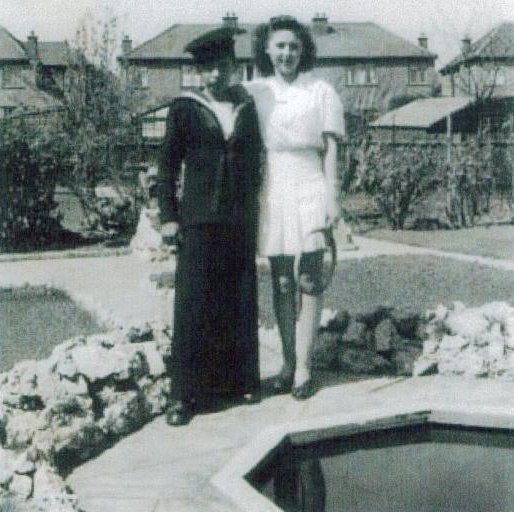 Everyone in the Hutton household was very impressed when I arrived home in uniform and I was of course shown off to all the relatives. Pictures are taken on that first weekend in June 1947 and you can see what a lovely garden we had. After moving to this house my step dad had spent a lot of time building the pond and surrounds with lawns and flower beds and I like to think I helped a lot in that department.
After my two days at home it was back to Maidenhead and school which was gradually getting easier and I do think my general education was improving. Unfortunately music, which I had been interested in since joining the Huttons was to take a back seat at this time as there were far more important studies to be made. We did lots of seamanship and being close to the Thames there were many boat activities. Rowing and sailing were part of the curriculum as we were supposed to be training to be sailors! There was a boy's band at the school but the new boys were not included in any music until we had been in school for a term. Another weekend leave early in July was good news and then summer leave came when we were told that on our return in September the school was moving to Wolverstone Hall in Suffolk. Apparently the lease had run out on the property in Maidenhead and the new London Nautical School was to be based at Wolverstone on the banks of the river Orwell not far from Ipswich.
Summer holidays were great with the whole family having a wonderful time. We stayed at the same boarding house as last year and all enjoyed the sea, sand and many other activities in and around Bournemouth. Dad Hutton, an engineer by trade, worked very hard to provide for the four of us. There was some allowance from the LCC for part of my upkeep as I was still only fostered out, but he spent a lot of time with me and although I wasn't very good at his favourite pastime fishing, we got on very well together.