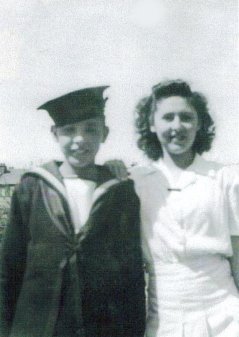 Mum looked after everyone with no complaints but had to write to the LCC on many occasions to ask for assistance in things that I needed. For example; the school issued me with uniforms but not other essential items like underwear, a topcoat and gloves etc; so she had to write to ask for reimbursement.
Wolverstone was fantastic! I had now been at the school for a full term, we had moved to this wonderful place in the country and many of the boys from Maidenhead had left to join the full time Navy at HMS Ganges where they took boys at 16. Those of us who moved to Wolverstone therefore were now old hands to the new ones who had just joined. Now was my chance to join the band! As I had done some singing and started learning the Flute previously I was hoping to continue on that instrument, but there was not one available so I took what was on offer and that was the Cornet.

As I already read music it didn't take me long to get the hang of the cornet and there were quite a few guys in the band who played it so I offered to change to the Baritone which was much bigger, a bit like a small Euphonium which of course in a years time I was to find myself playing in a much bigger band. I had only just had my teeth brace removed so although playing the Flute with one would not have been difficult it did pose problems with brass instruments so I was glad to get rid of it. One thing I have not mentioned since joining the Nautical School is that I had to revert back to my birth name of Michael Reed, The LCC was paying for my full time education at Wolverstone and that was part of the deal! More about the name change later.
1948 It was a good year, I had made many friends at school most of us were thinking ahead and trying to plan for the future! The unique thing about the London Nautical school was of course that most of us were without parents! Some like me had foster parents so we were quite lucky. During 48 when I went home on leave I took a friend with me when mum and dad were happy to have him along. This was Michael Walters who was a Trombone player in the band and had no parents to visit. When we went home he usually stayed at the school as there was always staff to cope with the unlucky ones.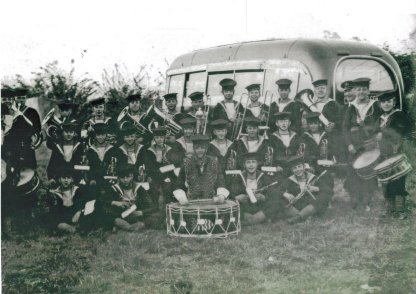 During the summer of that year Michael came to stay with us for the summer holidays which included our usual two weeks in Boscombe. Michael became a good friend and along with some other Woolverstone boys…Bob Rawson, Dave Rice, Cliff Bull and Tug Wilson we were all to audition for the Royal Marines Band Service during the November half term and in January of 1949 we all joined the Royal Naval School of Music as it was known at that time at Burford in Oxfordshire.
The Royal Naval School of Music based near the village of Burford in the heart of Oxfordshire was very different to the easy going life we had been experiencing at the RNTS in Wolverstone. For a start we joined up with a group of about 40 boys all from very different walks of life and most of them with little musical knowledge, so we few from the training ship thought we were very superior.
The camp was about four miles from Burford where the school had moved to from Scarborough in Yorkshire where it had been based during the war. It had been a prisoner of war base for some years made up of mostly single story buildings spread over quite a large area. It was ideal for the school as it had to have teaching facilities for about 350 band boys, house and feed them and the support staff and all the necessary accommodation for around 500. Our first 3 to 4 weeks in that cold January of 1949 were spent mostly on the parade ground learning how to march properly - then being issued with various uniforms and having to learn how to lay a 'kit-muster' and lastly being informed at last what instruments we were going to play! Although at the LNTS I had been playing the Baritone, I was hoping to get back on the Flute and Piano as they were the two instruments that I had been auditioned on. It was not to be! My superiors informed me that I was to play the Euphonium & 'Cello. The Euph was fairly familiar to me - but what was this thing called the 'Cello? I was soon to find out!