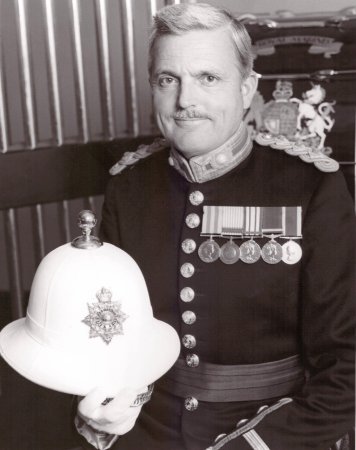 Terry Freestone was born in Tooting, London on Sunday 25th September 1932. His father Bernard hailed from Leicester and his mother Violette was raised in Guernsey.. his grandfather W H Freestone was a former High Sheriff of Leicestershire. Terry grew up alongside his younger brother Alan when their parents settled in the Aylestone area of Leicester. He was a keen member of the Sea Cadets in his youth and he and a friend often passed many hours playing chess. One Christmas, he received a cornet as a present and so began his lifelong love affair with music and together with some other boys, formed a band. He subsequently joined the brass band at his school.. Alderman Newton's Boys School.. named after the Mayor of Leicester in 1732.
Terry initially enquired about joining the Royal Navy but was rejected because he wore glasses. He turned his attention to the Royal Marines Band, where upon he left school aged fifteen and enlisted as a Band Boy at the Royal Naval School of Music at Burford in Oxon in January 1948. He studied as a solo cornet player and was a member of 105 squad under the instruction of the immaculate Cpl Arthur Dunkerly.. the squad MTI. The School of Music transferred to RM Deal on 6th January 1950 to become the newly named Royal Marines School of Music, in contrast to the relatively relaxed routine at Burford, the boys were housed in East Barracks and endured a much stricter military routine. Terry completed his training as a member of No 2 Commandant General's Squad on 28th July 1950 and advanced to Musician. A few months later.. Terry joined a draft band forming for service onboard the aircraft carrier HMS Glory, under the leadership of Bandmaster Wally Spencer and B/Sgt Maurice Pearce. The band was the first of its kind to leave Deal and travel to join their ship at Devonport on 12th January 1951.. Who should they find in the RM detachment onboard.. none other than Terry's drill instructor Cpl Dunkerly.
The Korean War had become a major commitment for British troops fighting alongside US and other nations and HMS Glory sailed from Plymouth on 25th January to enter the theatre. She sailed via Malta and the Suez Canal and following a brief stop at Aden.. the ship departed for Singapore.. As they departed, the band played 'Slow Boat to China'! The Glory finally arrived in Japan in April to relieve HMS Theseus. Preparing aircraft for sorties was so intense that the band were utilised in assisting the ground crews with re-arming before they were ready to take off again, they became as efficient with a rocket jigging machine as they were with their musical instruments. Terry had an accident that crushed his hand, luckily this did not interfere with playing his instrument. The ship had to sail to Sydney for repairs, where they spent Christmas 1951. In May 1952 another refit was necessary for HMS Glory and for this the ship had to return to Malta where she was placed in the floating dry dock in Grand Harbour. The band disembarked in July 1953.
Meanwhile, Terry's parents had moved from Leicester to her home in Guernsey and it was while he was visiting on leave that he met his first wife Laura Thoumine. In October 1953, Terry was given an opportunity to be drafted to the last surviving British battleship HMS Vanguard.. he jumped at the chance. After promotion to BCpl and still only twenty-one, Terry was posted for various spells as Volunteer Band Instructor (VBI) at HMS Caledonia, Rosyth in 1954, HMS Indefatigable 1954 and HMS Ocean 1954-56. Terry married Laura in September 1956.. they were due to be married at Christmas that year but the Suez crisis blew up so he suggested they should marry before he went onboard HMS Theseus as VBI in 1956, he doubled up his musical role with the task of Corporal of the Gangway. For his efforts throughout the fifties, Terry was awarded The Korea Medal, The United Nations Korea Service Medal and the Naval General Service Far East Medal. Terry became an accomplished trumpet player and he was temporarily relieved of sea service when he was drafted to Deal to assume the position of principal trumpet with the Royal Marines School of Music Staff Band in 1957, he was enjoying a bevvy on the beach with BCpl Jim Mason during the band's visit to Vancouver, when they were suddenly surrounded by armed police.. apparently public drinking in wasn't allowed in those days. The Freestone family was extended with the arrival of their daughter Christine in November. He finally got the chance to qualify for his seniority in September 1958 and following his promotion to BSgt in 1960, he was rewarded with another spell at sea and a draft to the Royal Marines Band onboard HMS X.. later to be named as the brand new £18 million commando carrier Hermes for her first commission, again under the leadership of Maurice Pearce. BSgt Freestone was then selected as a student for the 1961 Bandmasters Class along with the likes of Jim Robertson, Ben Finney, Michael Hutton, Fred Mathias and Dennis Brown, where they enjoyed a fantastic year of study and friendship. Soon after his promotion to Bandmaster in February 1963, Terry was rewarded with the role at Staff Band before taking over as BM onboard the light cruiser HMS Lion from 1964-65, where the ship spent the majority of the eighteen months in the Mediterranean, this appointment gave Terry the opportunity to enhance his ability as a conductor and improve his management skills. His time at sea was finally complete.. an amazing amount of sea time given, considering that the Royal Navy had initially rejected him. Bandmaster Freestone then returned to Deal as an Instructor, where he was able to introduce new teaching ideas into practice especially with his expertise with Dance Band. During this period he was granted his LSGC Medal and also gained the LRAM diploma in 1967, he was advanced to Staff Bandmaster in 1969 and along with it gained the position of Chief Librarian.
Terry was commissioned to Lieutenant in 1970 and spent the next five years in a variety of staff appointments at Deal, including Assistant Director of Music in Junior Wing between 1972-75, Supply Officer Music and as Editor of the Blue Band Magazine.
Due to irrevocable differences, Terry and Laura separated in 1973, he was later introduced to Greek born Lucia Baker.. between them they had a lot in Common and decided to marry in September 1975, prior to Terry's appointment in 1976 as the Director of Music to the Band of HM Royal Marines Scotland and Northern Ireland, based at HMS Cochrane in Rosyth. His highlights in charge of the band were the 1976 visit to Canada for the Canadian National Exhibition, and following his service given in the province.. he was presented with his General Service Medal for Northern Ireland.. it was Terry who successfully argued that the band should receive the medal. Lt Freestone was based for two years in Scotland before he was promoted to Captain in 1978 and rewarded with the position as DOM with the Band of HM Royal Marines Commander in Chief Fleet at HMS Pembroke in Chatham. This appointment would allow him to direct the band on many prestigious engagements, including the Cenotaph and at the Royal British Legion Festival of Remembrance held at the Royal Albert Hall in London. He was also responsible for putting together the album 'Something Different' produced in 1980.. the recording took place in the Royal Dockyard Church.
Captain Freestone's final massed bands appearance came when he conducted at the Mountbatten Concerts in February 1982.. he retired from the Royal Marines Band Service soon after, following a fantastic and eventful thirty-four year career. Terry had a unique character and someone who insisted on a certain quality and level of behaviour from his musicians and buglers. This wasn't always popular amongst those under his charge and following his retirement.. Fleet Band produced 'I survived Terry Freestone' stickers and T-shirts, many of which were worn underneath their ceremonial tunics in the ensuing years.
Amazingly.. and following his retirement from the Royal Marines Band Service.. Mr Freestone excelled once again when he became the Assistant General Manager of Royal Albert Hall. Terry was originally disappointed to be overlooked for the position.. however, the trustees original choice turned out to be the wrong one and Terry was then contacted and offered the role soon after. It's fair to say that from then on the Royal Albert Hall was subjected to a much needed transformation. He ran the venue with military precision, compiling daily orders and would routinely summon members of staff to his office with tannoy announcements such as "Chief electrician, report to the bridge!" Due to the restructuring of the management team.. Terry was made redundant from his position at the Royal Albert Hall in 1989.
Over recent years during his retirement, he began to compile a computer list of the whole Band Service RMB/X numbers, which ran from around 1925 until they changed to the Q and later P, he kept information about Band Service history and individuals service records like no other person had done before. His work aided one of his School of Music pupils Richard Valentine with his obituary list of former Band Service personnel on-line at:

www.exroyalmarinesbandsmen.net

a list that is ongoing. He never lost his love of the Band Service… he always made a point of attending the Memorial Concert on Walmer Green and also reuniting with his Chatham Dogends Band at their regular gatherings.
Terry joined the Globe & Laurel Masonic Lodge at Deal way back in 1966, he was very passionate about his Masonic career and went on to enjoy and give over fifty five devoted years to the craft, he also served East Kent Masters and Royal Arch Chapter Granville, holding ten different offices during that time. In 1995 he became the Royal Arch Assistant Grand Director of Ceremonies and in 2007 he was awarded the rank of Past Grand Standard Bearer. Unfortunately he had to reduce his involvement in his latter years due to the failing health of Lucia.
Terry Freestone sadly passed away on 16th February 2022 aged 89, following five days at William Harvey Hospital in Ashford. His cause of death was Pneumonia with underlying Biological Frailty Aortic Valve Replacement. A Service of Thanksgiving for Terry was held on 23rd March at St John the Baptist Church in the village of Barham, where he lived for many years with Lucia. This was followed by a private committal service at Barham Crematorium and a wake held at the nearby Broome Park Hotel. Lucia now resides at Highland House Care Home in Littlebourne, near Canterbury.
Former PDM Lt Col Graham Hoskins wrote: "He was a 'one-off' character determined always to live by standards that are rare in today's world. A 'stickler' for adhering to any form of regulation he was not always popular among colleagues. His life has been a template that many would be wise to follow. Never suffering fools gladly and, ever conscious of right & wrong, he leaves a large hole in our Band Service firmament. I applaud his lifelong efforts to be honourable and useful. His memory will surely be enshrined in the annals of what is best in human nature. Together with his wife Lucia our Band Service family mourns his loss."
RIP Terry
Paul Foley