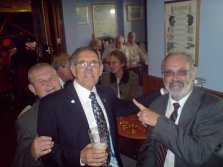 So poignant, so apt, so lovely that Andy Wright should send this
at a time of great grief. How remarkable, or is it, that Sid (and I) should
be in this shot. A very lovable and garrulous man who only wants
to share his love and life with us all. We should be so lucky.
To all the Wright family, we offer our love and our empathy.
A life we shall ever be thankful for.
Richard Valentine - et al