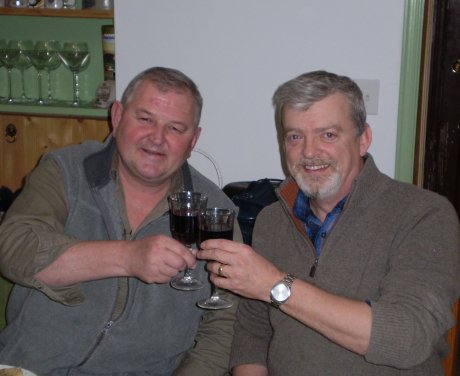 Quite spontaneously, out of the blue so to speak, I gave Bill a call and told him that I had three days off and if he wasn't up to much I would drive (6hrs) to stay for a couple of nights. Bill's schedule (normally hectic and extensive in hours away from his home) had a 'window' of opportunity, so I set off early to Ontario Canada.
Without incident and with my GPS reliably guiding me, I arrived in the early part of the afternoon.
It's hard to believe that 14 years have passed since the brainstorming that both of us undertook in an idea of keeping ex RMB's in touch and of course those of you who have been on board from the beginning will know how humble and simple those pages were. It must be said, and recognised, that my dear devoted assistant 'Laderzi' has for many years made incredible and impressive enhancements to the site and her (at times) creative surprises only give us all a better experience all round. Her gift of putting together the YouTube compilations without ever having known or met the Royal Marines Band and its unique camaraderie, is a unique one and something that we all must be ever grateful for. She is integral in how I am still so devoted to the cause.
My two nights stay with Bill and Robin were comfortable, nostalgic and relaxing. To think that the web site was borne from a floppy disk! We had met since 1996 to perform a gig in Collingwood Ontario and also my church in Saratoga Springs made Bill a welcome guest one particular Sunday some years ago when he enhanced the musical ambience with his magnificent flute performance.
I wish you well Sir William in all that the world of your music has yet to bestow upon us.
Dickie.

< See Bill's Blog! >