327 French Horns flash mobbed the Walt Disney Concert Hall in Los Angeles during the International Horn Symposium 2015.
No one got run over and nearly no one got arrested.
Thanks to Joshua Davis for the the great arrangement of "Star Wars and Stripes Forever" and to David Holben for being there to conduct - the real conductor forgot to show up...Enjoy!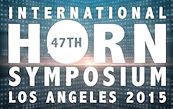 47th International Horn Society Seminar, Los Angeles Summer 2015. Look carefully and you'll see Frank Lloyd (IHS President) fairly near the conductor. 327 horns playing at once could be a World record ...OR IS IT???!!!!!
Check out the report on the First British Horn Festival on Easter Saturday 1980!! That was the day when John Wates and myself founded the British Horn Society ... we had between 500 - 600 attend at the Guildhall School of Music, Barbican but I still can't work out how many actually played in Alan Civil's arrangement of "Egmont" overture as I was so busy organising the stands and music and making sure the pro players (many from overseas) were nicely dotted about to encourage the youngsters and amateurs. I MCd the whole day which started with me and my team hiring 100 extra chairs and putting them in the recital hall, therefore far exceeding the audience size allowable by fire regs!! In our first ever BHS meeting scheduled into the mornings proceedings I proposed and almost unanimously had Alan Civil accepted as our first President. Ya, boo, sucks Tuckwell I thought ... you're a bloody Aussie and choose to live t'other side of t'pond (though I'm assured SOME ex-pats are jolly good sorts?????!!!!!!!!). He'd been IHS President for several years in the '70s.

35 years later the BHS is still going strong!! Incidentally, we hosted the IHS Seminar combining it with our BHS Festival in 1988 for a 5 day event at the RNCM, complete with the BBC Phil'.