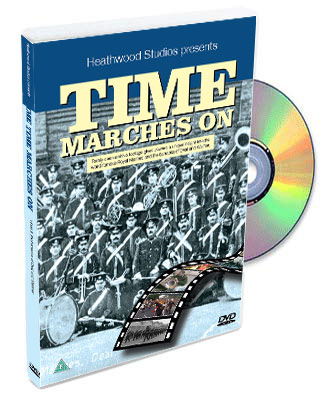 from Heathwood Studios
Rarely seen archive footage gives viewers a unique insight into the world famous Royal Marines' links with Deal and Walmer. Deal Barracks was the home of the internationally renowned Royal Marine School of Music, the barracks themselves dating back to shortly after the outbreak of the French revolution.
In recent times units stationed there were trained for many highly specialized duties, including a siege regiment for manning the coastal defence guns, the immortal Fourth battalion of Zeebrugge Raid fame, the commando team which raided Dieppe in 1942, and some of those engaged in the Falklands campaign of 1982.

On February 14, 1945, the Royal Marines were granted the Freedom of the town of Deal, giving them the right to march through the town with fixed bayonets, drums beating and colours flying.
Unique footage on this DVD also shows the lighter side to life in the barracks – in 1947 the sergeants' mess decided to hold an annual pantomime in the barracks' Globe Theatre to raise money for charities around the country, and to pay for an annual Christmas treat for local children.
But its real fame started in the early 1950s when the band service, which was an arm of the Royal Marines, officially moved to Deal. Young would be musicians, in their late teens and early twenties, came to the town to be auditioned but it was not only their musical potential that was examined – they were also tested to see if they were fit enough for the Royal Marines because during conflict these musicians would become front line medical staff.
It's darkest hour was on September 22 1989 when 11 young musicians were massacred by an IRA bomb. More than twenty others were injured. But just one week later the Royal Marines marched proudly through the town to show they would not be defeated and thousands of local people took to the streets to show their support.
Following the bombing the town's Round Table raised funds for a new bandstand as a memorial to the 11 musicians who had died. The names of those who were murdered feature on 11 sides of the 12-sided structure. More than one million pounds was also donated by the public to help the families of those who lost their lives.
Despite huge local opposition in the 1990s the Government decided to close the military base and relocate them to Portsmouth. The links with the Royal Marines remain strong though, and residents still celebrate their links with an annual visit by the bandsmen to provide a concert at the Memorial Bandstand.
Price £14.99 includes P&P UK only.