Excellent gathering for 'Taff's' funeral. Nice to see: Taff Higgins, George Tate, Gaz Davies, Huw Morris, Brian Starr, Taff Ingram, Dave Boorer, John Griffiths, Phil 'Gilly' Gilbert, Steve Swann, Dik Grainger & last but not least, Taff Morgans WNB.
It was nice to see his wife Andy, who I had met for the first time back in August this year. It was also especially nice to meet up again with Keith's Mum & Dad, whom most of us had met at one time or another during his time with the RMBS. His son Mark was also there, along with other members of his family and many friends and neighbours from Llansteffan.
Being in Wales, the singing at the service was awesome, except for one chap, who's voice was like all of the Morriston Orpheus Male Voice Choir put together! It was a case of...''bugger the organ, follow me!''
A special mention must go to the two Buglers from CTCRM Band who played the Last Post.
A sad day for all of us, but we have so many fond memories of our time shared with Keith...
RIP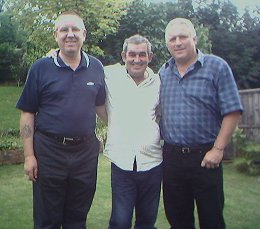 Bryan Walker - 'Taff' Thomas - Irfon Higgins
August 2006