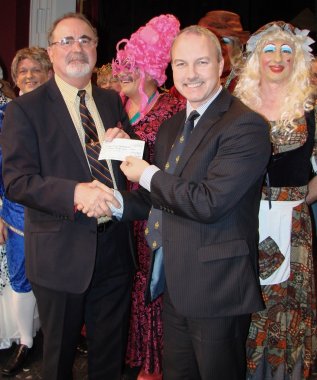 Saturday 11th January saw the final performance at the Astor Theatre Deal of Skinderella RM, this years offering from the Sgts Mess Panto. The show written and directed by Brian Short played to a packed house every evening during its nine night run and the people of Deal and surrounding area raised in excess of £20,000 for the Royal Marines Charitable Trust and local charities.
On Saturday night Lt Col Nick Grace PDM accepted a cheque for £10,000 for the RMCT and a presentation evening will take place at the RMA Club, Walmer on Thursday 16th January to present cheques to the 19 local charities, including the Deal Memorial Bandstand Trust. A DVD is being produced by Nick Hughes (son of Phil) . Orders are now being taken and will be in the post in 3 to 4 weeks time.
Further updates over the next few weeks or follow progress on facebook via Sgts Mess Pantomime, Deal.
Thanks to everyone for their support.
Image left is PDM Nick Grace receiving cheque for £10,000.00 from Bill Howie for the RMCT
Click <HERE> for .pdf file to print order form

Click on images for full view