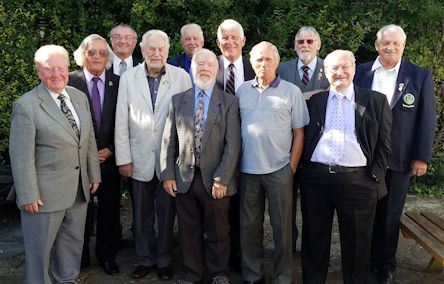 Dear Shipmates and Friends,
It was so very good to see all of you who attended our get-together in Ripple ... I enjoyed the occasion enormously and I hope that you did as well? Please put the 22nd SEPTEMBER 2017 in your diaries and I will contact you with your invitations sometime next Summer.
It was disappointing not to see Graham and Margaret Hoskins on the day, but he is not yet recovered from his second knee replacement surgery ... and Eric and Sally McKone were down with a particularly nasty virus. To compensate, however, it was a very pleasant surprise to see Terry Freestone, immaculate as ever ... and John Perkins. The biggest surprise was the appearance of Sid Pavitt, all the way from Australia ... and accompanied by his brother. Sid will be at next month's RMB Reunion in Portsmouth as well.
With the welcome rediscovery of Robert 'Sandy' Sanders, percussionist and oldest member of our Centaur band, we OLD CENTAURIAN RMBs (sounds good, don't you think?!) numbered 10 on the day ... and adding 3 messages from shipmates who couldn't attend, it is heart-warming that 13 of a Band of 20 still maintain contact with each other more than 50 years after serving on "THE FIGHTING C", a nickname earned honourably during the 1963/64 East of Suez leg of our exciting commission. It was a pleasant surprise to see Reg Proctor, who was a member of Centaur's RM Detachment and who joined as a Band boy in 1955 before "changing over", swapping euphonium & cello for an SLR! It was nice to see that several people remembered him from Boys' Wing.
So it was that 30 ex-Bandies and a 13 spouses/family members gathered together in Ripple on a lovely, warm Autumn afternoon and swung lanterns and reminisced, remembering past times and pals, not all of them still with us, of course. Thank you everybody for coming along and making the occasion such a happy one. We are an extraordinary Band of Brothers ... and I can't wait until next year!!
With my very best wishes.
Willi Watson