Hi Dickie,

Thought I'd put pen to paper (metaphorically speaking) and try to recall the events of last weekend at our annual "do".
This year Pam and I decided to bring 2 of our friends to witness the spectacle of our fine reunion, Beat Retreat and the very "moving" Memorial Service the following morning and, once again we were not disappointed, having made our way to HMS Nelson after meeting you and gathered friends in the Home Club, and, might I add, our predicted 1 bottle of wine prior to the Reunion did in fact turn into 3!!!! Hic!

Anyway lest I digress, we made our way to the mess but I was a little surprised there was no "tot"* or glass of "fizz" for the ladies on arrival, but who cares, the bar was open and very capably staffed by more Corporals than you could shake a stick at, many thanks boys (and girls).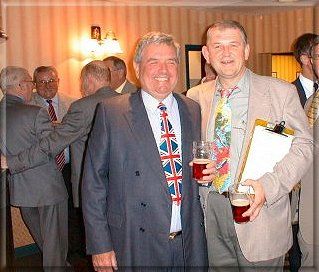 So, we got down to meeting and greeting many friends from yesteryear, some have slightly changed in their looks but, fortunately we were given name tags (and dear, but never forgotten, Hedley Lock wasn't there to swap them around, bless him) so remembering names wasn't too much of an effort at all. At 2000hrs we made our way to the Gym where we got ourselves seated amongst a very large number of ex Bandsmen to witness the display by the band. At the appointed time the Drum Major gave the order Quick march and with 2, 3 beat rolls the band marched into the display area.
The image to the left is when (in 2002) Hedley and Dickie posed with their marvelous neck ties. Hedley having travelled from Scotland and Dickie from across the pond, hence the geographic frontispiece. Sadly Hedley crossed the bar 2008.

This year the band performed a basic "beat retreat" the bread and butter of Royal Marines bandsmen for many, many years, nothing fancy just great dressing, wonderful (with a Euph this year) music and a very moving sunset ceremony to finish, musically I thought the performance was, once again second to none. The band marched in to Zeebrugge by the late Capt. Peter Sumner a great march, this was followed by the slow march Preobrajensky presented to the corps I seem to remember by The Earl Mountbatten of Burma can't remember if he was our honorary Colonel Commandant.
The great Little Army was always a favourite of mine with a lovely flowing trio bringing us to the drum routine beginning with a Bugle Fanfare Cassassin written by A Piner (who, I think is Alan Piner's son, Alan was of course responsible for inventing and producing the memorable drum displays we see performed by the Corps of drums today) there is obviously a reason why Cassassin is so called and I would be interested to find out.
The static Drum display was as usual, superb, fantastic, brilliant, phantasmagoric and any other word anyone else can add to describe it, how those buglers manage to remember such a difficult routine is beyond me and never ever "put a foot/stick wrong" well, you know what I mean.
This was followed by the quick March The Voice of the Guns leading us into the sunset ceremony which was exceptionally moving and I'm sure brought a tear to the eyes of more than just a few of us, but hell, this is what we do and long may it happen.
Once the Sunset ceremony had finalised the band stood easy and Col Nick Grace gave us a short talk on what's been happening with the bands and once again informed us that apart from the instructors in the band all the members were in their 1st year or training, I take my hat off to them, their sheer professionalism is a credit to them.
Col Grace did mention that "people" are talking about the possibility of finance being made available for another band (a 6th) so let's hope those who hold the purse strings see the sense in such a commendable idea.
The band marched off to the regimental March of the Royal Marines a Life on the Ocean Wave, well done the band for an unforgettable performance, following the departure we made out way back to the mess to continue swapping "old ships" with our friends.
Unfortunately there was not a lot in the way of entertainment in the mess whereas last year we had a vocalist, and a jazz band, nevertheless a young lady keyboard player was doing her best to get our attention, so if she's reading this well done your playing was lovely to hear and we do appreciate it.

All good things come to an end but before I move on to the commemoration ceremony here are just a few of the friends that I had the privilege of meeting, Dickie Valentine, Tony Oliver, Barry Pettitt, Len Lewry, Dave Seed, Stuart McLeod, Graham Veroken, Knocker White, Hookey Walker, Mike Hutton, Mick Hickman, Dave Stockham, there were many, more but forgive if my memory fails me on this one.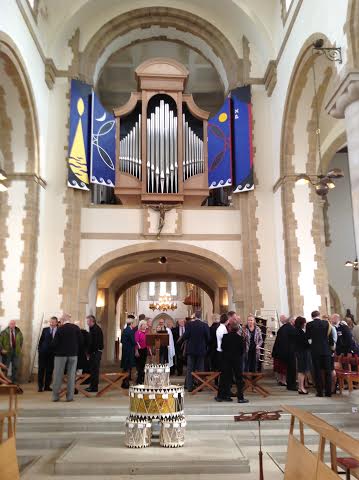 Sunday 12th October saw us meeting up again at The Cathedral of St Thomas of Canterbury for our annual Memorial Day service, once again we were privileged to see and hear the Orchestra, Fanfare Trumpets and the Cathedral Choir. The service commenced with movements I, II and III of Vaughan Williams' English Folk Song Suite a lovely piece and a "must" for all ships bands, the pieces were performed beautifully and a treat to listen to.
The second piece was The Banks of Green Willow which I was unfamiliar with but was performed beautifully and an apt choice of music for our service in the cathedral, the third piece was Elegy for Strings by Kelly, I thought this was something of a "challenge" for the strings but they pulled it off and gave a performance to be proud of, I would add, this critique is purely mine, perhaps others might have different views but there ya go, different ships, different cocoa!!!
The last piece was Theme 'Enigma' & 'Variation1' (L'istesso' tempo, by Edward Elgar I loved this piece the horn and brass section were superb, I would also like to mention the Clarinet player and the Oboe who both gave beautiful performances when the music permitted, on the whole I thought the orchestra gave a worthy performance and from where I was sitting the percussion section were thoroughly enjoying themselves, the orchestra's performance was well received by all us church goers a big thank you to everyone.
Funnily enough I recall when I was in boys wing there were many ruses used to get out of church and church parades and now we queue to get in! Never thought I'd ever see the day.
The event finally ended at the RMA in Eastney where there was much lamp swinging and I'm told quashing of alcohol, I'm afraid we had to leave somewhat early but will endeavour to stay longer next year, all in all a thoroughly and enjoyable couple of days.
All the best

Jem
PS: Pam told me that more than once did she see our friend Sandra wipe away a tear from her eyes during the best retreat and the memorial service so "job done"
* I am assured that after a recent conversation with PDM, the 'tot' should be reinstated so fingers crossed. On a conciliatory note, I must say that we can please some of us some of the time, but never all of the time, yet, when polite pressure is applied the results always seem to be revealed. We are ever grateful for the recurrence of a tradition that must be the envy of all the services. Mention must always be referred to everyone in the past who have made this possible. You KNOW who I mean.