Thanks to Tom Lambert for this photo.
Faces I recognise are, Bassoon - Jim Atkins (Dec) Flute and Picc - John Hillier and David Seed, Clarinet next to R Preston I think is Bert Brown, String Bass on the left of the picture with tash Ken (Knocker) White, the other one may be Eric McKone, Trombone section for this recording was possibly, Daly Atkinson or Tom Mailey on first, Charlie Fleming 2nd and yours truly on Bass, although we are not visible on the picture, John Sharpe (Euph) must have been sick or on leave because he was the Euph player on the recording not Mick Fielding as shown on the picture.
Thanks Mik Hickman for additional names.
And NOW for the absolute proof of the musical pudding!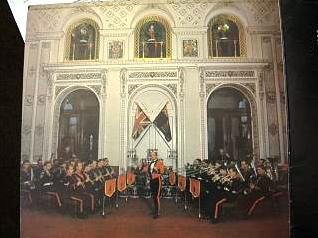 Dickie

The photo that Tom Lambert sent in is very interesting because it is not the one from the album, the one used had 3 cornet players in the gallery, Maxie, John Perkins and not sure who was the 3rd, though it could be Charlie Solomon. On the album photo it also has Mick Forsdick, tenor saxaphone, Rex Ayling is next to Malcolm, next to John Thorne on the album photo is Mick Bonner, the other string bass player I believe is Jack Rolfe. The horns are Kim Kimberly and Tich Richardson, Keith Eastwell is next to Mick Fielding.

I have taken a photo of the album picture and scanned what I believe was the band list, signed by Tom Lambert for the recording, it is one of many that I kept once they were taken down from the band room.
[Ed:] Thank you Dave for this interesting update. Sadly the list image you sent is not possible to replicate online as the names are barely readable however, I can add them as I read them as follows:
Flute: Hillier, Seed
Eb Clarinet: Pearson
Oboe: Cpl Walters
Clarinet I: Cpl Kennard, Brown
Repiano Clarinet: Sgt Ayling, Cpl Tugwood
Clarinet II: Crossman, O'Neil
Clarinet III: Cpl Preston, Ferbrache
Bass Clarinet: Paul Moody
Eb Sax: Staff Bandmaster. Sgt Loft
Bb Sax: Cpl Forsdick
Baritone Sax: Sgt Kelley
Bassoon: Atkins
Horns: Richardson. Kimberley. Sgt Goold. Flint.
Cornets I: Sgt Beare. Stockham.
Cornets II: Toon. Thorne.
Trumpets: Cpl Solomon. Cpl Stewart.
Tombones: Fleming. Atkinson. Hickman.
Euphonium: Sharp.
Basses: Kennedy. Sgt Odey. Rolfe.
Percussion: Ellam. James. Schooley.
Coda:
My Dear Richard,

As ever, lovely to hear from you and I am delighted that you continue to maintain and, indeed, increase your interest in all things Royal Naval/Marine School of Musical. I still have a notion that I might have the "Picture" blown up to poster size, it would be really quite dramatic if it will take it. As I expected when I arranged it for the inner cover of a double album it has great interest because that beautiful background is only available to those that go to visit the Royal Marines Museum. I have sent the same picture to various Generals who were my buddies as Captains all those years ago and they weep tears of blood over the memory of their beloved mess.

I was interested in your comments and enquiry about Staff Bandmaster Masters. Yes, indeed it was he the Staff Bandmaster of the Band, fine player all round and a most efficient man in every way. Together with the excellent Drum Major Colin Bowden, no Director of Music could have ever wished to have a better administrative team to smooth his path. Add to that a most understanding General and his staff we all got along famously.

There is no doubt that all of the musicians, irrespective of rank, shown in the picture were part of as good a band as ever there was, a cheerful willing and very loyal lot, whom it was my good fortune and pleasure to direct. When medical science has reached its ultimate goal I would happily start all over again with them, with or without the added attraction of players from the other half of the world, God Bless 'em.

Tom Lambert

PS: My Dear Richard,

I'm sorry to say that the photo thing is almost dead in the water. Before leaving it though (and you may want to keep it going, I shall not mind a bit) I'd just like to add this: For the photographs we spent a long time getting things absolutely right. It was one of the things that Col Vivian taught me. There were several shots from all angles and I don't know now if I have a copy of the record sleeve to be absolutely certain who
was where and on what day.

One of the shots certainly had three trumpets up in the gallery.This photo, the one you have, was one that I had the originals of, and they are all very good. In fact, here I will throw the cat among the pigeons and it may produce a good photo for you to publish. I would like to claim that picture as the best record sleeve of all the others that have seen published by any RMB and how about that! Anyone care to take up the challenge? I am very glad to have at last found out the name of my 2nd Piccolo, I have tried many times to remember his name so do forgive me David. Likewise, there are a few names you have been given that I don't recognize, isn't that awful? Mind you it is 36 years ago and I am 80, so there.

If any of those champion fellows care to drop me a line I will be only too pleased to reply. Jack Rolfe was the other string bass player, by the way, and Williamson the Tenor Sax.

God Bless you All.

Tom Lambert