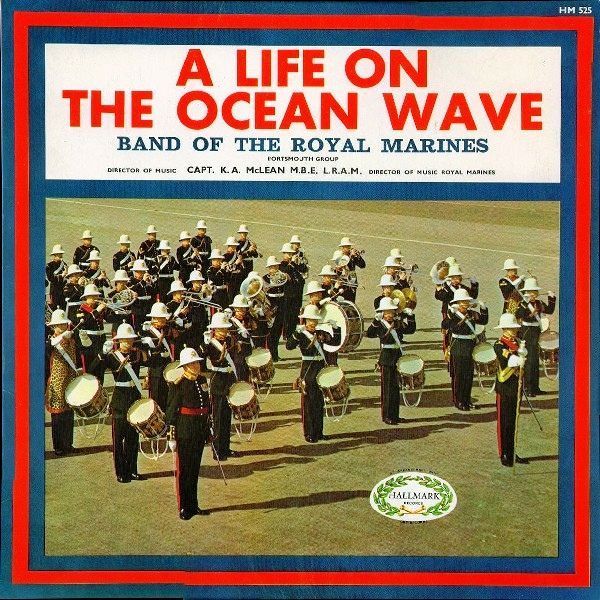 Tom Mailey found this album for sale on eBay and kindly alerted me. My original copy was lost in a house move ages ago. We recorded this in one 3 hour session at Walthamstow Town Hall having played two London Park jobs earlier in the day, the album in the afternoon, followed by another Cat 4 somewhere in London in the evening and finishing up with yet another Cat 4 at midnight, a Beat Retreat at the Savoy Hotel with a cut-down band necessitated by the size of the dance floor!
Ken McLean was to retire later that spring to become D of M of Butlins and actually left us in Venice during a Yacht trip, flying home on the Royal Flight with the Queen and D of E leaving us to tour Greece and Turkey with the Duke of Norfolk ... and under the direction of BM Roy Morgan. In those final years as our D of M he took on every gig possible ... as long as it was Cat 4 ... to ensure a comfortable nest egg. (This recording was made on a royalties basis, the only RMB record I've ever heard of to be negotiated this way and I received a regular royalties cheque for quite a few years!) We all benefitted of course and I built up a large LP collection and a library of chamber music and orchestral scores that I had cloth bound and which I still have to this day! I also had Paxman the horn-makers make me a hand-built top quality instrument in the days when they made one a month. Mine was numbered 12/60 ... in other words it was made in December 1960 and I used it on this recording.
Copies of this disc seem to be quite rare today, so I'm glad to have one again. Thanks Paddy!! ... and thanks Chinny!!!!
It is just about possible to pick out some of those pictured on the cover photo: Colin Bowden (only quite recently elevated from Bug/Cpl to Drum Major), John Chivers bass drum and Terry Gee (fine oboist) cymbals. Trombones from left include Harold Price, Chick Haynes playing his pre-war G bass trombone ... observe it's handle!, Ron McCallum ... the bass player on the right is the great Jack Evans, the centre one is Ginger White. Horns ... me on the right, Les Dawkins on the left. Amongst the cornets are Maxie Beare, John Thorne, Roger Hammond, Jerry Ballard and Dave Stockham. Amongst the clarinets are Frank Thomson, Mike Angress (Eb), Len Spencer, Bert Kingston, Bob Blackburn and George Emmerson ... and that's Rod Farrell on picc! Gerry Castleton can be seen on alto sax and Kevin Vickers on euph.
Little bit of history here, I feel!!??!
My best as ever,
Willi.