The Laughing Policema/en
Left to right: Roger Hollingworth, Tony Oliver, 'Taff' Ruffle, John 'Chee' Wright,
Steve 'Fishy' Salmon, Dickie Valentine and Jeremy Tugwood.
(Tony and Jeremy are still affiliated with matters concerning keepin' the peace mate!
Sniff! Know wot I mean 'arry?)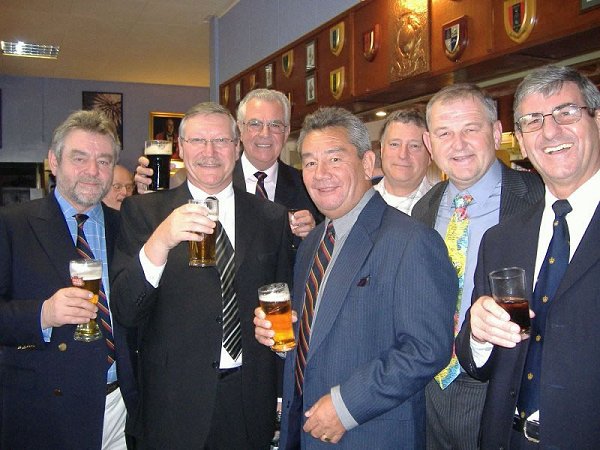 Just had a call from my man in Alicante to say that the celebration of Shiner's life was really well attended and how good is this? Nick Grace and a Bugler flew down for the service and he (the boss) was fully booted and spurred. [Editor: That is exemplary in my opinion.]

Alas there was no wreath as this was because Betty requested no flowers so the money was donated to the charity of choice which was the big 'C'. There was however a card on behalf of all RMBs serving and those retired which she duly appreciated.

The man himself had left directions as to what he wanted and as ever he gave all a good laugh. At the end he stated that they should listen to the music of his choice.

Are you ready for this? The Laughing Policeman!
Good on yer Shiner!
RIP John 'Chee' 'Shiner' Zaparo Leo Wright.
[Editor] For those who are curious, and have never heard this amazing song, please e mail me and I'll send you an MP3 of Charles Penrose's rendition of 'The Laughing Policeman'.