I have attached a picture given to me which I thought your readers might like to see. The lady doesn't know the year of the photograph – maybe your readers can date it.
There is writing on the back with some names of the drummers and buglers. Curiously they seem to be classed as separate instruments unlike our multitasking buglers of today.
Obviously the owner of this picture was not particularly interested in the band musicians!
Stephen I Misson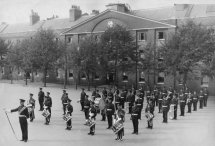 Click image for full size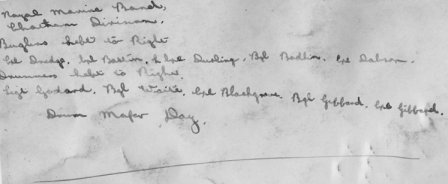 [Ed] Correct me if I'm wrong, but my deciphering is as follows:
Buglers left to right: Cpl Dredge, Cpl Baston, L/Cpl Durling, Bglr Bedlin, Cpl Dobson.
Drummers left to right: ? Godard, Bglr Waite, Cpl Blackgrove, Bglr Gibbard, Cpl Gibbard.
If anyone out there can assist for accuracy's sake, plz contact me.