14 April 2016
I am ever grateful to have been included in a notification to past serving band officers regarding the passing of one of our own here in the United States. Of course it would be my affiliation and also my 20 year long dedicated web site for ex RMBs that qualified me. With only two days to spare before the memorial I immediately thought of making the long drive to pay my respects as I felt sure that I was perhaps going to be the only ex RMB to attend although I am cognizant of the great and life long friendship that Royston and Peter Heming held and I half expected Peter to be there but that turned out not to be the case.
With the service start time of 11am I needed to be on the road by 0630 so I started out shortly after that time with my trusty sat-nav displayed on my phone which assured me that I should be at the small church in the tiny hamlet of Cotuit* MA by 1037.
*Cotuit (/koh too it/) is one of the villages of the Town of Barnstable on Cape Cod in Massachusetts.
I must reiterate that I only recall Royston from my time as a very young trainee when we both trod the hallowed ground of the barracks of RM Depot, Deal. One can recall a very smart officer who was of an humble disposition and was revered by all as a man of great charisma and musicianship. I joined the RMB service in late 1965 and it was during the next few years before my first draft that I would observe him in and around East Barracks in particular. It is somewhat of an irony that it would take the subject of Gilbert and Sullivan to be the next real communication with Roy almost twenty years ago and a few years after my own move from England to the United States.
As many of you will know, Roy took early retirement from the band service and eventually became musical director of The D'Oyly Carte Opera Company. As I write I am sat within a few steps of my LP record collection which for the most part has been collected since getting my first weeks pay as a new draftee in my first band, CinC Nav Home Command. In fact there are several other notes of irony in my recollection of Roy Nash which I shall address by the end of of this tribute.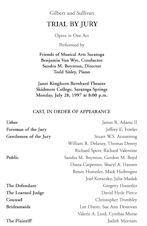 Prior to my LP collection proper I had already inherited a few recordings that my beloved parents enjoyed and I still have a two record set of HMS Pinafore. I moved to the USA in 1992 and shortly after that I became involved with a professional caliber choral group who performed many challenging works and of an eclectic variety. The Friends of Musical Arts (now defunct) performed G & S's 'Trial by Jury' and with David Hyde Pierce (Frasier TV sit-com fame) in the leading role. Since Roy's own move over to the far eastern area of Massachusetts, he had become musical director of the Cape Cod Symphony, a post he held for many years up until his retirement. It was clear by the magnificent attendance at the church, that there were many of the Symphony's membership there paying tribute.
In those early days of Googling or whatever we used to find people, I eventually got a contact for Roy and his secretary was gracious to give me his address and she was enthusiastic by my enquiry. Roy wrote to me a note of thanks after I had sent to him a recording of the production which took place at Skidmore College, Saratoga Springs, New York.
December 29, 1997
"Dear Dickie: Thank you for your letter and the programmes/tape of "Trial my Jury." "Trial" is always fun to perform and I am pleased that it was a success for audience and participants alike. David Hyde Pierce did a very commendable job as the judge and was obviously well-liked by the audience. May I wish you and yours the Compliments of the Season. Yours sincerely, Royston Nash."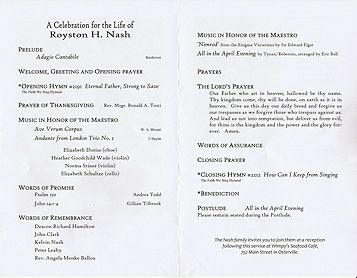 I found the tiny Cotuit Federated Church with ease but parking was appearing to be a challenge. I was very lucky to take a bit of a guess of entering the village's library car park just next door and found a spot there, only a short walk across the grassy area between the church and library.
Upon entering the vestibule I was greeted by an usher who suggested I go to the adjoining room next to the body of the church as it was being monitored in that adjoining room due to the massive attendance. However, I felt the need to make myself known to the family as I had no prior communication after Roy's passing. Taking a calculated guess and seeing someone strikingly resembling his father, I approached Kelvin (his son) and excused myself for the intrusion and announced myself. He was most courteous and grateful for my long drive over and insisted I sat in the front pew where he had vacated to sit with his close family in the choir section. There was no choir but there was a string trio with oboe as seen in the service sheet.
All the music was an obvious choice of Roy's and how many times must he have played and conducted the very special 'sailor's hymn' - Eternal Father. I should record that this was perhaps one of the longest memorial services I have ever attended but none the less one of great reverence and complete in its formulation. The 'Words of Remembrance' included great and close friends of Roy's including his son Kelvin. There was much humour, outright laughter and occasional applause as we listened to the memories shared by them.
We sat and listened to recordings, first of Elgar's 'Nimrod' which was introduced by John Clark as a favourite of Roy's and reminded us all that this piece is played each year at the Cenotaph in memory of the fallen. Also another favourite (and one of my very own) which John Clark questioned as to why Roy loved it so much. Hugh Roberton's 'All in the April Evening'. I have the voice and piano manuscript (once again courtesy of my late mother) and I recall with emotion how she would ask me to sing it to her accompaniment during those early years of my choral education and attendance at my Parish Church of Preston, now Preston Minster. It was brought to our attention that Roy was a Salvationist as seen on the back cover of the service sheet. He is clasping his cornet and we were told that he loved his instrument so much in his early years that he slept with it.
Many of us know Roy to have been a very competent and respected musician and was a Solo Cornet during his time as a player in the RMB. His choice of the Brass Band arrangement (Eric Ball) is an obvious one and here's my idea of what it must have been for Roy that caused him to love it so much. The harmony (in my view) is kaleidoscopic! It moves through a predictable musical trajectory but there are lovely 'changes' and arrivals at peaks in the music that take my breath away. No matter whether you listen to it as a choral piece or whether a piece without words, it can move the heart and the soul by its sheer beauty. The verse is heart-wrenching and small wonder I would break down as I stood by my mother at the piano, so touched I was by the epic placement of words to music. The middle column below is the most heart-felt section of the piece should one care to listen.