Keith was born in Eastleigh Hampshire on 8th October 1950, although he was raised at 14 Duttons Road in the market town of Romsey Hampshire, the home of Lord Mountbatten.

Brought up as a Congregationalist, at thirteen years old, the young Pullen spent two years as a member of the local Army Cadets. In 1965 aged just 15, he walked through the door of the recruiting office in Southampton, where he met another potential recruit, future Dartmouth musician and lifelong pal Pete Holloway. Keith wished to join the Army Band, but partly due to the recruiting officer noticing his fascination of ships, he exited by joining the Royal Marines Band with Pete instead.
Keith Pullen's colourful career began when he emulated his Brother Pete and enlisted as a Junior Bugler on 26th April 1966, becoming part of 2/66 troop.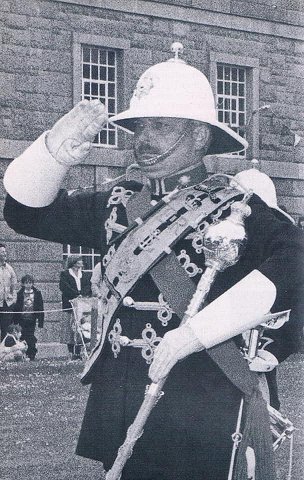 On completion of training in November 1967, his first drafting was for twelve months across the parade ground at the Royal Marines School of Music Staff Band. He was then posted to the Royal Marines Band at Eastney on 20th September 1968, it was for only five months though as he was fortunate to be sent onboard the carrier HMS Bulwark as ships Bugler on 4th February 1969. He was attached to the Bulwark for eighteen months and travelled extensively during that period. Besides his bugling duties, he was also tasked with working in the ships stores and various messes. 'Rusty B' as the ship was nicknamed left for the Mediterranean and Exercise Olympic Express in the Aegean, with runs ashore in Gibraltar, Malta, Cyprus, Salonica, Venice, Villefranche, and Toulon. On his return from sea, he passed his B2's course.
In January 1970 and on completion of a four-month refit at Devonport, Keith returned to the Bulwark following her recommissioning and sailed with her to Singapore via Gibraltar, Cape Town, Gan (The southernmost island of the Maldives) and Brunei. The Bulwark had to undergo a minor refit at Singapore Naval Dockyard to repair damage sustained in 'Tropical Storm Diane', following her departure from Cape Town. The ship then sailed on to Kobe in Japan. The Bulwark was visiting as part of 'Expo 70', which was the world's fair held in held in nearby Osaka, Japan. The trip then continued... calling at Hong Kong, Jakarta and Perth Australia before returning home to Plymouth. Keith's sea time came to an end when he made a return to the RMSM Staff Band on 1st September 1970. Two months later on 21st November, Keith married Doreen with whom he had two boys.
On 5th May 1973, Keith was drafted to the Royal Marines Band at HMS Ganges. For decades, Ganges at Shotley Gate in Suffolk was the first taste of naval life for generations of Royal Navy recruits. Two years later he was off to the Commando Training Centre at Lympstone where he negotiated the first step to promotion, successfully passing his six-week-long Junior Command Course in October 1975.
Back to Ganges, and not only did Keith achieve high standards on bugle and drum, but he also performed admirably as an unqualified Drum Major in the Band. He remained at Ganges under the direction of Bandmaster Bill McConnell and BCSgt John Whelton, until the establishment closed. The band was subsequently disbanded in June 1976.
He returned to Staff Band for a third time in his career, again for a three-year spell. On 17th September 1977, he was part of the Depot Corps of Drums led by Bugle Major John Satchwell, that appeared on Bruce Forsyth's Generation Game.
Keith completed a basic firefighting course and duties appertaining to Operation Burberry. Many members of the armed forces were deployed nationwide to provide emergency cover on 14th November 1977, as the first UK firefighter strike began.
He was also in the band that travelled to Toronto in 1978 for the annual Canadian Exhibition. Bugler Pullen became Cpl Bugler Pullen when he was promoted in late 1978. Shortly after he gained his stripes, Keith moved to East Barracks for a three month period as Instructor. The following year saw Keith attend and pass the Drum Majors course under the direction of the Corps Drum Major David Buchanan.
Cpl Bugler Pullen was drafted to the Band of the Royal Marines Flag Officer Third Flotilla (FOF3), and with it he became the bands' first Drum Major directly appointed from the buglers branch, replacing BSgt Frank 'Wiggy' Bennett. Keith's first deployment with the band was at the beginning of 1980 onboard the aircraft carrier HMS Hermes for a deployment to the Caribbean and Louisiana, calling at: Bermuda, Grand Cayman for a Banyan, Willemstadt in Curacao, Aruba, Tortola, Puerto Rico, another Banyan in Canouan, Barbados, and New Orleans…. where the FOF3 Band appeared in the world acclaimed Mardi Gras Parade on three consecutive days. On 27th August, the band embarked on HMS Invincible, visiting Loch Goil, Stavanger in Norway, before heading for warmer temperatures in Brest and a three-week stop in Gibraltar. The frigate HMS Eskimo was next in line and took the Band for a short excursion back to Norway albeit with slightly cooler temperatures. Keith and FOF3 Band lifted and shifted their gear onto HMS Bulwark as she set sail on her next deployment around the Mediterranean, where they enjoyed the delights of Hamburg, Naples, Athens and Gibraltar, to complete what was a remarkable year of sea time.
Any rank that was lucky enough to be drafted to FOF3 Band will tell you that it was probably their best time of their life, travelling the world and getting paid at the same time. It certainly was the case for 30-year-old Keith Pullen. Following Christmas leave in January 1981, HMS Intrepid became his final ship with the band, he was lucky enough to don his tropical rig once again for what seemed like another vacation to the Caribbean, taking inthe Islands of: Antigua, Barbados, Aruba, St Thomas, St Vincent, Trinidad, Puerto Rico, Tortola and finally Bequia in the Grenadines for a Banyan.
Following his FOF3 jollies in the summer of 1981, Keith had to dig out his drum & bugle once again when he was drafted to the Royal Marines Band Commando Forces at Stonehouse, he temporarily hung up his Drum Majors uniform and reverted to the role of Cpl Bugler once again. Keith's successful B1's course at Deal was quickly followed in January 1982, when he passed his Senior Command Course at the Commando Training Centre.
The historical events of 1982 changed his and his colleagues lives forever.

Little did he or the band know what lay ahead in the coming months. Keith was just getting used to being on dry land again, when he was drawing stores a year later to return to the ocean once again, although not quite in same capacity as the deployments that he enjoyed in the previous couple of years... Easter leave was cut short on Sunday 4th April 1982 due the Argentine invasion of the Falkland Islands, just five days later, on Good Friday 9th April, Cpl Bugler Keith Pullen was one of thirty-six ranks of the Commando Forces Band that set sail from Southampton heading for the South Atlantic on SS Canberra, as part of Operation Corporate. The cruise liner had been hastily converted in to a troopship which transported 3 Commando Brigade to the islands more than 9,000 nautical miles away.
The band played onboard the 'Great White Whale' as she victoriously returned home to Southampton and a hero's welcome three months later on July 11th. Eleven of those Commando Forces Band ranks that received their South Atlantic Medals on 2nd October 1982, also served time later with Dartmouth Band.
On 28th March 1983, Keith followed his brothers footsteps once again when he was promoted to Sergeant Buglerand drafted to the Britannia Royal Naval College, where he took up the appointment as Drum Major. (Pete was Bugler at Dartmouth between 1967-69). Shortly after his arrival at Dartmouth, he travelled with the band for the Festival of St Anne to Bricquebec in France, for what seemed an endless week-long street party, with the interruption of the odd gig. In 1985 BRNC Band was tasked with a week-long trip to Jersey to perform at the fortieth anniversary commemorations of the Islands liberation from German occupation in 1945. A very chilly and expensive trip to Norrkoping in Sweden a few months later for the relaunch of the Braviken Paper Mill rounded off his overseas adventures with Dartmouth Band. Keith and BSgt John Dunn shared the responsibility of driving the fourteen hundred miles to Norrkoping in the wagon with all the band's gear.
Keith's college time came to an end, and he was appointed as Drum Major down the road at the Royal Marines Band Flag Officer Plymouth on 13th May 1987. Based at HMS Raleigh, Keith was described by his Directors ofMusic as an exceptional Drum Major whilst serving under the leadership of Captains John Perkins and his predecessor Dave Rogerson. Following a well-travelled 24 years, Keith Pullen retired from the Royal Marines Band Service following a period of terminal leave on 8th October 1990, his 40th birthday.
Civilian life led him to be a coach driver for a while, then he worked in a tyre factory in Ivybridge, before returning back to the coaches. He also spent approximately three years as a Drayman with the Courage Brewery Company.
Keith met his wife Sue at the local Royal British Legion where she worked. They married on 23rd December 2000 and lived in Plymouth, with their four Papillion dogs.
Keith sadly passed away on 29th April 2019 aged 68, following a battle with lung cancer. His Funeral Service was held on Tuesday 14th May at Weston Mill Crematorium, Plymouth.
Paul Foley