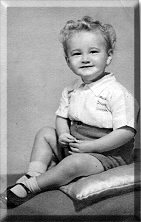 I was born on the 8th of December 1944 at 226 Thorpe Hall Avenue, Thorpe Bay, Essex. The house belonging to my grandfather on my mothers side of the family. During the early years, we as a family had moved from Essex to South Wales close to my fathers family, during which time I caught double pneumonia which was serious enough for an 18 month old toddler and I was subsequently hospitalized for 4 weeks.
We then moved again in 1946 to Farnborough, Hants as my father had been offered a job as a local government officer in the financial department. During the two years we lived in Farnborough, I can remember one incident as a 3 year old which has often since clicked the memory bank, and that was being aware of music which was being played on the radio. The piece was "Jumping Bean" by Robert Farnon. Such awareness has been something I have never fully understood, but the seeds of the gift of music had obviously been sown.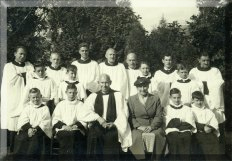 In 1949 we moved again to Crowborough in Sussex and this was the year that I started school. In 1953 the local vicar of St. Michael and All Angels church, Jarvis Brook came to visit and I was invited to join the church choir. The organist was Catherine Ling who was to be such an enormous influence on me later on. I did in fact begin to have piano lessons with her. Her teaching and encouragement were never taken for granted. She used to send we choristers postcards from the Three Choirs Festival. They were happy days for me, but alas in 1956 we were on the move again to Llanidloes in Mid Wales. Father had accepted a post as town clerk. I continued with my piano lessons and by this time with my two brothers Alan and Graham we joined the St. Idloes church choir. During the time in Llanidloes I started to play the violin and having lessons with Doris Knussen.
When I was 13 years old I played the organ for my first church service. I haven't stopped playing for church services since then!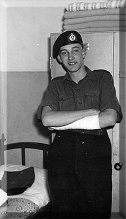 My school days were not entirely happy and I remember in 1960 my mother suggested I apply to join the Royal Marines Band Service. So with my application to the recruiting office in Shrewsbury and then an audition at the RM School of Music at Deal, - we were the first to have auditions at Deal as previously they were held at the Royal Academy of Music - I joined in October 1960 along with 12 others. This was the beginning of the career in music that has not ceased to this day.
I spent 3 years at Deal. One incident I shall never forget was going "AWOL". It seemed to be the done thing way back in 1961. Ask Adrian Brett! Anyway, I landed up in Dublin wearing blue uniform! How could anyone have been so naive even at 16 years old? I returned to Deal with the help of the East Sussex police and got 14 days RP for my trouble. Jack "Kipper" Diamond (the CSM of "J" Wing) was very kind to me under the circumstances and I never envisaged that one day I would step into his job!
December 1963 was the time I passed out with eleven others in what was then known as the C.G. Squad.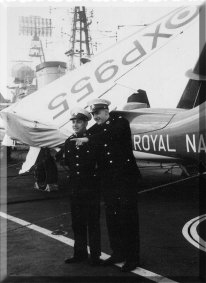 January 1964 I spent 3 months with the RM Band based at RNEC Manadon under Mick Hutton. I then joined HMS Eagle Band forming up at Deal under the direction of Dave Elliot the bandmaster. It was he who encouraged me to become a candidate for promotion.
In 1966 I left Eagle and joined the F.O.P. RM Band at HMS Drake where I spent 3 happy years. In 1968 I attended the JCC (B) at Deal which was very successful for me. During the summer of that year I attended a conducting course in Liverpool with Vince Harris and Keith Sharpe from Deal. We received tuition from Harry Legge and Sir Charles Groves. This course ran parallel with the one for British Conductors attended by Orwain Arwel Hughes, Christopher Seaman, Simon Rattle to name but a few! I had at this time to study for the LRAM diploma privately with Captain Ted Talling in Kingsdown.
In 1969 I was drafted to RMSM which was to prove a turning point in my musical life. The PDM at this time was Major Paul Neville who had planned to shape the RMSM orchestra into something more than a vehicle for student conductors. I shall be eternally grateful for the experience I gained as a violinist in this orchestra - playing symphonies by Dvorak, Brahms, Tchaikovsky, Vaughan-Williams, etc. During May 1971 I was promoted to Band Corporal and the same month I gained my LRAM diploma, qualifying for Bandmaster.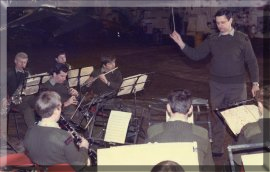 1973 I was drafted to the Band of C in C Fleet at HMS Pembroke under Captain Peter Sumner. I had a busy time with this band and having passed the SCC (B) at Lympstone I was eventually promoted to Band Sergeant. Peter Sumner retired in 1975 and was replaced by Chris Taylor who proved - like his predecessor - to be a very good boss. (In the same year I got married to Pauline Davies.) I think that most people know about the telephone incident in Tasmania in 1977 - I was the guilty party! Chris eventually forgave me for what was a good laugh had by all.
1979 was the year I was drafted to be VBI at HMS Heron. A very successful 12 months in which the band won the Bambara trophy during the VB contest held at HMS Raleigh.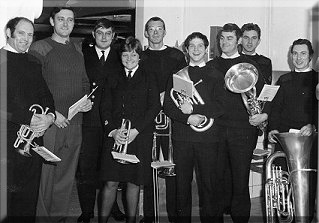 1980 I returned to Deal and after promotion to Band Colour Sergeant I joined the Higher Training Team in the Theory Rooms. This was a very enjoyable time for me and I really enjoyed the teaching alongside Alan Ramel, Phil Hughes and Joe Baggs.
I spent 3 months on temporary draft to FONAC's band in Scotland and soon after in 1981 I was promoted to WO2 (Bandmaster) of which I spent one month as Chief Librarian before taking over as CSM "M" Wing from Ken Shears who was retiring. I spent 12 months in this post which though much of the time was spent desk-bound. It also opened my eyes to administration of 120 trainees and the problems therein. Enjoyable time nevertheless.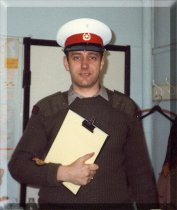 Eventually I returned to C in C Fleet Band as Bandmaster replacing Ray Mosely. During this time the band moved to RAF Northolt where I spent the rest of my time in the RMB service.
I eventually retired from the service in August 1984 and was employed by Computeach International as a seminar manager until June 1986 after which we moved to Port Elizabeth in South Africa. I had been offered a teaching post at Grey Junior School and stayed there as Head of Department before moving to Iceland in 1988. This has proved to be a move that was another successful chapter to my musical career. I spent 6 years as a teacher and organiser at the town of Bolungarvik before moving back to the UK in 1996 for medical reasons. I was then asked to return to Iceland and I spent 2 years in Budardalur before coming to Skagaströnd in 1998 where I am currently employed at present.
Apart from the joy of teaching I get a great deal of pleasure from accompanying on the piano and have had the opportunity to play with a few well known Icelandic soloists for special occasions and last year was invited to perform during an official visit by the President of Iceland.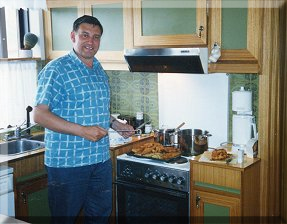 When not involved in the music side of life which takes up a lot of my time, I like to practice my culinary skills in the kitchen and when time and weather permit, visit the wonderful friends I have made in this country. I am amazed that I have now lived here - apart from the short time in the UK, - for just over 10 years. Here's to the next ten.
"SKÁL!"
[Editorial note] I have to take my hat off to Mick for sending me a 6 page handwritten letter with all this information. I have been inspired to work on it immediately, such is my creative urge to get things done. His pictures arrived in mint condition, were scanned onto the computer and within days were winging their way back to Iceland. Many thanks Michael for your dedication to a good biography.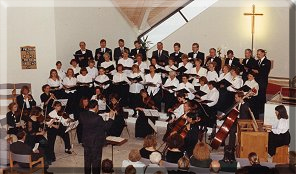 Click image for larger view