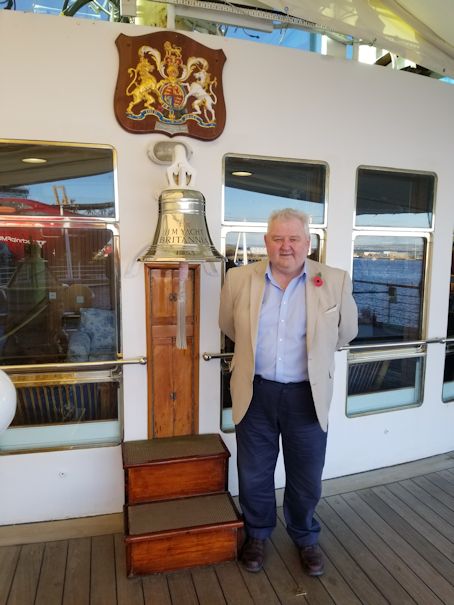 Several visits ago with my old 'yachty' and townie Dave Seed, it came under discussion that at some point we make a trip up to Scotland and take our tour around a familiar vessel that for some months was our home. For those who know me and who attend our Portsmouth reunions and other venues, it has been a great source of dismay that I have not been able to attend due to a combination of family commitments and the extreme difficulty of getting flights. Even though I have made the crossing albeit after the said reunions (I'm still in UK as I write) I got in touch with Dave and the proposition was made again………"do you want to make that trip to the yacht Dickie?" and I said without hesitation a resounding "yes!"

I travelled up from the nether regions of the Llyn Peninsula where I am staying with my brother to Hesketh Bank and stayed with Dave and Joan the Friday evening prior to a day return by Dave's car to Leith which although may have appeared a little daunting, turned out to be comfortable and not too terrible a time on the roads covering well over 400 miles. Sorry but I don't do kilometers!

After tea and toast in the early hours of Saturday we sped off to join the M6 and without a stop we made it up to Ocean Terminal just about the time HM Yacht opens for business. Free parking adjacent to the huge terminal mall which is three storey's high and filled with all kinds of shops and restaurants, we decided to have a coffee in a place that literally was overlooking the yacht in her now prone position.

With our Yacht association membership cards with approached the pay point and after presenting to the staff we were waved on free of charge to begin our nostalgic tour. It has to be recorded that David has been once prior but how long ago I fail to remember his saying. I must say that the staff were very gracious and enthusiastic for our visit and expressed to us that if there was anything they could do to enhance our visit including access to places otherwise prohibited, they would be happy to assist. We did take advantage of that only once when Dave and I went through the hatch for'ard to the fo'c'sle, chains, cables and all. We had to have a photo from the pointed end to the bridge.

Speaking for myself and after all the time that has lapsed since my major trip of 1975 to the Caribbean, I found it hard at times to recognize where I was but of course, so many huge plates had been cut out of places for viewing through Perspex purposes that it changes the aspect radically but necessary for making it easier to make it the huge tourist attraction that she is.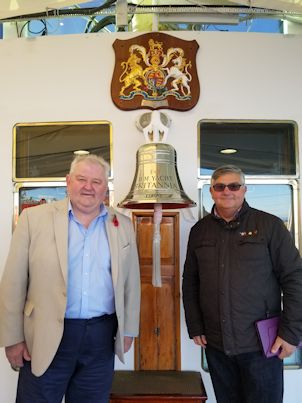 After a thorough walk around and many photo opportunities, we disembarked and visited the gift shop for the necessary keep-sakes although I am bound to say that I am one of many no doubt that already have some collectables that will never appear on the shelves from my time serving HM. Dave politely enquired about discounts for ex Yacht personnel and at first it appeared unlikely until a staff member studied the docket that had some rules and reg's pertaining to sales. 20% off! The visit was more than worthy of our time and distance traveled and in closing I must repeat that the staff are very welcoming and ready and willing to accommodate contrary to some past accounts and the combination of free entry for being a member of the RY Association and significant discount on gift shop goods, makes it a trip more than worth your while.

Dave was more than deserving of a wee dram or three upon our return to the Preston area. My thanks to Dave and Joan for their hospitality. My UK visit was truly embellished by being with them for a couple o' nights to incorporate the memorable trip to a jewel in my life's history.
Yours aye!

Dickie Valentine.
HM Yacht Britannia 1972 - 76