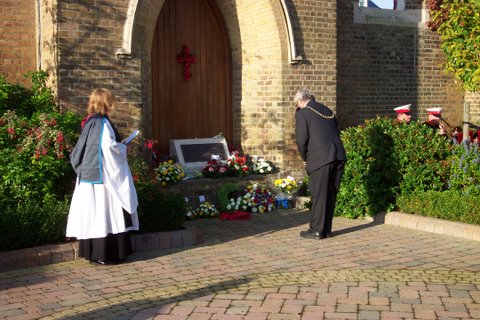 This morning the annual service of remembrance was held at the
memorial garden in Canada Road.

It was fully supported by the bereaved families and uniformed colleagues from Portsmouth. The music was superb, the weather perfect and the attendance of so many former RMB's uplifting for all. This picture was taken after the Mayor of Deal had laid a wreath on behalf of the citizens of Deal & Walmer.

The Priest is Jane Simmonds, sister of Bob who was one of those killed 1n 1989. She travels from Hampshire to lead the service each year. The large gathering of people attending the service are out of shot but the
remarkable condition in which the garden is now kept will be obvious from this angle. This was another proud day for our Band Service family.
Graham (Hoskins)
September 23 2010
Twenty-one years on memories are still evoked at this time of year.
Incidentally you may be personally interested in the fact that the title and duties of Captain of Deal Castle are now to be held in perpetuity by successive Commandants General Royal Marines. Last evening Major General F H R Howes OBE, the present incumbent, gave a superb party at his castle in recognition of the part Deal has played over so many years in the Royal Marines story. He included in his guest list a large number of ordinary gentle people in the local community known to be supporters of the Royal Marines. Local RMA members, helpers at the memorial bandstand, etc., etc., and retired personnel. It was the perfect end to a remarkable day. Clear skies with a full moon directly over the sea was the backdrop for a floodlit performance of Beat Retreat by the RM Band from COLLINGWOOD that had travelled from Portsmouth especially. Watching from the castle battlements was a once in a lifetime experience for many who had hitherto only been participants under white helmets on many such occasions. They were among the privileged few elevated among the worthies of the town at a significant civic event. That it took place on an anniversary of the Deal Bombing was deliberately planned by the General and is a further indication of the respect all members of the Corps now have for each other, regardless of specialization and, indeed, rank. Yesterday was in all respects historic and it was my privilege to have been able to witness every aspect of it from dawn to dusk
Graham