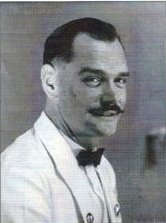 David joined the Royal Marines Band Service in January 1946 at Burford in Oxfordshire - just two days after his 14th birthday. He trained as a Band Boy to play Violin, Clarinet & Alto Sax. In July 1949 he became a qualified musician under the School of Music regime and was posted to the band at HMS Ganges. After a year at Ganges and promotion to musician 1st class it was time for sea bound ships as I'm sure you all know HMS Ganges was a shore establishment. David was drafted to HMS Mauritius and then transferred to HMS Kenya where he was promoted to Band Cpl. He returned to the UK early in 1953 and was then sent to the Portsmouth Divisional Band. At that time the Divisional Bands were not affiliated to the Royal Marines School of Music and were run by private subscriptions, but that was to change almost immediately after David arrived there and I'm certain that he was one of the first School of Music players to join the Divisional Band.

He became one of their top musicians and during the next few years served all over the world on the Royal Yacht Gothic and then Britannia. Lizy & Wendy, David's daughters said that he had told them many stories of his travels with and for, Queen & country. David was also a great rugby player and a member of the Corps and Navy teams during his time in Portsmouth.
After six years with the Pompey Band it was time to move on, so it was back to the RMSM now permanently in Deal for promotion courses. He was made Band/Sgt in 1960 - took the Bandmasters course and was promoted to that rank in July 1963.
Although I had known David as a band boy in Burford, it was during the 60s at the RMSM that we became firm friends. I was Bandmaster of the Staff Band in Deal and the Principal Director of Music Col Vivian Dunn often asked me to organize a trio to perform at VIP occasions which included medal ceremonies at the palace, Lord Mayors banquets, MCC Dinners and such like. All three of us enjoyed this tremendously because David was such a terrific violinist and along with Dougy Drake who was a brilliant pianist, I only had to put in a few notes on my 'Cello and we became a formidable ensemble.
David's next post was in HMS Eagle as Bandmaster from 64 - 66 with just about two and a half years at sea which would be more than enough to cope with - with jet planes, sailors and all the ceremonial and entertainment engagements that went with a job like that. Fellow members of that band have been in touch with me to tell me of their admiration for his work during that period. From 68 to 70 David was Bandmaster to the Commander in Chief Far East at HMS Terror in Singapore. While there he was able to form the first Boys Brigade Band which I think is still operating. His final two years were spent between Portsmouth and Plymouth sharing his talents between various RM Bands. During this time his wife Joan died leaving a large gap in his life which lead to a period of great unhappiness.
David left the Royal Marines Band Service in January 1972 at the compulsory retirement age of 40 having completed 26 years of exemplary service and good conduct. He started work at Boosey & Hawkes in London as a musical instrument specialist and it was there some months later that we met up again and I was able to persuade him to come to Christ's Hospital as my assistant. We made a great team and the music at the school which included a military band of about 70 players, orchestra and Dance Band which David started, went from strength to strength. I left Christ's Hospital in 1975 and David took on the job as Bandmaster. During the next sixteen years the standard of music at the school improved continuously and with the addition of girls in the 80s made the making of music even more varied.

He retired from Christ's Hospital in 1992 but was still involved in the local community teaching and conducting in the Horsham area.

Joining Christ's Hospital had given him a new life where he met and married Ann, found great happiness and the joy of his life with her and his two lovely daughters Wendy and Elizabeth. The pride he had in this new and unexpected family unit shone in his eyes when he spoke of them. He was an unsophisticated man with both feet firmly on the ground. We will all cherish our own memories of David's constant good humour and cheeriness. He took the ills that were thrown at him without complaint and found great happiness in family, friends and of course music. He gave so much and was in turn very easy to love.

He will be missed by all who knew him in the Band Service and those who were part of his life after the Royal Marines.