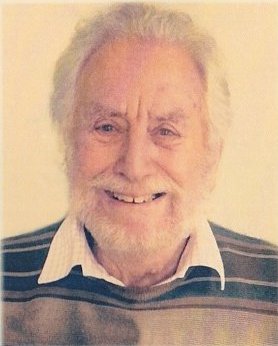 As if in anticipation of the arrival of the Royal Naval School of Music at the Depôt Deal on 1 October 1930 from Eastney, was the birth in Northcote Road of David Wells on 31 March that year. Growing up in the town housing the home of music in the Royal Navy, his schooling was interrupted by wartime evacuation to Wales for a couple of years before he found his way back to Deal and attended Sir Roger Manwood`s school in Sandwich. In September 1944 he joined the RM Band Service, first in Deal then via Scarborough to Howstrake camp Isle of Man which he found very cold, later to Burford. After training as a Flute and Piano he was rated Musician in 1947 and drafted to VENGEANCE for eighteen months, a Colossus-class aircraft carrier employed in the Home Fleet on flying training and cold weather trials. A spell back in Burford in 1949 was followed by a draft to the cruiser Birmingham in the East Indies Fleet under Bandmaster "Jimmy" Pottle.
The outbreak of the war in Korea in June 1950 saw the formation of the first United Nations-authorised force to combat this naked communist aggression, which resulted in the move of this band to another cruiser CEYLON for war patrols in Korean waters. This entailed long periods closed up at action stations leading to loss of practice opportunities. Music was restricted to entering and leaving harbour when back in base in Japan. The commission ended in December 1951. Most of 1952 was spent in Deal and then a move to DRAKE the naval barracks in Plymouth where, soon after arrival he was promoted to Corporal, then drafted back to Deal where he was able to take and pass both parts of the B/Cpls exam. Eight months later he was made a Sergeant.

On the personal front, as a local boy he had been friends with Jamie, one of the sons of the Hunniset family, and this now burgeoned into a growing interest in Julie, his sister. David had recently up-graded from a motor bike to a sports car, which no doubt assisted the logistics of the romance, giving him the opportunity in confined space to teach her to drive, where she would "crunch her way through the gears" in those pre-syncromesh days. Matters were clarified in late 1954 by a draft to the C-in-C`s band in TERROR, the naval base in Singapore with Julie flying out a few months later to be married three days later; not without some difficulty, as just before the ceremony David found his pocket had been picked of his savings of 950 dollars, the price of the ring. Fortunately the Pay Office came to the rescue with an advance, and the Fleet Bandmaster- Senior Commissioned Bandmaster Syd Cooper acting as best man. All passed happily with a reception at the Raffles Hotel. They stayed in quarters in Singapore for 2½ years, being joined by their first born Leonie in 1955 before returning to UK to take up residence in Ipswich for David`s next job at the boys` naval training establishment GANGES with Bandmaster Maurice Pearce, again for another 2½ commission. During this time Mark and Deborah had joined the growing Wellses.
David`s seniority by now helped to gain his selection for the 1960 Bandmasters` class of one year`s duration in Deal. His studies were rewarded with success and this no doubt cast an extra warm glow in the Wells household for Christmas that year especially as it was spent in their first home in Kingsdown. Promotion to Bandmaster followed the next month with employment in Junior Wing East Barrack as a flute instructor until 1963, with Andrew arriving in July 1962 to complete the family. Inevitably almost, a draft to sea followed with a new band being formed for CENTAUR and David as Bandmaster. For some reason, the band spent six months in Lympstone barracks until the ship was ready to commission, after which it sailed for a general-service deployment out to the Far East. The band was extra large at 28 and this must have made conditions for practice unusually difficult in this last decade of sea service for RM bands. At this period, while most naval officers were very happy to have the prestige of a Royal Marines band embarked for their cocktail parties and beating retreats when in harbour, it was a different matter when providing facilities for band practice during the very long periods carriers spend at sea. David, fortunately, was of the experience and temperament to deal with this unhelpfulness, and fifty-odd years later at the annual "Centaur" reunions held at Ripple, members recall and pay testimony to the qualities he brought to bear to overcome the boredom and frustration. Finally in September 1965 the band left the ship and David was again sent to East Barrack as senior Flute instructor, where he immersed himself in instrumental and dance band training. By now, the Flute & Piano category had been abandoned for Flute & Tenor Saxophone. On the home front, with his final discharge to pension due in early 1970, Julie had decided to go for teacher training in Canterbury; however the service then offered him a "Fifth Five" with the twist that a month after commencing this he was made, along with a percentage of all armed forces, redundant. He retired on 1 April 1972 and looked after the family while Julie qualified, he then later became a part-time music teacher at Simon Langton`s Girls Grammar in Canterbury and some private schools in the area, becoming fulltime in 1982. He finally retired in 1994, having started saxophone and jazz groups, and being warmly regarded as a mentor to the children.

Back in Kingsdown, he and Julie enjoyed entertaining a wide circle of friends and neighbours and his assistance in the kitchen developed his culinary skills- particularly in the field of curry. Socially he had always been a genial cove which was further developed by his Masonic career when he was initiated in 1961 in to Wellington Lodge No 784 Deal; progressing through the various offices to the Master`s chair in 1973 and promotion to Provincial and Grand rank. Further charitable work was involved in his membership of Rotary for over 30 years with involvement in all offices. Likewise he became a governor of the local primary school and was also involved with Citizens Advice Bureau.

On leaving the Service he had been asked to join the local Ringwould-with-Kingsdown Parish Council, serving for 32 years, 25 as of them as Chairman. His legacy to the welfare of the two villages was something of which he was very proud. Perhaps closest to his, and Julie`s, hearts was the family connexion with Ringwould church, where he was variously secretary, treasurer, gardener, warden and latterly organist; in fact every possible office other than Vicar. Both Leonie and Deborah were married there and it seemed to have been a lynchpin to his faith. He loved the church and was immensely pleased for it to be their last resting place. His beloved Julie died in August 2015 and he never really recovered from the loss of her company of over sixty years. His health slowly declined, with various problems ranging from gout to diverticulitis, although he still got about when well and shared hospitality with friends both at home and in restaurants. Increasingly the four children spent longer periods visiting the family home to keep an eye on Dad, travelling from locations as widely placed as Chepstow, Malvern & the Scottish Borders, Deborah being the only one resident in Deal. His final illness seemed to onset this year and cancer swiftly set in to his organs; after taking to his bed in early September and visited daily by palliative care nurses to ease his pain, he slipped away with a peaceful passing at home in Kingsdown during the night of 9 September 2018.

His funeral on 20 September was to a packed church of neighbours, friends, old comrades and freemasons in St Nicholas Ringwould, all supporting the family and wishing to pay tribute to a truly remarkable man of great humanity and dedication. His interment in the same plot as Julie followed the service, attended by the family and congregation. A reception at Deal cricket club in Walmer was held where further testimonials were exchanged of days of yore. Terry Freestone