Hi Dickie
I thought this might be of interest to you, and all the rest of the lads who were in the 1977 Silver Jubilee Royal Tournament.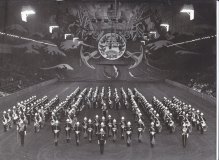 Please find attached a copy of said tournament, I guess there won't be, sadly, a Golden Jubilee Royal Tournament(?)!
I'm very happy for all, that they had a change of mind concerning the reunion, and all the effort that was put in by your website and other people's contributions. Great to see that common sense sometimes does prevail!
I attended Charlie Bowden's funeral in Somerset last week - attended by many with about 20 odd bandsmen - musicians and buglers. Ken Booth, Lt. Col Jim Mason, Colin Bowden, Bill Hartland, the present Drum Major of RMSM (in uniform), to name but a few - the old grey matter lets it all escape me!

I'm going to see Matt Dillon sometime in the near future, as he's in a care home (no doubt fixing a few things!).

Anyway, all for now,
Take care, best wishes and see you at the (reinstated 2 day!!) reunion.
Regards,
Merv C Durrant