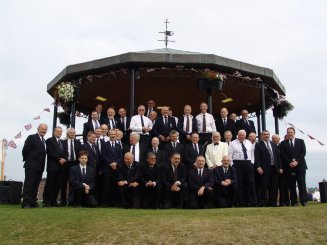 A standing ovation was given to the Old Comrades band after their unrehearsed performance on the Deal Memorial Bandstand on Sunday 21st August. The concept of presenting a concert performed by 43 ex Royal Marines Band musicians who still live in Deal was the brainchild of former Warrant Officer Bandmaster Stephen Misson who lives in Walmer. "Forming a band of the appropriate size to fit on the bandstand was quite easy," said Stephen prior to this one-off performance, "but finding the time and place to rehearse was much more difficult. So the obvious answer was to make this an extra special event by playing entirely without rehearsal, because, after all, we had all been well trained by the Royal Marines — for some, a long time ago!" Another unknown factor was the nagging question — would this also catch the imagination of the general public; would they turn up just to see if they could actually pull off this 'stunt'? They began to realise that Sunday was indeed going to be special when the first coach-load turned up a full two hours before the start time of 2pm and by that time there were an estimated 2,500 people awaiting the down-beat by former Corps Bandmaster Phil Hughes.
The first item, the Carl Teike march Old Comrades was chosen as it aptly reflected the character of the band (or was it the other way round?) and from that point it was obvious that this was indeed going to be a very special afternoon. In his programme introduction Stephen advised the audience not to expect the same stand-discipline as exhibited by the Royal Marines Band exactly two weeks earlier because of the electric atmosphere generated by these very accomplished musicians. It seemed almost impossible that anyone could perform such a complex programme culminating in the enormously difficult Festive Overture by Shostakovitch, to such a high standard, but they did — and did it with such gusto and energy considering the average age was 62 years.
A one-off performance? After the event, the organisers were inundated with congratulations and praise; no way can the Deal Memorial Bandstand Trust allow this band to dissolve into obscurity; it must surely become one of the most anticipated events in the Deal calendar to run alongside the annual visit of the Royal Marines Band themselves and we eagerly look forward to being able to experience another fabulous afternoon's entertainment by this enchanting band of senior ex Royal Marines.
THE MUSICIANS
Flute: Pete Selby, Rosemary Rathbone
Oboe: Wally Walters
Clarinets: Andy Cunningham, Derek Holder, Freddie Flux, Alan Shankland, George Simpson, Ian Clarkson, Bob Gill, Bob Graham, Ben Finney
Bass Clarinet/Bari Sax: Pete Rose
Alto Sax: Mick Murray, Brian Tupper, Mike Brodie
Tenor Sax: Jay O'Neil
Bassoon: Brian Smith, Lew Cooper
Horns: Benny Goodman, Taph Ward, Andrew Berridge
Trumpet: Steve Misson, Keith Davies, Bert Nicholls, Trevor Attwood, Aggie Willis, Alan Adshead, Derek Lindars, Mike Scurfield, Pete Worsfold, Dougie Powell, Keith Price
Trombone: Mick Eastbrook, Paul Coker, Joe Kendrick, Len Ingram
Euphonium: David Burridge
Basses: Andy Wall, Riggo Richardson
Percussion: Brian Short, John Collison, Malcolm Belcher
[Editor's note]
There are several very interesting .pdf files to share with you but you will need Adobe Reader 7.0 (click HERE for download).
Programme 1
Programme II
Poster