Clifford, or 'Cliff' as most people knew him, was the son of Wilfred and Edith-Anne Meatheringham. He was born in 1930 in Mattersey, North Nottinghamshire and was one of two children, his sister Agnes still lives near the family village today.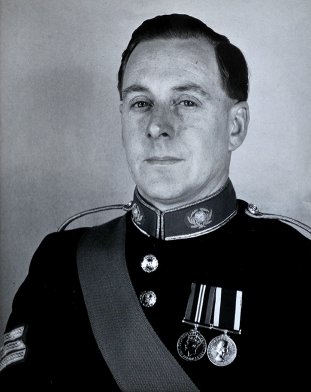 In 1944 at the tender age of 14 he travelled to Scarborough to sign up for the Royal Marines Band Service, he trained in the Isle of Man and Burford, thereafter serving in Deal, Ipswich and Plymouth. His instrument was Flute/Piccolo. He really was a very talented musician and helped others along the way. He travelled the world mainly in aircraft carriers, and played at some very special venues and occasions like Winston Churchill's Funeral, the Royal Albert Hall, Wembley Stadium, Edinburgh tattoo, and Remembrance Day services in London, to mention just a few. Retiring from the Royal Marines Band Service as a Band Sergeant in 1970, Cliff joined the MOD Police based at Devonport Dockyard in Plymouth. A few years later he moved his family to RAF Kemble in Gloucestershire and spent the rest of his working life there. Cliff always had a love for nature and foraging, it's something he passed on to his family. He spent many hours, whilst on duty, filling his Police helmet up with all sorts of weird and wonderful things - mushrooms, nuts, berries and occasionally baby animals. Sometimes he rescued young birds who had been injured on the runway or dazed by aircraft. He was a keen gardener, and loved sharing his produce with family, friends and neighbours. He loved making jams, pickles and wine from the produce he found or grew, his family enjoyed eating and drinking them too - some of which they will be enjoying for many years to come.

In 1975 Cliff and his family moved just down the road to Cirencester, he spent his spare time playing for many local orchestras, including the MOD Band, Royal Air Force Band, spent 16 years playing with the Malmesbury band and also taught the Flute.

Cliff was very clever, he liked doing crosswords, problem solving and he loved Maths! He was a regular supporter of Cirencester Town Football Club and also played Bowls for Cirencester Town. He spent many hours in front of the TV collating football and horse racing results, and played scrabble with his wife Margaret - sometimes into the early hours.

After a relatively short illness, Cliff (87) passed away peacefully in the Coln Ward of Cirencester Hospital on the 13th January 2018.

He will be greatly missed by his beloved wife Margaret, four children and six Grand children. God Bless.