Dear Friends,

I was deeply saddened when told yesterday at Bath that dear Brian had passed away at Queen Alexandra's. Very sadly he had lost his long battle to fight off his illness and he slipped away, peacefully I understand, on Friday evening. He was 61.

Brian was one of our founder members – he had been persuaded to join our band by Ted Whealing, a long-standing friend - and since 2006 rarely missed a concert or rehearsal. His talents as an outstanding euphonium player and 'cellist were without question and when I persuaded him to write a short profile about his career (see Newsletter No. 9) I wasn't at all surprised to read how successful he had been not least during his career in the Royal Marines Band Service in which he quickly reached the rank of WO1 Bandmaster before his early retirement in 1992; but then subsequently throughout the remainder of his life. He was an accomplished conductor and band trainer and frequently took rehearsals during Ted's absences on holiday.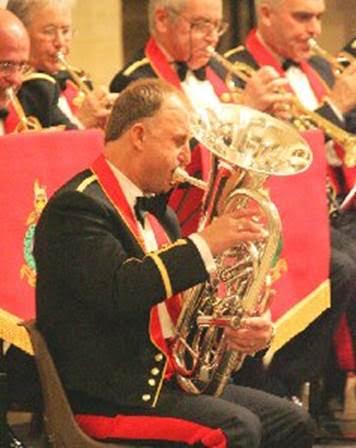 Born in 1954 into a family of keen musicians Brian joined the Royal Marines Band Service in May 1970 and swiftly grasped the finer points of military band work under the tutelage of Keith Sivyer and later had the pleasure of working with Mick Fielding and Kevin Vickers whilst Ron Kempton, then Chief Instructor at RMSM, enforced the highest standards. Drafted to the C-in-C Fleet's band at Chatham under Captain Peter Sumner Brian's career quickly developed as he studied for his LRAM diploma, and following moves to Lympstone, and to FOF3's band which embarked in the hospital ship Uganda for active service during the Falklands war, he returned to C-in-C Fleet's band, then directed by Ted Whealing, as a CSgt. It was there that he met Diana and they married in 1985. Following attendance at Goldsmith's College working with Edward Gregson on the advanced conducting course Brian was promoted to WO2 in 1987 and appointed as the Chief Instructor at Deal. Finally, following further promotion, to WO1, came a draft to the Royal Yacht band at Eastney, once again under Ted Whealing's leadership.

It was whilst he was working at the Mountbatten Festival of Music in February 1990 that he suffered a devastating brain haemorrhage. He recovered but it gave him quite severe memory problems: he even proposed to his wife for a second time! But eventually he was medically discharged from the Band Service in 1992 - an extremely sad turn of events as he had by that time passed his Director of Music exam. Since then he settled down to working with disabled students at Southdowns College, Waterlooville and bringing his experience to bear in the RMA Band.

Brian will be greatly missed by all band members. He instantly commanded respect when one met him for the first time but my over-riding memory of him will be his characteristic charm and terrific sense of humour. He also had an excellent sense of the ridiculous and was seldom slow to spot a chance for all round mirth: for example in East Sussex on one occasion he noticed Ted and me poring over a map to decide the best route to take to a south coast venue. "Not two officers in charge of a map" he exclaimed. "We're all doomed!"

To Di and their twin boys we offer our sincere sympathy and love at this tragic time.

Paddy

PS Members will wish to know that we have this morning received the following message from Di:

I am very sad to say that despite superb care from the Critical Care Team at Queen Alexandra Hospital, our much loved Bri passed away peacefully on Friday evening. The boys and I were with him which will give us comfort over the coming weeks.

I am sure knowing how the Band Service network operates that you may have received this news already, apologies for delayed contact from us, but even though he had been unwell it was a tremendous shock.

We are all extremely grateful for the kindness and support the band gave Bri, he truly loved his music and enjoyed all the rehearsals and gigs he managed to attend.

I will be in touch with details of the funeral in due course, unfortunately we have to wait for coroner as the Dr's still could not get a clear diagnosis of cause of death.

I will be in touch.

Di Allen.