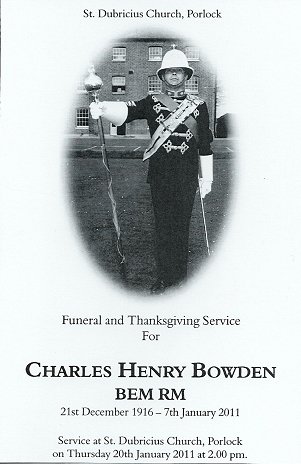 Throughout my career in the RM Band service the man we are all here to honour has had a kindly influence on mine & many others lives. I first met Charlie in 1950 when as a 16 year old band boy along with 300 others the Royal Naval School of Music moved from Burford to the Depot in Deal. We had travelled by train via Oxford and Charing Cross to Deal station where we were met by the CO who welcomed us to Deal. Then the Staff Band led by Drum Major Charlie Bowden plus 300 band boys marched through the town to East Barracks which was to be our new home. After boys training and a couple of years away in the CinCs Band in Malta I was promoted to B/Cpl and drafted back to Deal as a member of the Staff Band under Bandmaster David Woods with Charlie as Drum Major. During the next 4 years as well as our duties in the Depot where most recruits joined up, the Band Service encountered many changes including the appointment of Vivian Dunn as the principal Director of Music. These were difficult times as all HM services had to make cuts and the RMSM was in some difficulty as regards survival. We should be thankful for people like Charlie the senior corps Drum Major with his enthusiasm for the School of Music for helping to keep the Band service alive.

There were many engagements where Charlie and the Bandmaster along with the PDM kept us as professional as possible ie; Royal Tournaments, Edinburgh Tattoos, White City Tattoos, Horse Guards Parades etc plus tours abroad in the USA and Europe.

I was drafted to another ship HMS Gambia in the late 50s and on my return with promotion to B/Sgt served another term in the Staff Band and as a SNCO got to know Charlie more intimately. He was a tremendous help to me at that time in promotion courses and in my duties as a SNCO plus many tips on being a Drum Major which on my next draft to HMS Albion as a VBI plus Drum Majoring duties in HMS Terror were invaluable.

1961 I was in the Bandmasters class for that year and again Charlie was always available with advice on innumerable subjects to do with organisation and training in the Band Service. In 1963 I was promoted to Bandmaster and in forming a band in Deal to join HMS Thunderer Charlie was again there to help and advise which he did for all in the depot.

I spent two years in the West Country before being selected to attend the RAM in London in preparation for further promotion and on my return to Deal was appointed as Bandmaster of the Staff Band.. my Drum Major of course was Charlie Bowden. From Sept 1966 to Nov 1968 when I left the Band Service I always found Charlie to be the most loyal friend and colleague and am honoured to have known him. Michael Hutton.