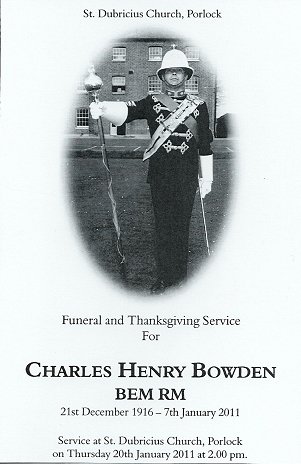 I attended the funeral of Charlie Bowden today and attach a scan picture of the Order of Service, which you may consider adding to the Sunset Page or the like. I tend to add such items to our Gambia Obituary Pages, and it appears that most members are happy to see these items there, especially if they were unable to attend a shipmates funeral for any reason.

I will leave it to others to write a report, but I can tell you that while the church was not overflowing, there was a decent representation of all ranks from Musician/Bugler to at least one PDM, plus an RSM and two Buglers who played the usual items of Last Post and Reveille. Charlie was conveyed from the church to Regimental March "Life on the Ocean Wave", which would no doubt having him rocking in his coffin!

As I say above, the funeral was well attended by some who had travelled from far and wide and the weather was absolutely wonderful, if a tad on the cold side, and the frost was still on the footpath when we left the church following the service at 15.00 hrs!

A light buffet of sandwiches and cakes and tea and coffee was laid on by the family in the Methodist Hall after the service.

Can't really add much more than that, other than to say that I managed a word with some who I had served with in the Home Fleet in 1956 and that there was much lamp swinging going on, just like at a reunion, but, less the alcohol flowing!


Kind regards,

Yours aye,

Bill.