For the eighteenth year, former musicians of the Royal Marines Band Service made their pilgrimage (for this is what it has surely become) to Margate to again take part in which has, for some, become their only contact with their former colleagues, to take up their instruments and perform as they used to in front of a large theatre full of people eagerly anticipating this annual event whilst knowing that their performance is doing something really tangible – giving something back.
This has become the motto of the All Stars Band who have to date raised over £143,000.00 for the Royal Marines Band Benevolent Fund, the Deal Memorial Bandstand Trust and other charities nominated by the band members. We are all very proud of this fact; knowing that we can give so much whilst enjoying ourselves is a rare privilege.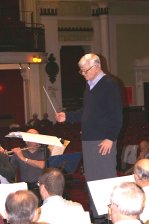 When I send the letters in November asking the registered members for their commitment to take part, I never know how many replies we are going to get. This year I decided that, seeing as almost half the members had an email address, I would save the fund quite a bit of money by emailing using Acrobat (.pdf) letters and application forms. This is something I will not attempt in the future as it was not a successful exercise. I forgot that not everyone spends most of the waking hours sitting in front of a computer and knows how to open and print off an attachment! The most comical report was when one member informed me he couldn't print the attachment and I spent quite some time on the telephone talking him through the process before discovering the reason why he couldn't do this – he hadn't got a printer! A read receipt was attached to each email sent so I would be able to track the passage of the email; some were not opened for a full month later and some still, in April, haven't been looked at. So next year it will be back to the envelope with a stamp on it; at least I can be fairly sure that the letter will be delivered. This is not a criticism of the band; in fact it is I that should receive the criticism for not realising that most people have better things to do with their lives – like make music.
Despite now having to sort out who had and who had not replied to the email and then sending out a snail-mail letter, we ended up with 131 members down to play. This eventually dropped to about 126 on the day, for various reasons, mainly because we are all getting (much) older and our health isn't always what it was. Remember the BFT's that we used to do? Cramming this amount of musicians on to the Winter Gardens' stage is always a problem and every year Shiner Wright is in danger of falling off together with his string bass, but we always achieve it in the end.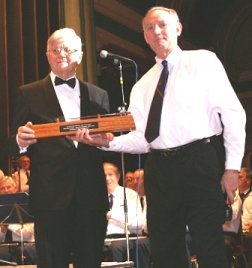 This year was to be a special year because it marked the retirement of Lt Col Paul Neville. His wife, Ann, now needs constant care and Paul understandably wants to spend more time with her. I have asked David Cole, and he has accepted, if he would like to be the new Director of Music of our band and had arranged for a baton hand-over at the concert but unfortunately David had a prior engagement with his own Central Band of the Royal British Legion so this was not to be. I had asked the band members for a Pound each so that we could buy a memento for Paul, expecting to have about £130 to spend. I was very surprised to find £394 available for this gift. I had asked for suggestions for this presentation and had only one excellent reply – to have a silver baton made. This proved to be a more difficult task than I first imagined. I purchased a wooden baton from Pete Rose' shop, Unison in Canterbury and gave it to a local silversmith as a template. They kept it for two months before advising me they couldn't do it which left us very short of time to find another silversmith. To the rescue came C J Howe (Jewelers) in Deal. He had been instrumental in the building of the Deal Memorial Bandstand as a member of the Round Table so there was some relative link here. He also told me it would be very difficult in silver, it being such a soft metal so he suggested brass with silver plate, which seemed to be an idea solution. He later telephoned with an alternative suggestion: polished stainless steel which would be tough, never need cleaning and would look just as good as silver. This he duly did and it did look stunning. Curiously the point of balance was exactly the same as the wooden one. The next problem was to find a presentation case for it, again not an easy task. After literally dozens of phone calls a firm was discovered in Dover. They knew exactly what I wanted, would draw up the plans and give me an estimate. The estimate was for more than the amount of donations we had received – for a box! More phone calls ensued leading to my old Bandmaster at HMS Ganges, Bill McConnell. Bill and Sue happened to know a wood turner and an engraver locally in Canterbury and they got the whole thing sorted in the nick of time leaving us £64 to give to Paul in the hope he will spend it treating himself and Ann.
In an attempt to control the amount of food available and the amount of people attending the family meal after rehearsals, it was decided this year to have a set meal mainly because of complaints from those at the back of the queue not having much food left. This was not a success; it was generally accepted that the standard of chicken and chips with a bun was not of good enough quality. Therefore this is another aspect that will need further consideration for next year. Suggestions are most welcome.
This year the programme of music was chosen by a committee consisting of myself (trumpets), Graham Harvey (trombones, Dave White (percussion), Pete Rose (woodwind) and Richard Baker (euph and librarian). Richards task preparing so much music is a huge one and not enough praise can be heaped upon him for undertaking this arduous task year in, year out. He is truly one of the unsung heroes. The purpose of the committee was to choose a programme of music suitable for not only us but the audience. Consideration, in particular, was given to keep our extensive percussion section employed. We think that our choice was a good one because I received many favourable comments from both the public and the band afterwards. This committee must now exist for future years together with our new Director of Music who is now very much involved with choosing programmes for his own band. Suggestions from band members will always be considered and if any one musician feels he would like to play a solo we would seriously consider it.
We gave away £8,000 with perhaps more to be donated later. £500 was given to a young 18 years old lady Nichol Dryburgh for her Silver Lining appeal. Nichol's story at http://www.c-h-o-c.org.uk/ is truly gut wrenching. Her life expectancy is now very short, she has multiple tumours, had many strokes, is now totally blind and in a wheelchair. Despite her disabilities she devotes her time to ensuring that others get better treatment than she did. As she made her 'thank you' speech I could see there were many people with tears in their eyes in the audience and when I turned to the band I could see that she had affected many of the hardened musicians there in a similar fashion also. I am pleased to report that her touching story resulted in people approaching her afterwards to give her money. She received an extra £200 on the night and a further £1500 afterwards. I venture to suggest that of all the money we have given away, this was the most deserved. Please read her story at http://www.c-h-o-c.org.uk/ I challenge you not to agree and thanks to Ginge (grey) Deary for bringing this to our attention; it was a privilege to help her.
We have at long last been given the OK from Dover District Council to have a bench seat erected near the Memorial Bandstand which will cost about £1000. The original idea was to have it in the Garden of Rest but it was decreed that no further additions should be made to that place. Hopefully there will be enough money left over to proceed with this. Again comments are welcomed.
So – the 2007 concert is now over and we have all returned to our home towns for another year. How many, I wonder, will there be in the band next year on 9th of March? The audience in this part of Kent absolutely love David Cole so how many will be wanting to attend his first All Stars Band under his baton? I have a feeling that 2008 will be really special remembering also that this will mark the 20th anniversary of the bombing here in Deal.
If you would like to be part of the All Stars Band (ex-Royal Marines Band only) please contact me and I will send you the relevant details. French horns needed desperately.
Stephen Misson allstars@cinqueportmusic.co.uk
Click [Here] to see the programme of music
Click [Here] for access to Photo Album
THE MUSICIANS PLAYING FOR YOU TONIGHT

Flute/Piccolo

Bert Bower Loughborough 76
Frank Dominey Sidmouth 62
Charlie Francis Lowestoft 82
Phil Hughes Deal 64
Cliff Meatheringham Cirencester 77
Derek Pilley Beaconsfield 68
Sid Tanner Portsmouth 55
Keith Wishart York 74


Oboe

Roger Hartwell Weston Super Mare 54
Wally Walters Deal 65

Clarinet

Miles Attwell Sittingbourne 64
Bart Bartholomew Dartmouth 59
Ian Clarkson Deal 54
Andy Cunningham Gillingham 56
Ben Finney Deal 75
Bob Gill Deal 66
Joe Guest Deal 77
Ron Hempsall Deal 77
Derrick Holder Deal 72
Ned Kelly Newbury 73
Graham MacPherson Wakefield 65
Bob McGregor Deal 55
Duncan McKenzie Dover 68
Tom Merrett Deal 85
Pony Moore East Preston 66
Jay O'Neill Deal 55
Vicky O'Neill Deal 36
Rodney Preston Portsmouth 62
Graham Pinder Harpenden 57
Michael Rice Chichester 69
Pete Rose Dover 56
Shanks Shankland Deal 70
George Simpson Deal 68
Wally Spencer Portchester 73
Mike Tellick Sittingbourne 65
Tom Tucker Hailsham 75

Clarinet Alto

Clem Cocker Ipswich 52
Clarinet Bass

Brian Thorogood Romford 66
Robert Whaites Dumfermline 50

Alto Saxophone

Dave Barton Ashford 57
Paul Brennan Redhill 44
Mervyn Hyatt Watchet 55
Simon Morgan Southampton 49
Tosh Toye Deal 50
Brian Tupper Deal 58
Hooky Walker Margate 65
Ray Watts Marlborough 75
David Webster Derby 78
Roger Waterfield Torpoint 57

Tenor Saxophone

Peter Clark Grantham 74
Dave Curtis Folkestone 68
John Green Leeds 54
Tony Jackson Marborough 65
Laurie Loveless Romsey 63
Harry Prescott Deal 64

Sax Bari
Jock McConnell Canterbury 75

Bassoon

Lew Cooper Deal 73
Brian Smith Deal 69
French Horn

Andrew Berridge Deal 30
Jim Doyle Sittingbourne 69
Benny Goodman Deal 71
Mick Hall Hythe 68
Ray Jones Broadstairs 76
Florence Paige Herne Bay 25
Blue Taylor Kettering 56

Cornet/Trumpet

Allen Adshead Deal 58
Trevor Attwood Deal 57
Bob Baker Deal 65
Dennis Brown York 74
Jock Brown Folkestone 75
Taff Cox Milton Keynes 56
Bob Cummings Havant 59
Keith Davies Dover 56
Andy Deacon Margate 54
Ginge Deary Folkestone 61
Alan Dickens Colchester 52
Paul Harker Norwich 57
Steve Misson Deal 63
Andy Mytum Broadstairs 60
Mark Pavey Plymouth 47
Doug Powell Deal 68
Andy Rowett Walderslade 46
Mike Scurfield Deal 51
Paul Singleton Maidenhead 62
Pete Worsfold Deal 80
Jon Yates Lee on Solent 58
Pete Yetman Gosport 66

Trombone

Cokes Coker Hindhead 49
George Croxford Tankerton 76
Mick Eastbrook Deal 60
Graham Harvey Deal 57
Alick Harwood Whitstable 56
Len Ingram Deal 78
Joe Kendrick Deal 71
Taff Kinsey Gillingham 56
Paddy Mailey Portsmouth 62
Steve Parkin Gillingham 59
John Press Seaford 80
Paddy Semple Carrickfergus 60
Pete Westaway Par 70
Ron Howell Newbury 63
Barry Shucksmith Portsmouth 69

Bass Trombone

Ted Drake Chelmsford 68
Albert Hill Stockport 64
Alan Howard Dover 65
Taff Lambert S. Glamorgan 67
Trog Tremaine Buckingham 59
Willy Wardle Folkestone 69

Euphonium

Richard Baker Deal 65
Dave Burridge Sandwich 56
Mick Hutton Newbury 73
Jerry Judge Peterborough 87
Hedley Lock Seaford 66
Edwin Musquetier Netherlands 61
Don Peerless Folkestone 69
Barry Radford Meols 66
Ray Lloyd Exeter 53

Bass

Ian Butterworth Erith 61
Albert Hall Gosport 76
Ron Maggs Tunbridge Wells 77
David Mutter Canterbury 61
Fred Pacy Gosport 71
Riggo Richardson Deal 53

String Bass

Andy Wall Hawkinge 50
Shiner Wright Higham Ferrers 65

Percussion

John Collison Deal 66
Russ Davies Plymouth 59
Pip Fairchild Ramsgate 64
Dennis Marsh Ramsgate 58
Dave White Deal 58
Ron Williams Ramsgate 61

Tympani

Ginge White-Sansom Nottingham 74