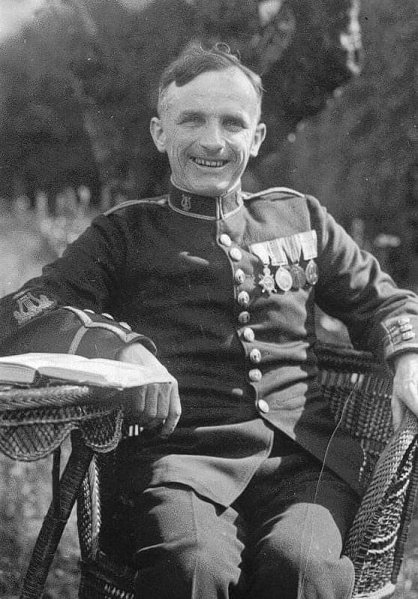 George Winsor was born at 13 London Road in Caterham Surrey on Tuesday 28th August 1894, his father, also named George and who originated from Portsmouth, worked as a trained nurse in a nearby mental hospital. Aged fourteen, and a mere 4ft 6ins, young George enlisted as a Band Boy into the Royal Marines Artillery Barracks and Infirmary at Eastney on 10th February 1909, where he studied the clarinet and violin at the Royal Naval School of Music.

On completion of his training in 1912, George encountered his first taste of life at sea, when he was posted for nine months to the armoured cruiser HMS Duke of Edinburgh.. named after Alfred.. one of Queen Victoria's sons. He was then ordered onto the battleship HMS King George V for three few months, before spending five months attached to the band onboard HMS Hercules. On 22nd March 1913, the battleship collided with and damaged SS Mary Parkes in Portland Harbour during a gale, suffering only minor damage herself. George was then drafted to the battleship HMS Centurion for a four-year stretch between 1913-1917. As World War I began, the bands onboard, usually around fifteen strong were used below decks in fire control. As the bands worked closely in the musical role, it was taken they were equally capable of working together in their fire control duties… these were tasks that the musicians undertook throughout the war. HMS Centurion was involved in The Battle of Jutland, a two-day prominent naval encounter of the First World War between the Royal Navy's Grand Fleet under Admiral Sir John Jellicoe and the Imperial German Navy's High Seas Fleet under Vice Admiral Reinhard Scheer on 31st May. George was promoted to BCpl on the concluding day of the battle..1st June 1916.
Following an extended period of leave.. George completed his war years with a transfer to HMS Hyacinth.. the ship was attached to the Commander-in-Chief Africa, it was also often known as the Cape of Good Hope Station. For his brave efforts during World War I, BCpl George Winsor was awarded the trio of medals.. 1914-15 Star, the British War Medal and the Victory Medal, affectionately and collectively known as the Pip, Squeak and Wilfred. From April 1920, George spent just over twelve months onboard HMS Temeraire.. she was one of three Bellerophon-class Dreadnought battleships, which had been converted to be a training ship.
Aged 26, George married 24 years old Daisy Hilda Skerry on 15th December 1920 in Caterham Surrey. They made their home at 78 Kingsley Road in Southsea, just around the corner from Eastney Barracks. Their eldest son, George Humphrey was born just two months later on 12th February 1921.

George's time on HMS Temaraire came to an end when the ship was scrapped in April 1921. He then had short spells with ships' HMS Colleen and HMS Vivid IV.

BCpl Winsor was attached to the Naval School of Music for three years from May 1922, where he almost certainly spent time as an instructor, before being inducted into the Bandmasters class. It was certainly a day to remember on Armistice Day 11th November 1922, when Daisy gave birth to a daughter.. Phyllis.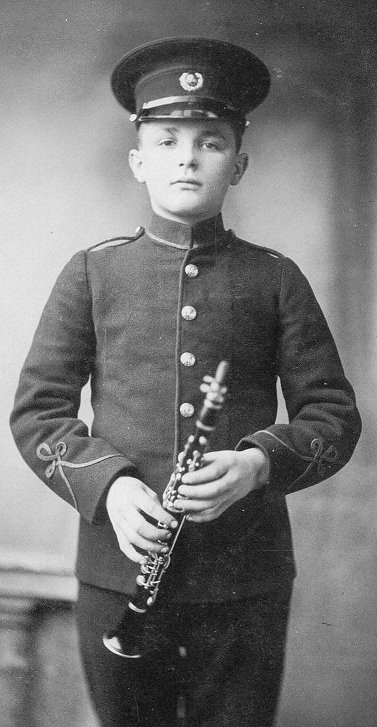 George.. who was known to be able to pick up more or less any musical instrument and play it, was promoted to Bandmaster 2nd Class in 1925. A couple of months later and George was handed the baton and appointed as the Bandmaster onboard HMS Emperor of India. The vessel was an Iron Duke class battleship, named in honour of King George V, who held the title Emperor of India. At the time George took control of the band, the ship was attached to the Mediterranean Fleet until 1926, she took part in a demonstration in Smyrna against Turkish demands that foreign warships leave the port. HMS Emperor of India was thereafter transferred to the Atlantic Fleet. George was awarded his well-earned Long Service & Good Conduct Medal in November 1927, three days before he disembarked the ship for good.
He returned to the Royal Naval School of Music for fourteen months in 1928, where he earned further advancement to Bandmaster 1st class. He resumed his sea duties in February 1929 with a two-year posting as Bandmaster onboard the newly commissioned cruiser HMS London, he held the baton until June 1931. Meanwhile.. the Royal Naval School of Music had relocated to the Depot RM Deal in 1930. George's final two ships were listed as HMS's Frobisher for just a few weeks and then onboard HMS Warspite on 3rd September for a two-year period just as she rejoined the Atlantic Fleet. The ship was at sea when the crews of a number of warships including Warspite, mutinied at Invergordon.. In September 1931, as part of its attempts to deal with the Great Depression, the new Government launched cuts to public spending. In the Navy this translated into a 10% pay cut. The Invergordon Mutiny was an industrial action by around a thousand sailors in the Atlantic Fleet that took place on 15-16 September 1931. For two days, ships at Invergordon were in open mutiny in one of the few military strikes in British history. Even the Royal Marines who were expected to enforce discipline and break up any mutiny joined the strike. Exercises were suspended until further notice and all leave was cancelled until complaints were investigated. In March 1933, HMS Warspite was rammed in fog by a Romanian passenger ship off Portugal but did not require major repairs.

In total.. George had spent an incredible seventeen years and four eventful months at sea. Bandmaster 1st Class George Winsor retired from the Royal Marines Band on 27th August 1933, the day before his thirty-ninth birthday. George and his family remained in their home at 103 Vernon Road, Copnor in Portsmouth, following his discharge. Twelve years had lapsed since their last child was born, when George and Daisy's second son Donald arrived on 10th February 1934. The family relocated back to Caterham and this was soon followed by the birth of the couple's youngest child Hazel, who came into the world on 23rd July 1935. In civilian life.. Mr Winsor worked for the Admiralty photographic section in Bath and was still there at the outbreak of WWII. In the 1939 Census, George, Daisy and their four children were listed as living at 1 Coulsdon Road Caterham Surrey. Daisy worked in the General Stores, which the couple were the proprietors. The family moved to 1 Dragons Hill Close Keynsham, between Bristol and Bath. George gained employment at Douglas Motorcycles in Bristol, then later as a photographer in Trowbridge Wiltshire and as a typewriter mechanic for HM Stationery Office. George's wife Daisy sadly passed away in April 1946 in Bristol aged just fifty due to kidney failure. Widower George was fifty-three when he tied the knot for a second time on 25th October 1948 in Surrey. He married fifty years old widow Grace Butler (nee Jenner), she was a domestic worker at a Church/Vicarage. George & Grace knew each other while growing up in Caterham, they met up again by chance at Caterham Cemetery, where George was visiting Daisy's grave & Grace was visiting the grave of her 1st husband. Grace became step mother to George's four children, the youngest whom were thirteen and fourteen.

In his later years, George retained his interest in cars and motorbikes.. he took great pride in his pale blue Morris Minor which he bought from new. He loved gardening.. George & Grace's garden was always beautifully manicured, including devoting plenty of time growing their own fruit and vegetables.. they watched them grow from the comfort of their deckchairs. George lost his hearing as he grew older and wore a hearing aid, which put an end to his playing of music. George and Grace however were regular attendees at the Keynsham Memorial Park bandstand near their home, listening to whatever performances were on.
Bandmaster George Winsor sadly passed away 11th January 1973 in Bristol Royal Infirmary aged 78, he'd been suffering from cancer. In addition to his four children.. George had been a loving grandfather to ten. His funeral service was held on 17th January, his final resting place is Keynsham Cemetery near Bristol.
RIP George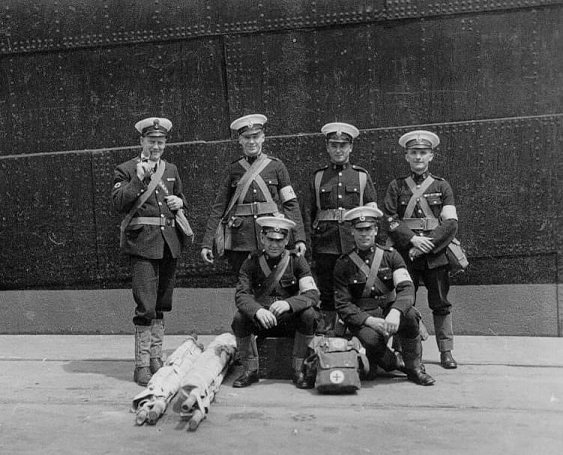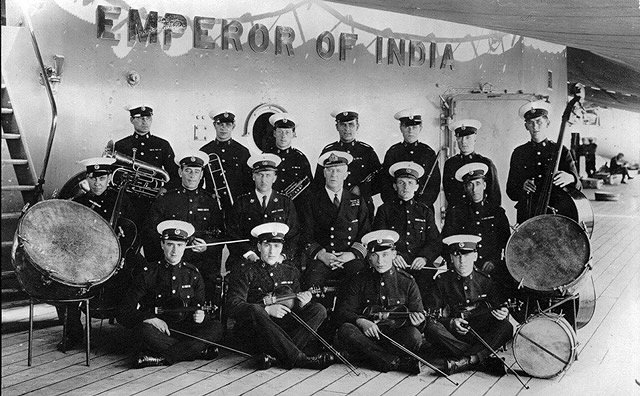 George's sister's daughter Maisie Balch (1924-76) was a great pianist & made a career out of playing. She played for the BBC through the 1950's.
https://youtu.be/fj0Qmw31o_Q

Footage shows the crew of HMS Emperor of India entertaining school children from Blackpool, Fleetwood and Morecambe in 1926. There's no sign in the footage of the Royal Marines Band, but they were almost certainly onboard at the time.