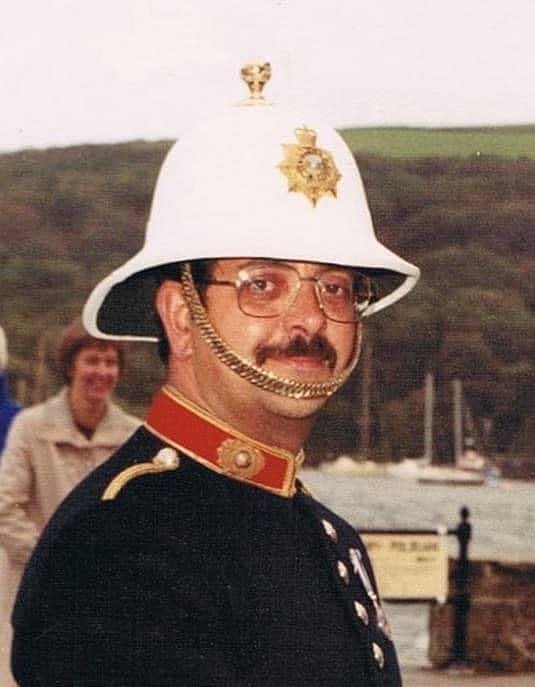 Rodney Ernest Williamson was born on Saturday 28th June 1941 in Oldham Lancashire to parents Ernest and Gladys. He was brought up in a loving family that included his older sister Beryl and two younger brothers Colin and Peter. The entire family were involved with the Salvation Army at the Oldham Citadel. Rodney attended the high achieving Counthill Grammar School, in the Moorside area of the town.

Immediately after leaving school he joined the Royal Marines Band Service as a Band Boy on 3rd January 1956, he studied as a Euphonium & Cello player and was part of 1/56 Troop and 28 Commandant General's Squad.

Musician Williamson's first draft following training was to HMS Drake in Plymouth, he was there for just six months, before moving on to a shorter three months stay at the Naval training establishment HMS St Vincent at Gosport. Shortly after he was awarded a sea draft onboard the light cruiser HMS Lion, sailing on her first commission to the Mediterranean in 1961. On his return twenty-years old Rodney married Mary Brooks in his hometown, Mary was a friend of Beryl… Rodney departed soon after with his band on the Lion for a tour of South America, returning in 1962.
Then followed a two-year spell in the Royal Marines Band at HMS Daedalus. 1963 saw Rodney and Mary become parents for the first time when their son Mark was born. Rodney became an Instructor for a short period at the Royal Marines School of Music and it was during this time that Mary presented Rodney with a daughter.. Ann-Marie in 1964.

He then secured a move to the Royal Marines Band at Eastney in 1966, where he stayed for a total of six years. Rod was promoted to BSgt in early 1972 when he took over as Volunteer Band Instructor on the light cruiser HMS Blake, while he was onboard he enjoyed a visit to Copenhagen.
Rodney was selected for the Bandmasters course in 1976, which he duly passed, gaining the ARCM diploma along the way. He had a long spell as Band Service Secretary, retaining the position until the retirement of Lieutenant Colonel Paul Neville. Following the Secretary post, he took over the role as Chief Music Librarian for twelve months. Promotion in 1980 to WO2 saw Rodney appointed as Chief Instructor of the Royal Marines School of Music, a position he held for two years.
In 1982 Rodney was elevated to WO1 and installed as Bandmaster at Britannia Royal Naval College (BRNC) succeeding WO1 Bandmaster Dave Hough. This appointment took him back to the West Country for the first time in over 22 years. During his twenty-months stay with Dartmouth Band, he presided over the 1982 trip to Jersey in celebration of the fortieth anniversary of the island's liberation from German occupation. He also presided over the week-long jaunt to Briquebec in France for the Festival of St Anne. Rodney lived as an inlier during his time at the college and commuted back and forth to Kent whenever he could whilst at BRNC. His home was in Canterbury with Mary, son Mark and daughter Anne Marie. Mary was an employee at Canterbury University.
Rodney's hard work over the years paid off in 1984 when he returned to the Royal Marines School of Music and took up the appointment as the Corps Bandmaster succeeding WO1 Phil Hughes, he held the position for two years along with the role of Sgt Mess President until he retired from the Royal Marines Band Service. Rodney's retirement in 1986 coincided with him being awarded the Meritorious Service Medal.
As a civilian Mr Williamson saw employment as an agent for a Conservative MP and later for many years he served the local parish councils across Kent. Rodney's involvement in bands didn't stop either following his retirement, he became the Bandmaster of the Metropolitan Police Band in the nineties, then around 2005 while Rodney was living in Whitstable Kent, he held the baton at the Whitstable Brass Band and was also a regular member of the audience at the MFM and All Stars Concerts.
Rodney's beloved wife Mary passed away in 2014 and as a result he relocated to Portobello in Edinburgh to be near his son.. there he lived in his new flat overlooking the Firth of Forth. Rodney later developed dementia which brought about Rodney's move to Spring Gardens Care Home in Edinburgh.
Rodney Williamson sadly passed away peacefully on the morning of 26th October 2020 aged 79. His funeral service was held on 14th November in Edinburgh. L/Cpl Bugler James Trowbridge of Royal Marines Band Scotland honoured him with a fine rendition of Last Post & Reveille.
RIP Rodney